The South Indian city of Mysore abounds in opulent palaces that make it an ideal wedding destination. Picturesque landscapes and architectural wonders that will take everyone's breath away deserve to be adorned in a similarly breath-taking manner although they need little embellishment to begin with. Here are some ways to decorate the stage or mandap for various indoor and outdoor wedding venues.
This elegant Reception stage decoration Mysore comprises soft pastel shades that provide a smooth and mellow contrast with the red furniture coverings. Light drapes carry the lighting beautifully and are a fitting background for the thick lines of colorful florals on top.
This Outdoor Wedding Decoration Mysore gives a cleaner look with tightly wound drapes and thick floral arches and boundaries. The splash of yellow blends seamlessly into the decor, creating a traditional yet fresh aura.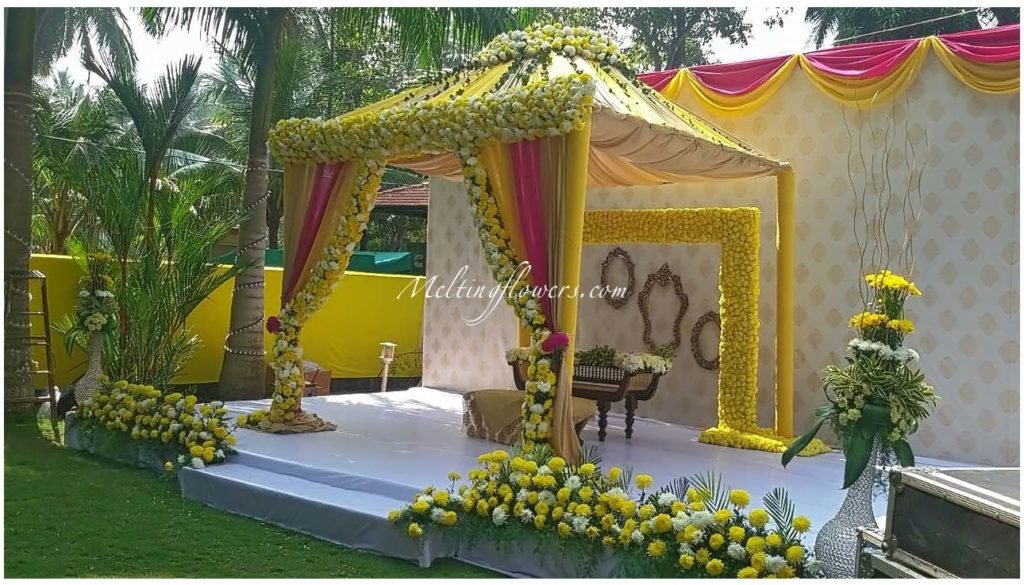 This stage decoration is a fine example of artistry with a canopy made of gauzy drapes outlined by thick red flowers with peacocks made of white blooms perched atop. The cool lighting adds to making the whole setup radiant.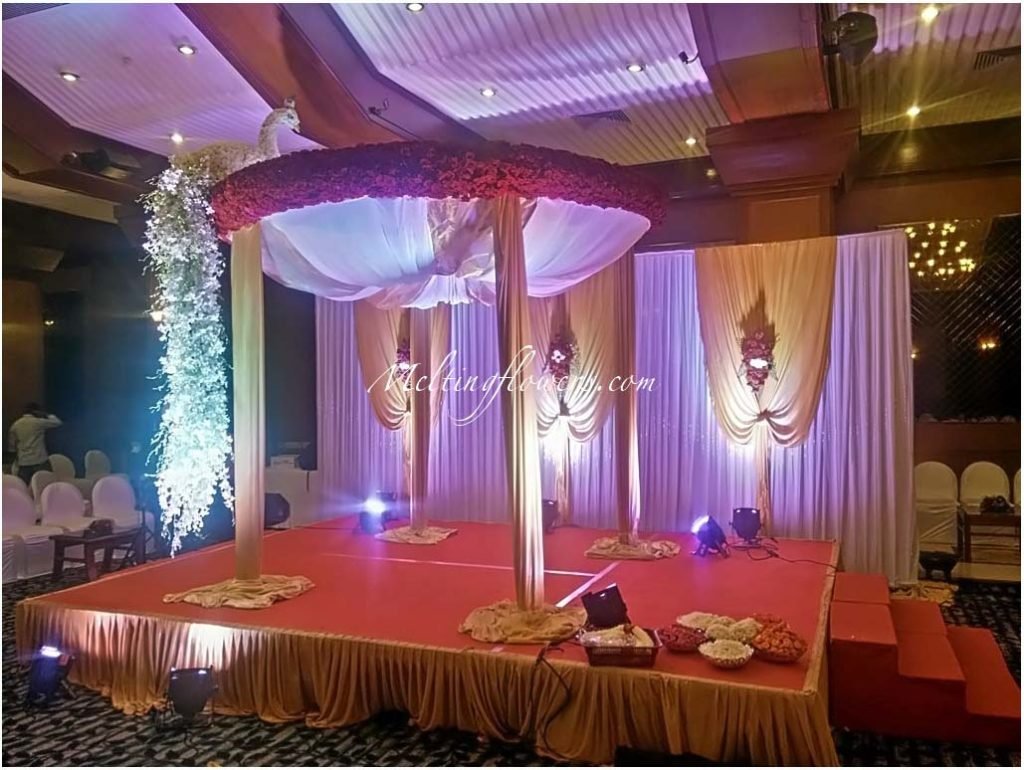 This dome-like stage is a novel setting for an outdoor venue. Covered with bright yellow drapes and surrounded by equally vibrant florals and greens, this setup is indeed dreamy. The addition of strings of mirror work makes it even more charming, the perfect decor for tying the knot on a pleasant day.
A rustic stage backdrop can be made with drapes in intense rich shades like red and dark pink. Lined with colorful flowers, it provides a pretty contrast that can liven up both indoor and outdoor venue decorations Mysore.
A stunning traditional mandap-cum-stage can be set up in the midst of greens under a picture-perfect blue sky with a wooden canopy surrounded with marigold garlands in yellow and orange.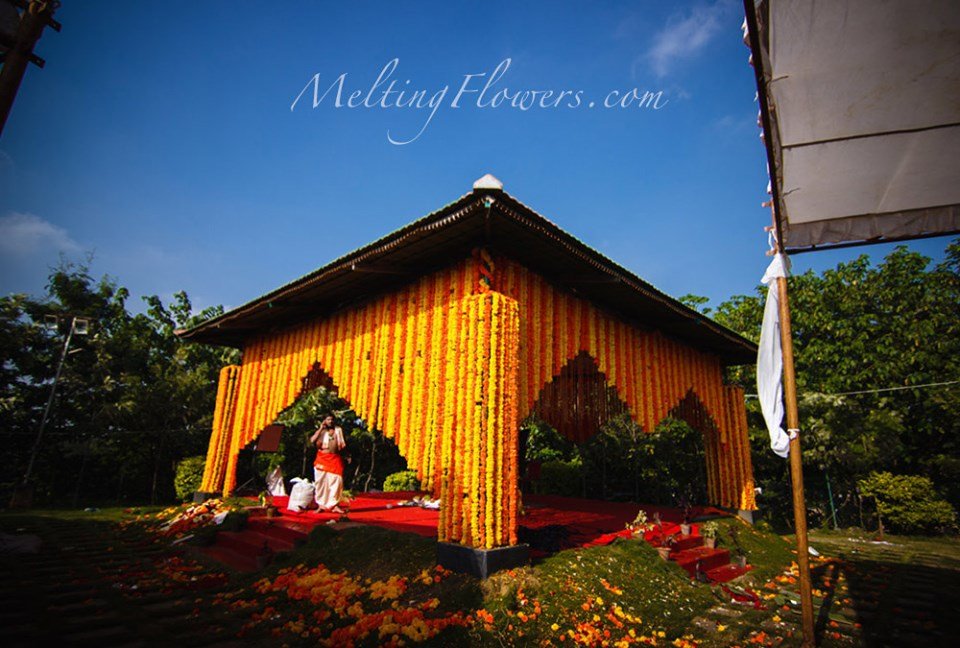 This setup consisting of vibrant drapes in a combination of yellow- the traditional colors synonymous with Indian Theme Wedding Decorations Mysore. Adorned with marigold garlands to match and small tree branches tucked at every pillar, it looks truly exuberant and will brighten up the green surroundings with its stunning color palette that is sure to draw all attention.
This gorgeous open stage comprises a lot of different elements creatively to create a very modern-looking setup. The drape backdrop is in lovely contrast with the white faux wall half-covered in blooms in various hues of pink and engraved mirrors. Giant flower vases complete the decor in a magical way of Flower Decoration Mysore.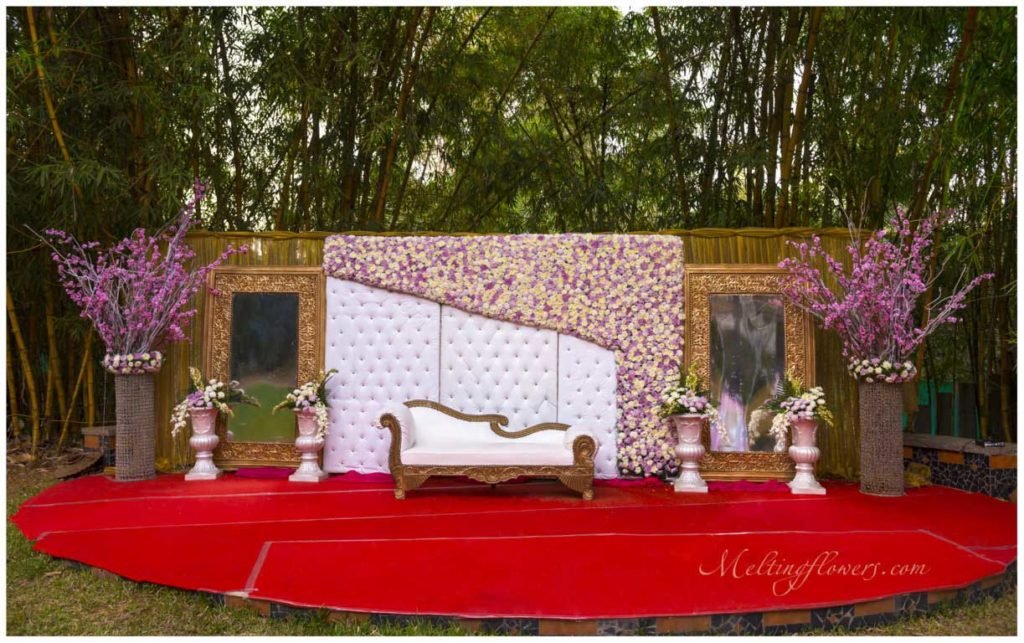 This simple yet elegant outdoor Mandap Decoration Chennai has a plain white overhead cover with pillars covered in coconuts that are incredibly creative with a very traditional vibe. The flower vines lining the top look quaint and charming with their brilliant color combination.