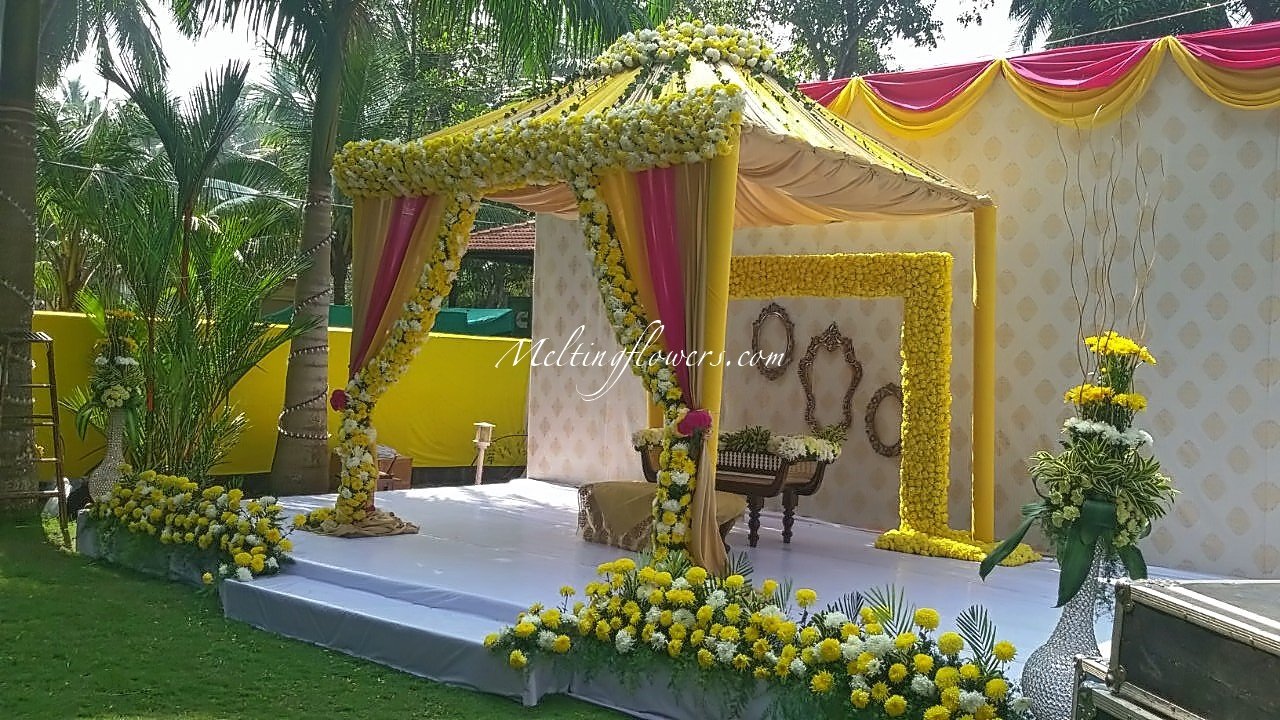 The magical bonding between two people in love can never be expressed in words. Such a beautiful bonding must last forever in your lives and let you prosper with utmost happiness and good health. To celebrate this wonderful feeling, there comes a time, a moment of wedlock that you can rejoice for the rest of your lives. Wedding is one memorable moment not only in the lives of the couple to be wed but also in the lives of both families who work so hard to make every single ritual perfect in every possible way. Among all the decoration ideas deployed in a wedding, mandap decorations and themes created to spruce them up are many. Here are a few themes that can adorn the mandap in the best possible way for marriage decoration.
Twist of Red and Yellow:
When you are planning for an outdoor wedding, you have got to create the mandap on your own. Pillars of the mandap can be made out of colorful drapes and to support it in the top, floral decor made out of flowers and hydrangea can be used.The drapes on four sides of the mandap are accompanied with floral strings in between. This creative theme can be depicted from the image below.
Floral Hut:
To bring a homely look to the mandap, here is a beautifully designed hut made of floral decor and leaves, supported by four pillars. This theme renders such a simple and elegant look to the whole venue. Floodlights are also added to enhance the beauty and brightness of the mandap.
Blend of Orange, Yellow and White:
For outdoor wedding decoration, a blend of white, yellow and orange would be the best combination of colors that can be used to create any decor. The picture below shows neatly twisted drapes which are of yellow and white with a floral top made from flowers of same color combination. This theme will reach the zenith of its beauty when sun rays creep into the mandap creating an aura of positivity and vibrance.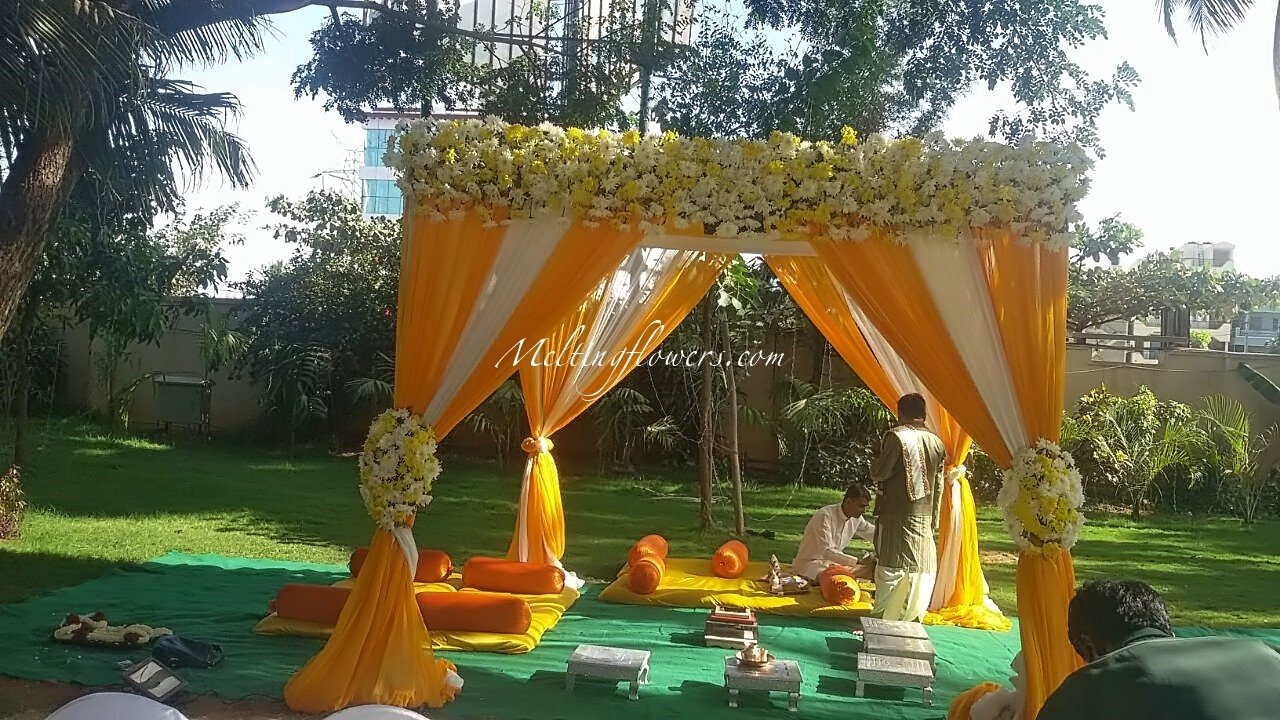 Reddish Blast:
The color red is known for its piousness and here is a theme for mandap decor where the circular tepee has reddish tinge with white drapes used as pillars. Pearl strings are used to add extra charm to the mandap. The ceiling of the venue is decorated with colorful and fulgent drapes and umbrellas of varied textures and designs are left dangling from the top.
Themes described above are a few suggestions that might help you with mandap decoration Bangalore. Try to add more creativity and charm to your ideas and let it turn out to be the best decor ever. If you want to personally adorn the mandap because it is the most important spot in the whole wedding as the actual wedding rituals are performed here, you can refer to wedding stage decoration Bangalore for spellbinding ideas. Plan accordingly with the venue and budget to not have issues during the wedding and let it be hassle-free. May God bless the couple in love who are going to enjoy the beautiful wedlock very soon. Decorate the venue in the best fashion and let your wedding day give the best moments of your life ever!
Save
Save