"Love recognizes no barriers. It jumps hurdles, leaps fences, penetrates walls to arrive at its destination full of hope."
Indian weddings are popular for embedding rich traditional values into every ritual being performed. The essence of tradition must be present in every decor deployed in the wedding too. Planning for this occasion has to be done scrupulously. It is a tedious task and deciding from where to start itself is a great leap forward. Wedding involves a lot of key elements which make the event a successful and memorable one. One of those elements is the mandap decoration and wedding stage decoration. Mandaps have to decorated in a traditional style and helping you on that note, here are a few styles.
Floral Pillars And Floral Chandelier:
A dome for the mandap would be the perfect pick. But, how do you make one? Pillars of suitable material are used to make the outer part of the dome. These pillars are pinned with flowers so precisely. Apart from this, a floral chandelier for the top of this dome would complete it. Floral strings are used to create a circular chandelier. To add more beauty to this mandap, brass urulis with flower petals are also used. Flowers galore makes this mandap to blush out with elegance and charm. To make your wedding a fairy tale apply this mandap decor and lift up its charisma to another extent.
Fusion of Hydrangea And Flowers:
Have you always been a great admirer of gardens and wanted to have a wedding amidst a lush green lawn? To induce a tinge of garden look for mandap decorations, a fusion of hydrangea and flowers theme can be applied. This decor involves a bunch of hydrangea and flowers pinned together intricately throughout the pillars. Wedding backdrop decoration here involves a nice drape pinned with flower bunches. Instead of having a regular ceiling or floral ceiling, vibrant floral pomanders are left to dangle from the top. Pick flowers of different designs and colors to induce extreme exuberance to this decor.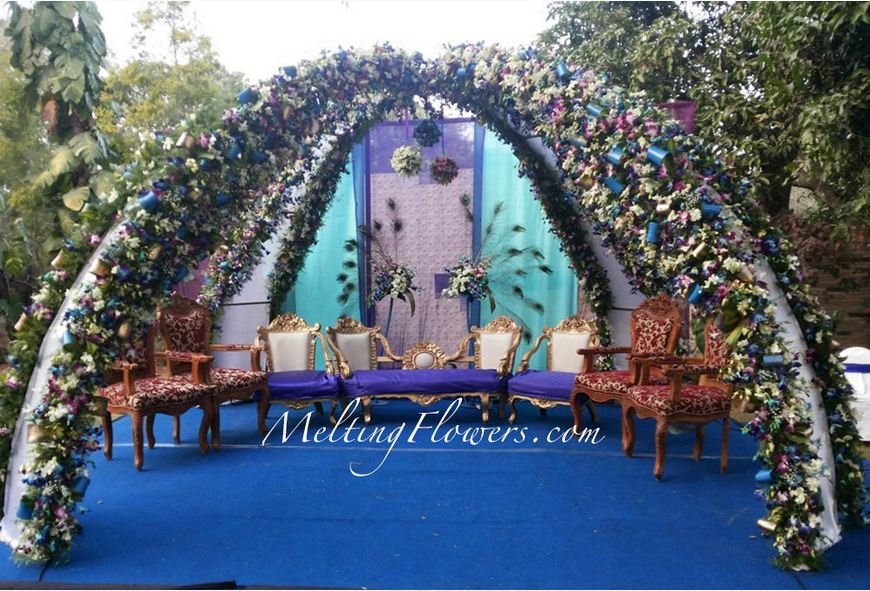 Tender Conocuts Galore:
Thinking out of the box always fetches you great marvels. A decor that replaces all the cliched ones will be an interesting pick for the mandap. Tender coconuts can also be used for mandap adornments. Instead of a routine floral pillar, these tender coconuts can be tied into a long pillar shaped bunch on four corners forming the mandap. A floral top on this would add fragrance and charm to this decor. To contrast the color of these coconuts, a pure white backdrop is chosen. Additional decors would involve brass urulis, lamps and flower vases.
Floral And Hydrangea Strings Mandap:
It is nothing wrong to state that flowers can create marvels for decorations. Alternate strings made of flowers and hydrangea can be used for the backdrop and the front of mandap decorations. Flowers of vibrant colors are chosen for these strings. The idea may sound simple, but the outcome will look completely astonishing.
Wedding stage decoration Bangalore and mandap decoration Bangalore can be made to look scintillating by these decoration styles. Wishing the couple to be wed a happiest life ahead!