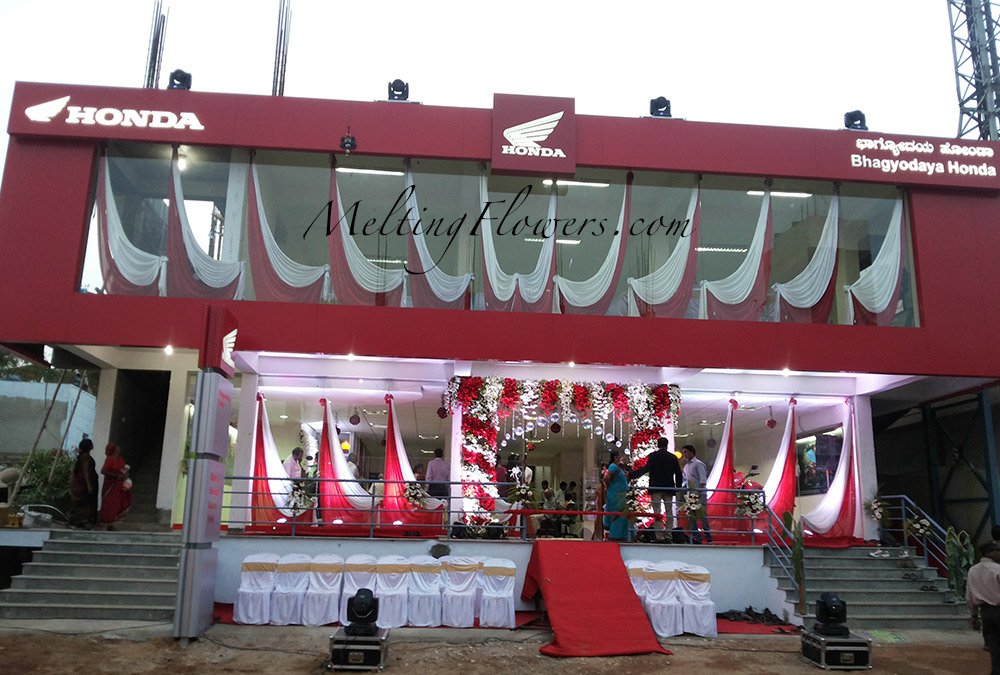 All you need to do is escalate the beauty of the showroom you are yet to open by decorating it with excellent designs. Showroom is a place which must be exotic and attractive not only to increase the number of customers gushing in and out of it but also, win their hearts with quality products. Such showrooms which are well equipped with products of latest brands need to be ornate in an exciting fashion during the inauguration ceremony too. Here are a few innovative ideas for your showroom inauguration decorations.
Entrance Decor:
The entrance must be exotically decorated as it is the first look which any person might have in the showroom premises. So, make sure it is not gaudy but neatly arranged to render a pleasant decor. The image above shows a beautiful decor which has an intricate floral design with drapes twisted in between presenting a modern cum traditional look. Events decoration Bangalore deploy a wide range of ideas for the entrance exclusively.

Interior Decor:
Brass Uruli: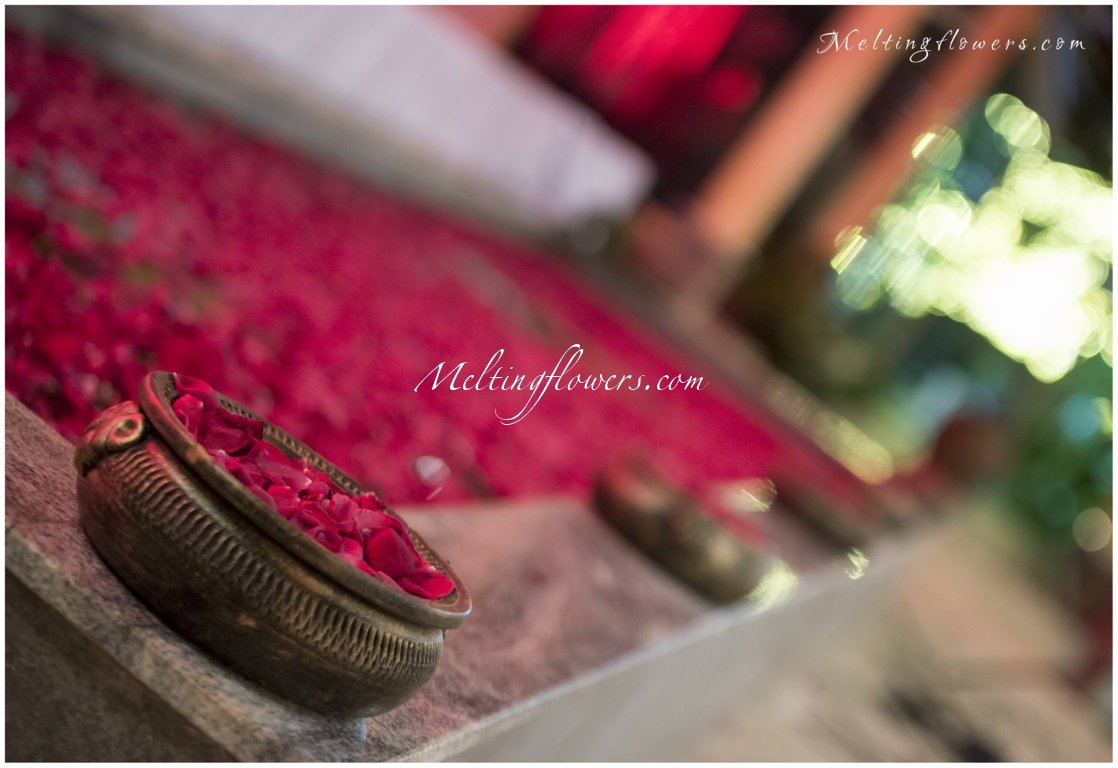 It is a custom originating from Kerala to use brass urulis filled with fresh flowers, mostly roses in our homes. These brass vessels are said to store water which is considered holy with flowers symbolizing divinity and prosperity to the whole family. Such brass urulis can be used for corporate event decoration bangalore in the interior.
Bronze Lamps: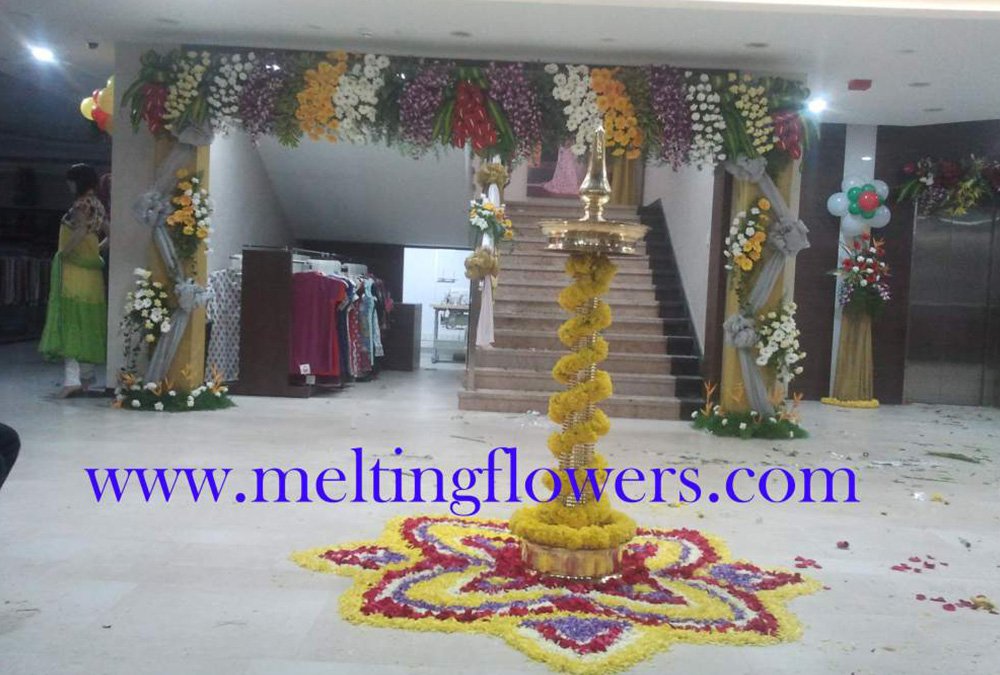 Bronze Lamps signify the Hindu's traditional way of lighting the lamps before plunging into something new. These lamps spread a divine aura throughout the arena and is the best way of decorating the interior part of the showroom where the pooja is to be done.
Floral Decor: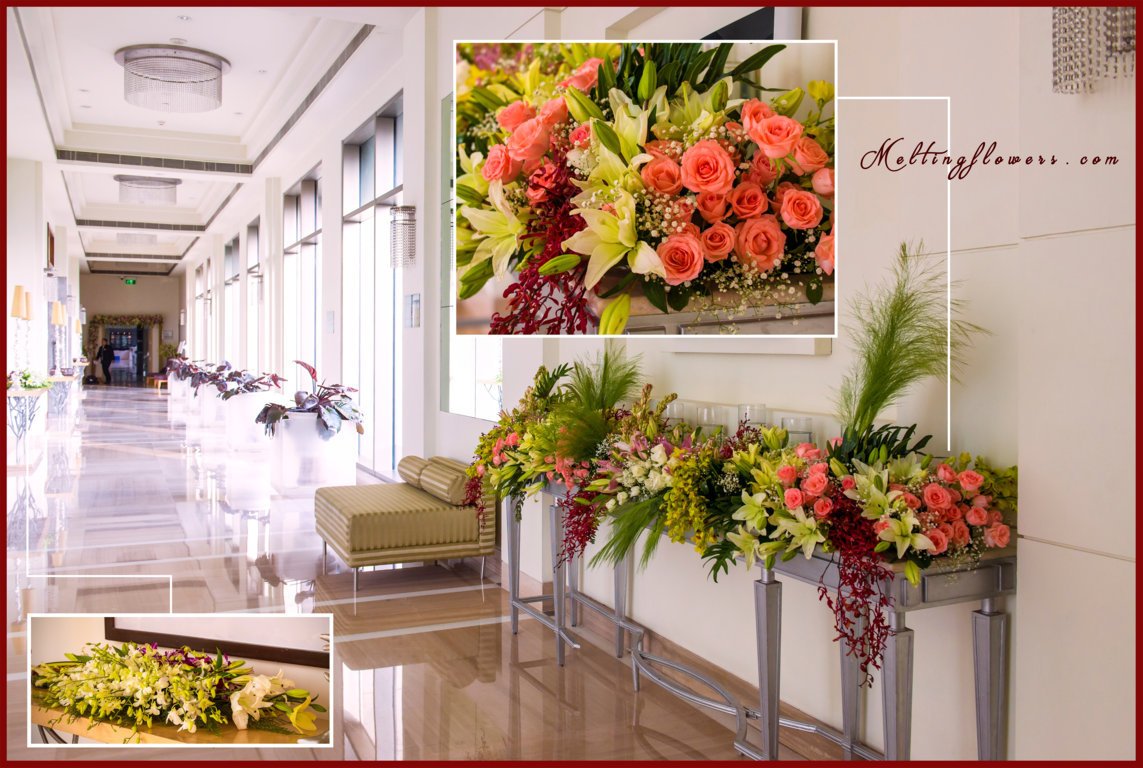 The interior of the showroom can be decorated with new floral styles that can enrich the atmosphere with freshness and glee. There are a wide range of floral decorations available and should be wisely chosen to match the background of where it is to be placed. The image displays different floral decors with a contrasting background giving a splendid look. For more designs, refer best flower decorators in Bangalore.
Outdoor Decor: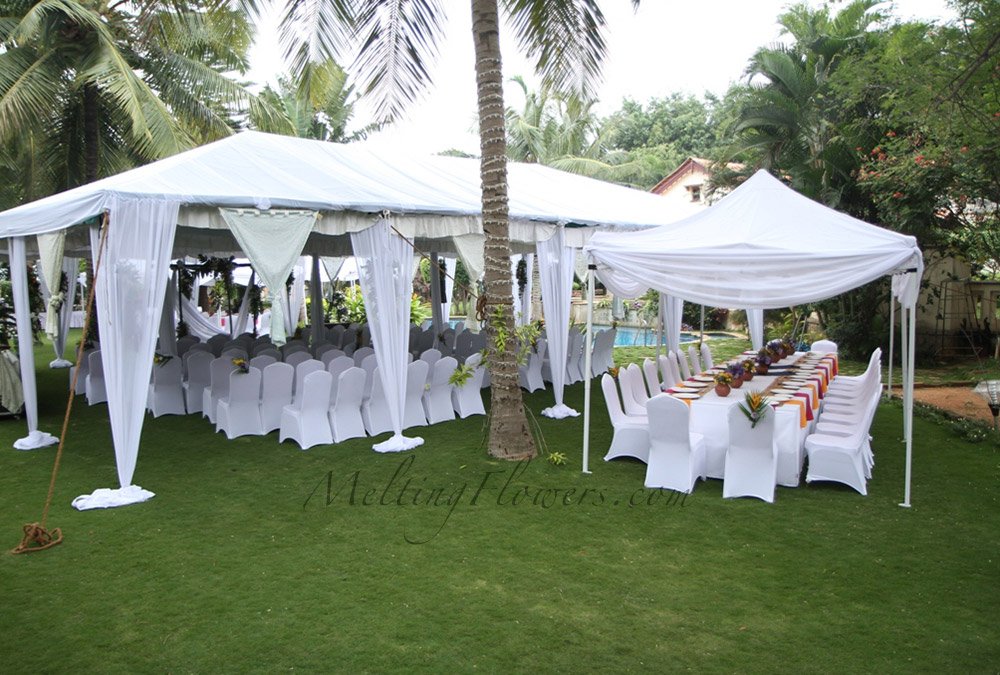 If you are planning to arrange a party for your guests who attended the inauguration ceremony and you have a large space at the back of your showroom, then it needs to be sorted out well to accommodate all the guests and also decorate it in a precise manner. The image gives an example of outdoor decor with white drapes raised up as tents and white cloth draped over chairs rendering a classy outlook to the whole atmosphere.
So, any corporate event decoration Bangalore needs to have a lot of creative thoughts put in to savor a complete celebration of the ceremony which in turn waters the seeds of positive opinion about the company and renders a warm welcome to a plethora of customers.
Save