"The beauty of marriage is not always seen from the very beginning— but rather as love grows and develops over time."
A spellbinding moment to cherish forever! A spectacular memory to rejoice each day! A sparkling ceremony to celebrate with loved ones! A stupefying event taking each soul involving in it to a trance! Yes, wedding is a remarkable ceremony creating a mystifying feeling throughout the whole time. Such a beautiful and splendid event happens only once in the lifetime of bride and groom. So, it needs to be adeptly planned and decorated in the most creative style. Few prefer sticking to a particular one among Indian wedding decoration themes and few like mixed styles for their wedding decorations. During the wedding and reception, the guests need to be comfortably seated in chairs and tables are also placed for their ease. We might sometimes forget to concentrate on the table decorations when focusing on the big picture of marriage. So, to help you with quick and easy table decoration ideas, here are a few table centerpieces that would make the tables look charming.
Glass Centerpieces:
Glasses are normally used as candle holders and sometimes as flower vases. They can also be used as a different centerpiece by filling them with water and flower petals preferably jasmines. This might seem a simple decorative centerpiece, but can bring out an elegant look to the tables. To enhance the chicness to this decor, use colorful coasters beneath them. This aromatic glass centerpiece can be one of the marvels in your marriage. This decor can also be used at any of the garden wedding venues in Bangalore.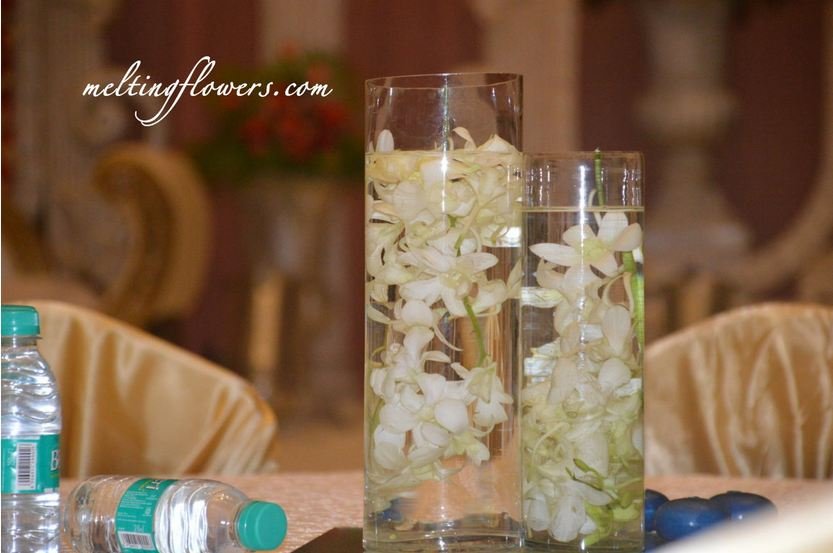 Rustic Vintage Lanterns and Antique Vases:
Are you a great adorer of rustic decorative items? Well, you can induce a great deal of rustic look into your wedding decorations. Vintage lanterns are usually left dangling from the ceiling as a part of decorations. They can also be used a table centerpiece. Besides this, an antique vase with a sinuous design is also placed as depicted from the picture below. Both these centerpieces can be placed on a large neatly polished coaster. To bring more rustic essence into your wedding, choose the best among wedding halls in Bangalore that has this feature.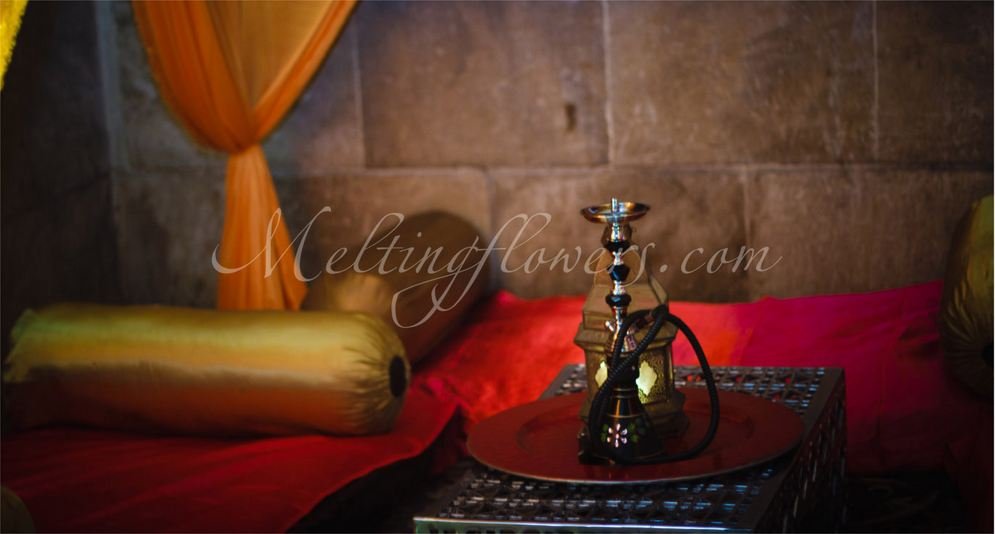 Pearl Strings and Flower Bouquets:
Flower bouquets can be used as a unique decorative table centerpiece. Choose the flower bouquets of your desire from the best flower decorators. They can be decorated with pearl strings dangling from the bunch. This bigger bunch has a supporting smaller flower bunch at the bottom. Try this table centerpiece for your wedding and add more creativity to it.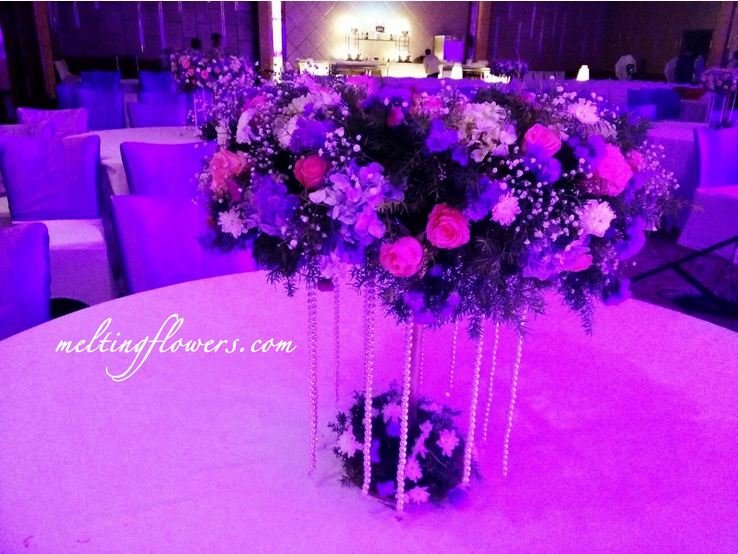 Floral Coasters:
The thought of floral coasters itself sounds amazing right? Flowers preferably roses of soothing colors can be twisted into a bunch in the shape of a circular coaster and can be used as a table centerpiece. Above this marvel, a glass filled with water can be placed. The picture below shows this unique idea for a table centerpiece.
Pick the best banquet among wedding locations in Bangalore and deploy these ideas into your wedding decors to amaze yourself and also your guests!