"As God by creation made two of one, so again by marriage He made one of two."
A pious amalgamation of various rituals! An event engrossed with traditions and customs! Most of the memorable and captivating moments occur at the mandap. It is a place filled with so much of positive aura and charisma that can be equaled with the pleasant atmosphere in temples. A roster of rituals are being performed here by renowned pandits who recite slokas and mantras that symbolize the strongest bond made between the bride and groom. This wedding stage has to be adorned with charm and piousness to make it look fabulous. Get inspired by the aesthetic mandap decoration styles that can quench your artistic soul to a great extent.
Wooden Canopy With A Burst Of Yellow:
Yellow is considered to be the most pious color ever. It is known for its charm and elegance that cannot be compared with any other color. Choosing an yellow based theme for the mandap decor would be a perfect pick. Garden wedding Bangalore when organized with a wooden canopy as the mandap would complete it. Wooden canopies bring a traditional look and is the apt place to have your wedding rituals being performed. The bland pillars are draped with yellow fabrics and the ceiling of mandap is adorned with yellow drape. To accentuate this yellow drape, floral strings are used to decorate the rim of the canopy. String lights are used as an adornment for the backdrop. Flood lights complete the beauty of this wooden canopy.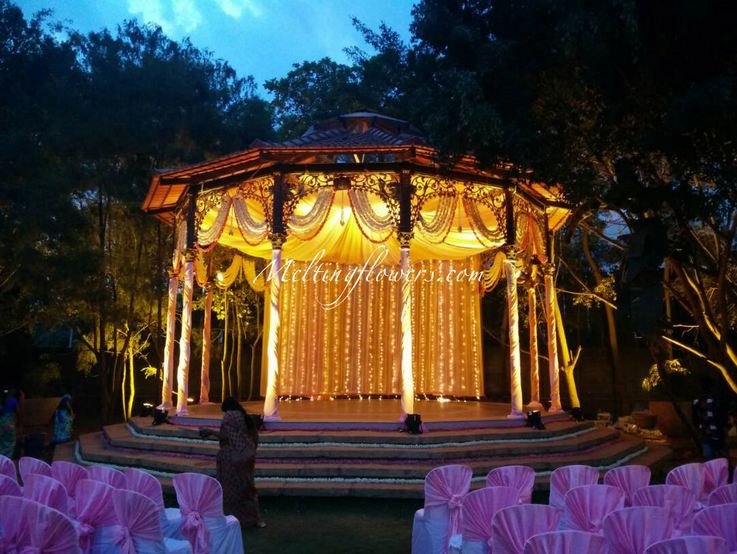 Rustic Mandap With A Pious Tinge:
Tradition is something that we never would give up when it comes to any occasion in our homes. While wedding is considered to be the biggest event following a lot of rituals, mandap is where the most imperative ones are being performed. The bride and groom sit around the holy fire along with their families chanting the holy mantras with the pandit. To not lessen the traditional essence, banyan trees are used for adorning the front of mandap. Floral strings preferably made of marigolds are used to embellish the mandap. Bells are also pinned to these designs. This rustic wedding stage decoration on the whole appears like a temple and the couple resembling a deity.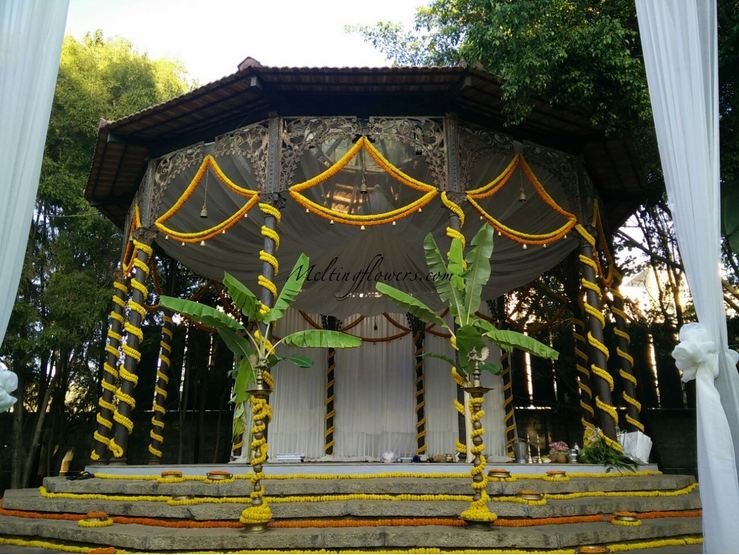 Pendant Canopy With Floral Extravagance:
Floral mandaps and the thought of it sparks a great deal of amazement in you right? Well, flowers can create marvels beyond imagination. And one marvel among them can be depicted from the image below. A pure floral mandap is made with long jasmine strands and chrysanthemums beautifying the rim and edges. A pendant shaped canopy is created with the bliss and fragrance of flowers. Banyan trees are used for decorations and golden pots of increasing sizes are placed one above the other signifying a traditional decor.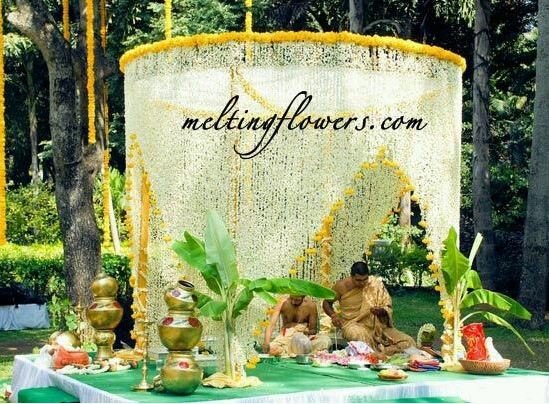 Aesthetic Wooden Canopy With Fulgent Drapes:
For all the aesthetic lovers out there, here is a beautifully designed aesthetic wooden canopy for your wedding displayed in the picture below. As a gesture of warm welcome, two cylindrical crystal vases are placed in front of the mandap with floral peacocks. The mandap is adorned with drapes and floral strings. This would be an epitome of wedding stage decoration Bangalore.
Mandap decoration Bangalore has a plethora of decoration styles and picking the best one among them is left to your choice. Hope these styles triggered your aesthetic sense to create more and more decors and themes that would entice every single guest in your wedding.