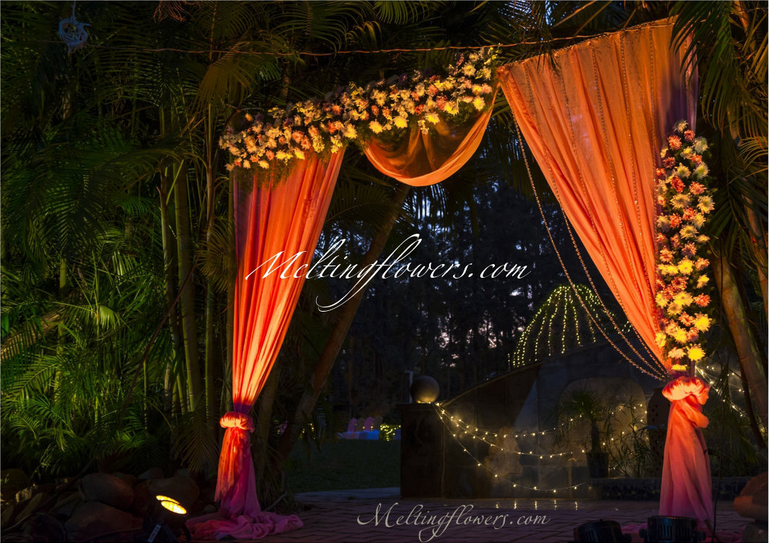 To the lovely couple,
"May this wedding bring lots of prosperity and ecstasy into your lives! Congratulations on your happy wedding!"
Wedding is a pure event where the bonding of love between two people who care for each other is made stronger. It is on this day a lot of rituals are performed according to the tradition followed by the couple and their families. You won't get any day as special and as beautiful as the wedding day. The people involved in wedding decorations ought to create a spellbinding decor at each and every spot of the wedding arena because a small mistake can ruin the whole effort you will be putting into. This is certainly an onerous task, but anything done out of love will be the easiest and will turn out to be the best. Among the Indian wedding decoration themes, choose the one that matches with your tradition and culture. When it comes to the decorations involved in a wedding, entrance decorations play a significant role. A few entrance decor suggestions are provided below and hope they would enthrall every single person in the wedding.
Sturdy Archway With Signage:
Archways are more common at the entrance of any convention hall. To not leave the archway bare and dull, wrap it up with a colorful drape throughout. To add a tinge of beauty and elegance to it, pin a floral decor to it with string lights. A welcoming signage would spruce up this archway decor.
Floral Archway With Floodlights:
Flower decorations for wedding mostly involve an intricate floral design. But for the archway, individual flowers are not preferred. To create an archway out of flowers, you need to use the branches too. So, two big bunches of many floral branches are twisted into an archway for the entrance. To brighten this beautiful decor, floodlights of flashy colors are added.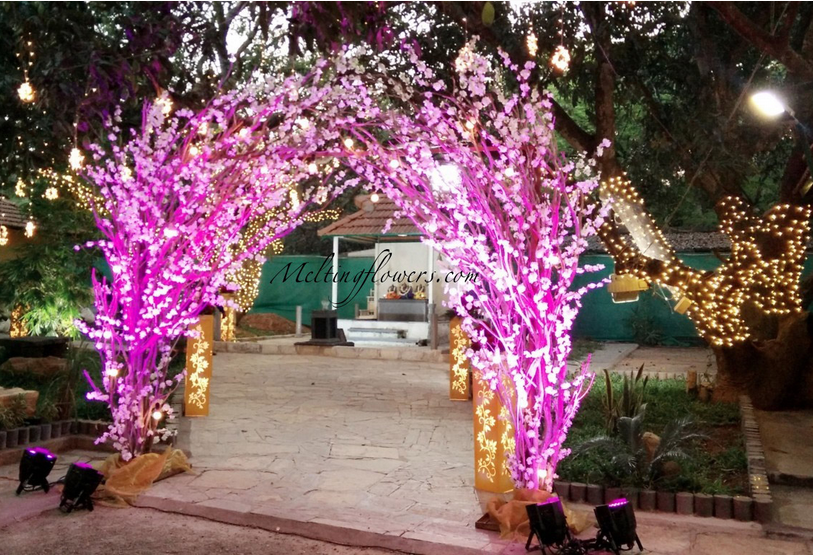 Chic Archway With String Lights:
To enhance the chic of archway, large floral bouquets are pinned at required places on to the archway. Glass pots with candles inside are left dangling from the top. A spectacular tree is created purely from differently shaped string lights which is another decor that can be added to this chic archway.
Blend of Flowers and Candles For A Sinuous Archway:
The pillars for the archway are kept open and decorated with candles. For the arch, an intricate floral design created from fragrant and colorful flowers are used. To add extra beauty to this decor, strings of jasmine flowers are left dangling from the this floral design. On the whole, it looks as if the decor is raining flowers to give a fragrant welcome for the guests.
Pious Archway With Paisley Patterned Panels:
Do you want to bring a traditional look to your entrance? Here is a splendid decor depicting a shank and chakra on the top of either sides of the pillars. The pillars are draped with floral strings of marigold. Pots of increasing sizes are kept one above other and decorated with flowers. Paisley patterned panels are kept next to the pillars creating a completely pious look to the entrance and resembling to that of a Hindu temple's entrance.
These wedding decorations pictures can hint you a lot during the decorations of wedding and improvisation of any decor would surely add more beauty and elegance to the venue. Refer flower decoration pictures for new ideas. Wishing you good luck in adornment!