"The highest happiness on earth is the happiness of marriage"
Weddings involve the beautiful union of two loving souls who are waiting to enjoy the elegance and charm of wedlock. But before this magical moment is yet to happen, there are a lot of pre-wedding events organized especially for the couple to enjoy and have fun. One fabulous pre-wedding ceremony is Mehndi and Sangeet celebrated with family members, friends, well-wishers as a grand frolic. Sangeet is a fun filled event involving music and dance. It was primarily celebrated by North Indians and it is a trending event these days among South Indians too. The best DJ is hired to entertain all the guests and to create an enjoyable experience for them. This event is primarily organized for women and by families of both bride and groom these days. On the other hand, mehndi is an event which involves highly skilled mehndi design artists who create intricate deisgns for all people in the wedding. Mehndi designs are available in numerous varieties and any favorite one can be chosen. Mehndi and sangeet is usually combined into a single event and arranged solely for complete fun and enjoyment.
To spruce up the venue of mehndi and sangeet ceremony and also for events decoration Bangalore, here are a few decoration themes.
Sangeet Stage Decor:
For the lovely couple to be photographed for numerous pictures, a stage is arranged during the sangeet ceremony. The picture below depicts an elegant stage with the hub involving an intricately designed floral chandelier and decorative drape for backdrop. The sides of the sangeet stage involves crystal chandeliers and drapes too. On the whole, a pink and white theme is deployed in the sangeet stage decor rendering a beautiful charm. Hire the best flower decorators for creating innovative floral designs that can be used even for your marriage decorations.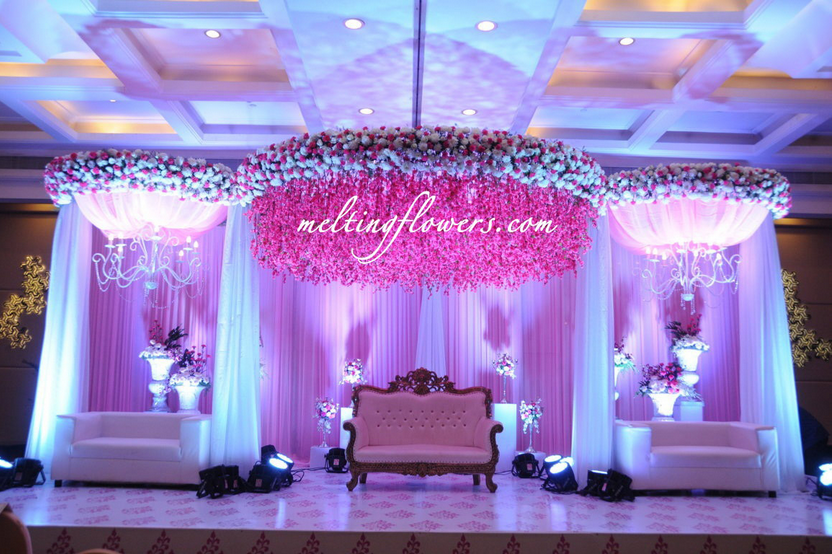 Mehndi Tent Swags Decor: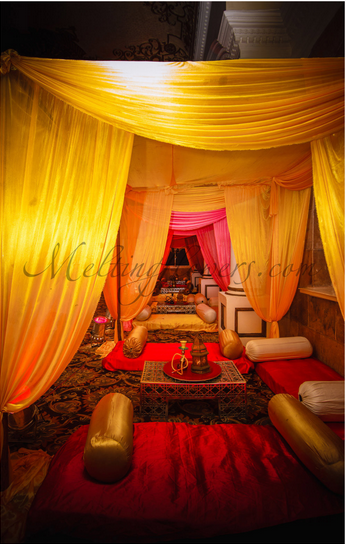 A couple of tent swags are created for the mehndi ceremony where people can be seated during the whole process. Vibrant colored drapes are used for the tent swags and cushions with bolsters are arranged for seating.
Minimally Designed Tent Swags:
Do you have a lot of empty space that not only needs to be filled with a decor but also look stunning? Here is a minimally designed tent swags decor involving a couple of pillars connected with drapes and floral decor adorning the apexes. A perfect lighting must also be provided to brighten up the decor. This can fill the empty space and also create an amazing decor.
Creative Decor For Staircase:
Wondering how to decorate the staircase? Did you ever think about a decor involving colorful umbrellas? Here is a decor for staircase where umbrellas made of decorative material are placed throughout the banister. These umbrellas can also be used to create small parasols nearby the staircase.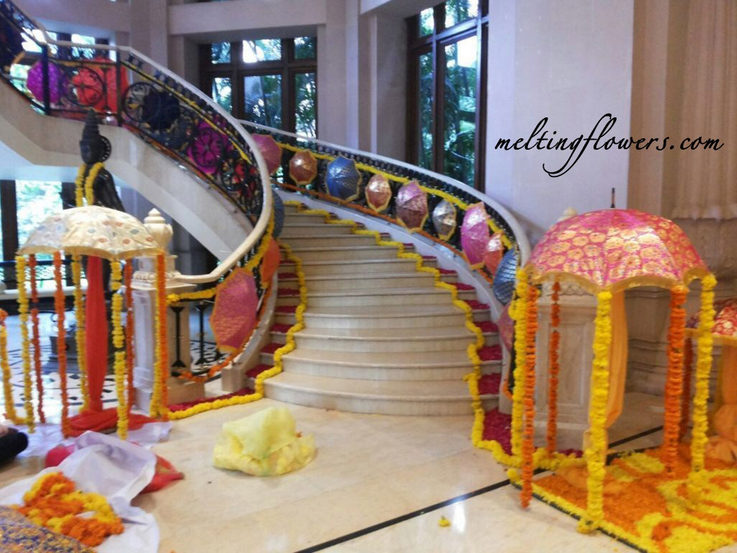 These mehndi and sangeet decor themes would surely be useful in livening up the ceremony. Add more creativity to these themes and let every decor you create be unique and spellbinding. Wishing you guys a fun time in the ceremony and also a happy wedding!
Save
Save