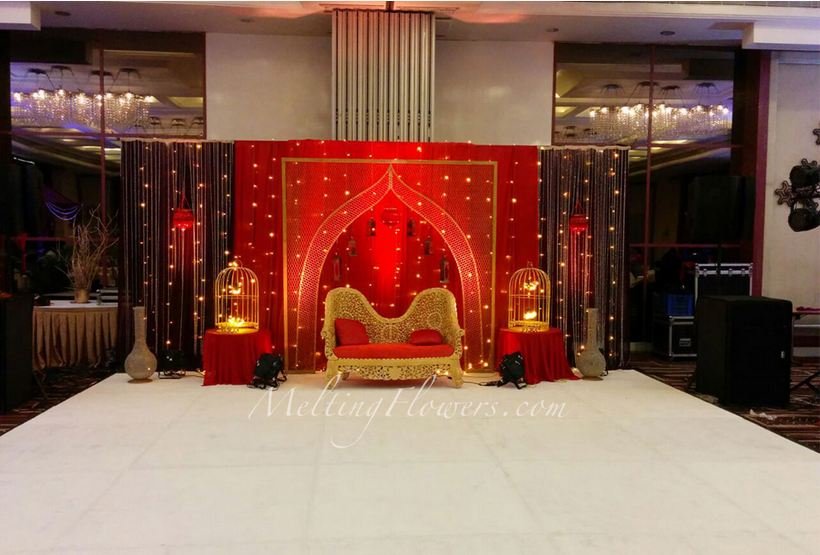 Pre-wedding events are mostly fun-filled and entertaining events. They are organized for the bride and groom to spend some quality time with their families and friends. Frolicking all day and night they click numerous pictures to cherish for lifetime. Sangeet is a frolic celebrated with utmost fun and reverberating music. Music is the soul of this ceremony. Enthusiastic music and dancing on a brightly decorated dancing area is of primary focus. Live performances are also held by the best band and professional singers to entertain the guests in a lively fashion. Hire the best DJ in the locality to create twists of quality music throughout the event. Food and Drinks are arranged galore for the guests to indulge in a food and drink rave throughout the sangeet ceremony.
Mehndi is another event held mostly during the late afternoons. It is not only for the women but also for men. Best mehndi designers create intricate designs from both Indian and Arabic styles. This event has a historical significance. The brighter the design is the more bride's partner will love her. This is a strong belief among the Indian women. Sometimes, the bride's and groom's names are also designed under a hidden pattern and both of them should find those hidden names before commencement of the ceremony. Usually mehndi and sangeet are celebrated as one grand event in a big fat Indian wedding.
Below are a few attractive mehndi and sangeet decors which can help with you with the decoration works.
Pious Entrance Adornment:
Decorative umbrellas have set a trend these days in events decoration Bangalore. Fabrics with attractive designs and colors are used for the umbrella top. Floral strings are used to adorn these umbrellas. The entrance arch is embellished with floral strings created from different flowers. Historical statues are also used to adorn both sides of the entrance arch. This is certainly a pious welcoming entrance decor for weddings.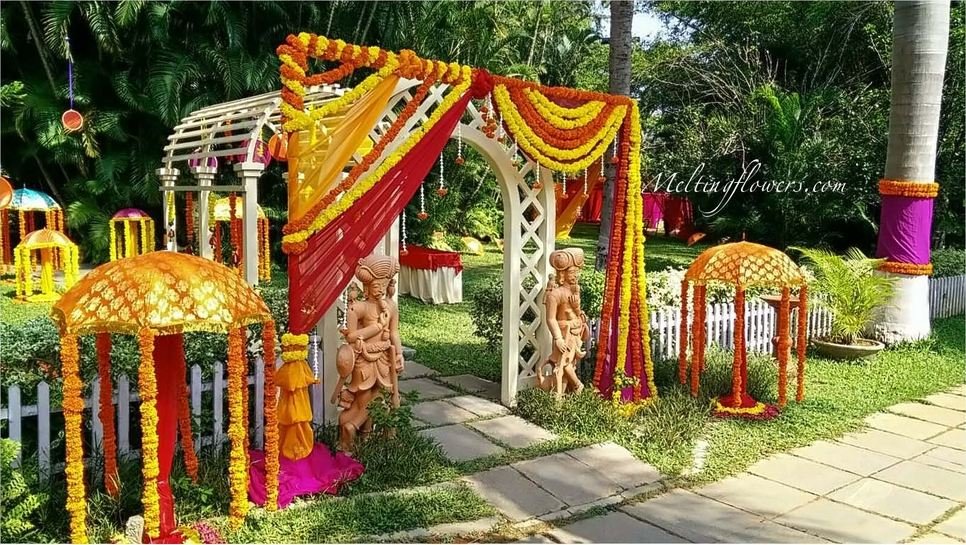 Kites,Umbrellas and Drapes:
Bland ceilings can be adorned with vibrant kites. Kites have this exuberance and novelty that form an attractive decor for the mehndi ceremony. Every arch is also decorated with fulgent drapes.
For the seating to be comfy and cozy, diwans with bolsters, sofas are arranged. Guests can have a very comfortable and relaxed time during the wedding with this kind of seating arrangement. Flower decoration for wedding is what makes this area look spectacular. Every bland pillar is draped with floral strings to induce exuberance and vibrance that takes this seating area's beauty to a great level.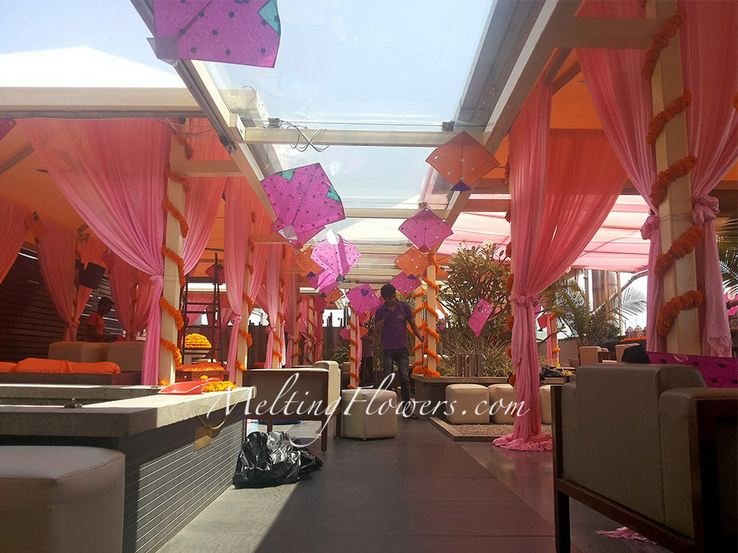 Novelty can bring a great look to any decor in the wedding. Decorative umbrellas are used to dangle from the ceiling. A bunch of them can create a wonderful decor that stands out from others. Drapes of different fabrics and colors are twisted to beautify the ceiling. To brighten this decor, string lights are twisted with those drapes.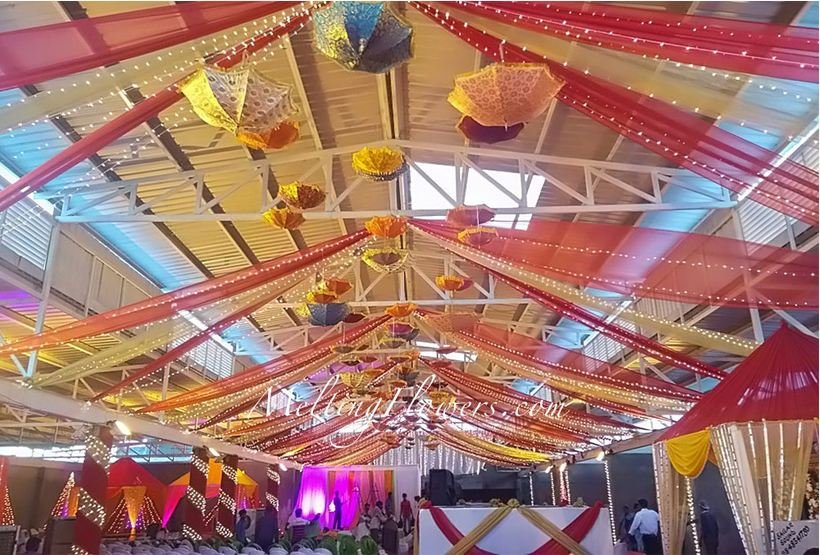 These attractive decors can create wonders in your mehndi and sangeet ceremony and bring extreme magnificence and elegance. Wishing you guys and your loved ones an utmost entertaining ceremony!