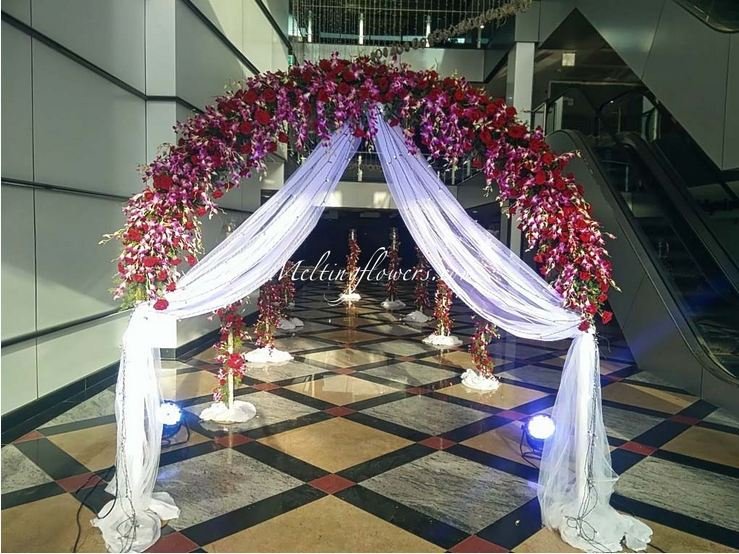 "Marriage is the highest state of friendship. If happy, it lessens our cares by dividing them, at the same time that it doubles our pleasures by mutual participation."
The beautiful union of the bride and groom is the main source of charisma to a wedding. Such an event filled with exuberance and extravagance has to be celebrated in the best possible fashion. Have you always dreamed about having an outdoor wedding? Then you must go for it with no second thoughts. A garden wedding would surely satiate your interests about outdoor wedding. You personally can choose a venue of your desire or you can hire a wedding organizer to do it for you. Weddings in Bangalore are most popular for the city's exemplary climate providing a pleasant atmosphere for people to organize a wedding. Entrance decorations play a significant role in the whole package rendered by the best wedding decorators in Bangalore. Get amazed by referring to the rest of this article on entrance decorations created solely from drapes.
Blush Pink Drapes and White Chrysanthemum Bunches:
Blush pink drapes symbolize elegance and feminine tastes. Instead of leaving the drapes bland, they can be twisted at two corners and adorned with chrysanthemum bunches at the joints. The top of the entrance can be decorated with chrysanthemum strings and hydrangeas pinned together. To add more chicness to this entrance, glass chandeliers can be used to embellish the ceiling.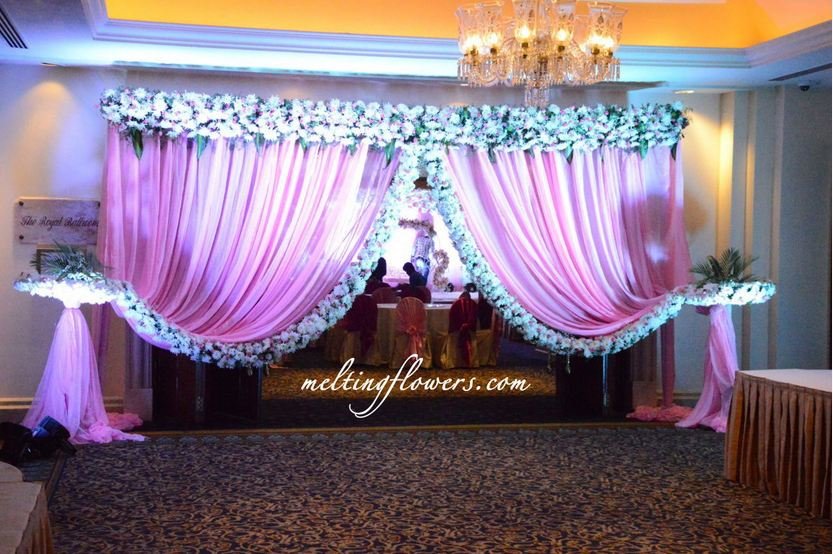 Golden Drapes With Golden String Lights:
A royal look to the entrance can be obtained by using golden colored fabrics for the drapes. These drapes can be accentuated with golden string lights exuding a bright and chic welcoming aura for the guests. Flower bunches twisted with hydrangeas decorate these drapes and lift up their beauty. Large decorative flower vases with fragrant flower bunches designed by the best flower decorators can also be used for decorations.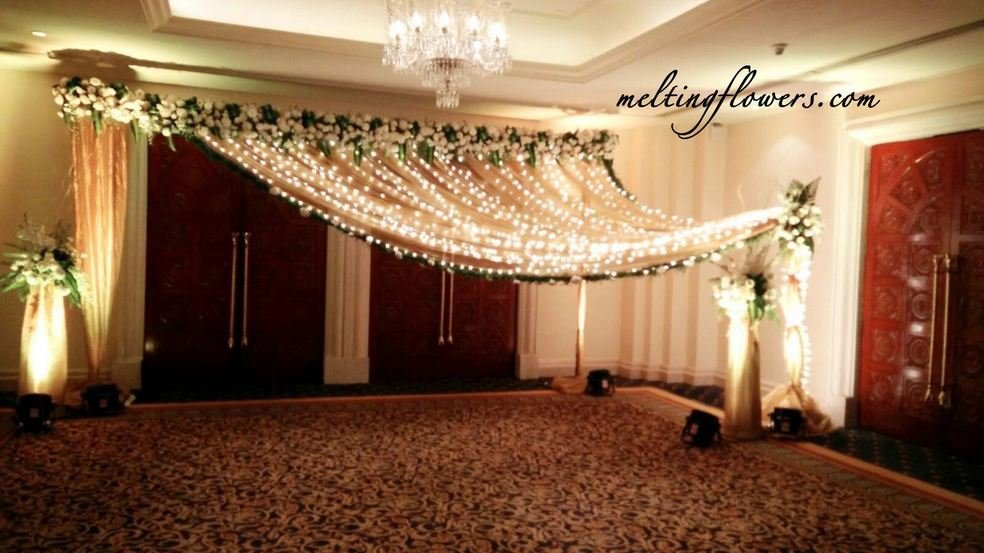 Transparent Drapes With String And Flood Lights:
Transparent drapes are usually made of a thinner fabric sometimes net fabrics. These drapes can be embellished with floral bunches. Both string and flood lights can adorn the drapes. The drapes are twisted on both sides and pinned with floral bunches. All these can be depicted from the picture below. Theme wedding decorations have this embedded uniqueness that can never be equaled with that of any decoration style.
Drape Garlands With Antique Statues:
Instead of a routine floral design, drapes can be twisted to create garlands that can adorn the entrance arches in wedding halls. An adeptly twisted drape can create a beautiful garland design decorated with pearl strings as shown in figure below. Besides these marvels, antique statues on either sides of the entrance would furnish a spectacular entrance decor for the wedding venue. Refer wedding decoration pictures for exemplary styles like these.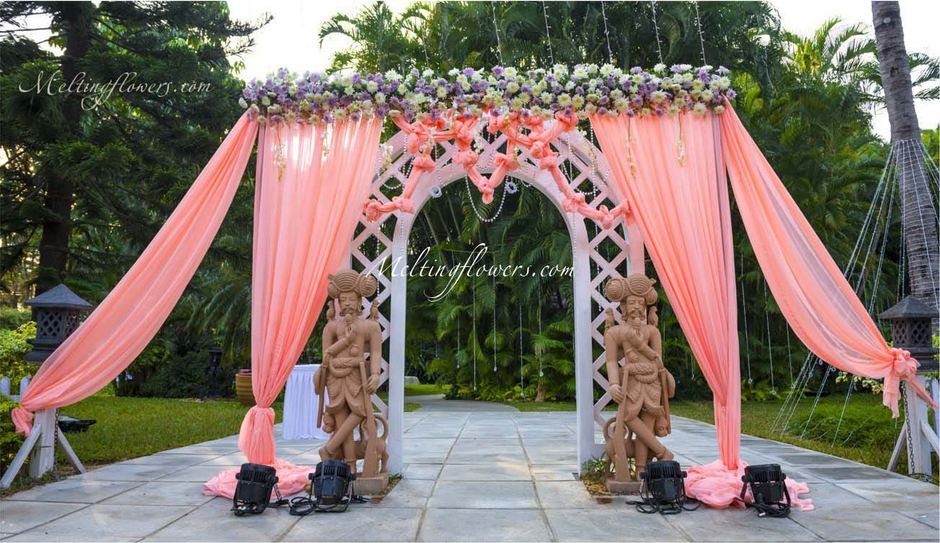 Remember one thing in your life, whatever you do, do it with love. Give the best decors by chipping in more creativity into the decors and create marvels for your wedding decorations. Good luck to you guys!
"All you need is love, love. Love is all you need."