"A good marriage is one which allows for change and growth in the individuals and in the way they express their love." 
We Indians give more importance to traditions and customs. When it comes to weddings, embedding traditional values into the celebration forms the crux. Rituals are performed in large numbers both during and before the wedding. Incorporating all the pious elements into the wedding is a mammoth task yet an interesting one. One way of bringing a pious look to the wedding arena is by selecting the best among theme wedding decorations which can induce an auspicious aura.
Here are a few interesting ways to decorate the wedding arena in a pious fashion.
Large Decorative Lamps:
Lamps are used in auspicious occasions which symbolize the purity of light. Such an element can also be used as a decor in weddings. A large lamp designed with appropriate material can be adorned with flowers and can be used as a decorative item in the entrance of a wedding hall. Wedding decoration deploying this decorative piece will surely render a pious and charming look to the arena.
Rustic Log Cabins:
If you are a lover of rustic decorative pieces and want your mandap to be in the same fashion, you need to choose a log cabin. Log cabins have this inbuilt archaic beauty that no other architecture can replace. Use the best drape to adorn the interior ceiling of the log cabin. Flowers are twisted to create dangling designs that adorn the perimeter of mandap. To increase the divinity of the mandap, a floral design depicting any deity of your belief can be placed exactly behind the rituals area. Choose the wedding resort in Bangalore that incorporates all the divine elements and let your wedding bring out utmost charm and beauty.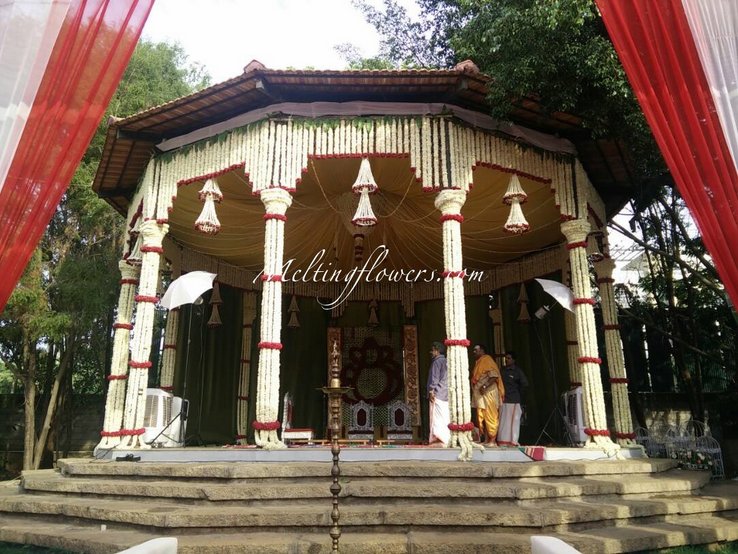 Vibrant Outdoor Shades:
Every guest needs to watch every single moment during the wedding seated comfortably. If your mandap is arranged outdoors, you need to make the place and seating seem comfortable to all the guests. Here is a vibrant shade made out of colorful drapes under which chairs are arranged for guests to be seated. White is the most preferred color for decorations made outside bringing an elegant outlook. Wedding locations in Bangalore experience a benevolent climate and hence outdoor weddings have their own importance and charm that can never be emulated.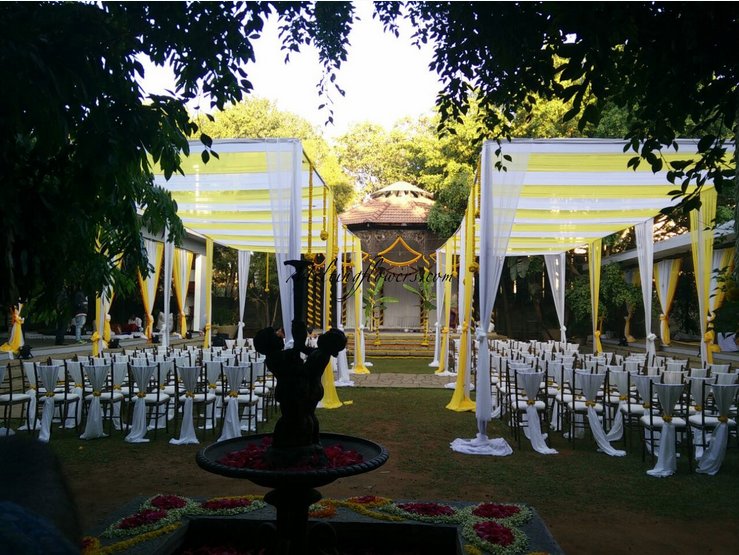 Lighting Decor:
Outdoor wedding decoration need the perfect lighting decor. String lights of various designs form the basic element in any decoration. Bulbs are left dangling from the roof tops which form a cute decor. Lanterns made of different shapes and materials are another choice of decor. These lanterns are sometimes left dangling from the top and sometimes placed on the floor. Choose lighting decor of your desire and make your wedding venue look absolutely stunning.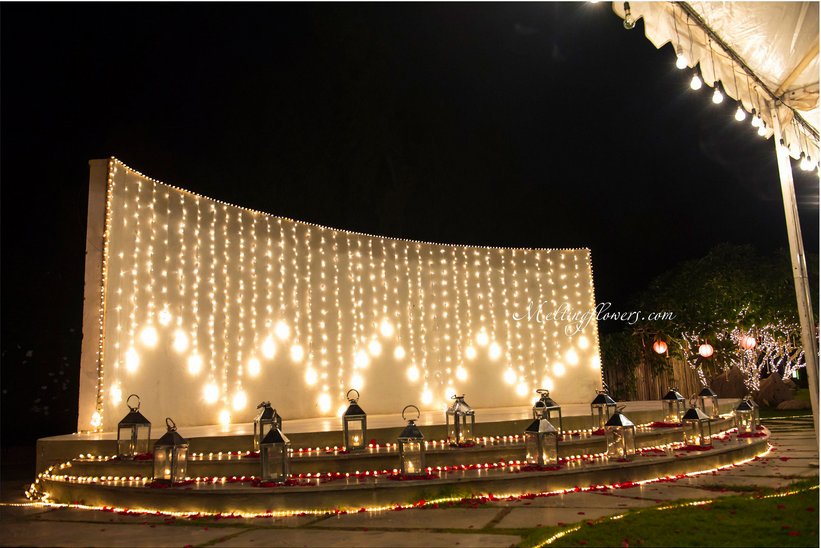 Bringing a pious look into each decor in the wedding needs a lot of effort to be chipped in. So, give the best creative ideas a divine tinge and let your wedding not lose the traditional values you follow.
"The highest happiness on earth is the happiness of marriage."
Save