"A marriage is not a noun; it's a verb. It isn't something you get. It's the way you love your partner everyday" – Barbara De Angelis
Life gives us a fairy tale once in a while amidst insipid situations. One of them is wedding. There may be many special events and occasions in a person's life, but wedding has this unique quality that no other event has. India is known for diversified people who practice a plethora of traditions and customs throughout their lives. A nuptial is the beautiful union of two souls in love. Such an enigmatic event must be well planned and organized. If you are planning for a wedding with lot of pre-wedding events, then you must also have a cognitive plan long before the actual wedding will be held. Here are a few appealing seating decoration ideas to liven up your wedding decorations.
Sparkling Red and White Shades:
Shades are the primary necessity for an outdoor wedding. The material used for shades can vary depending on your interests and color preferences. The picture below depicts a sparkling red and white shade which is created from decorative drapes. To bring a contrasting look to the area, white and red drapes are placed one after the other for the roof and combined at the ends and pinned to the ground. For the seating arrangement, chairs with comfy cushions and diwans with chic bolsters can be arranged. Based on the count of guests, pick the number of chairs and diwans required.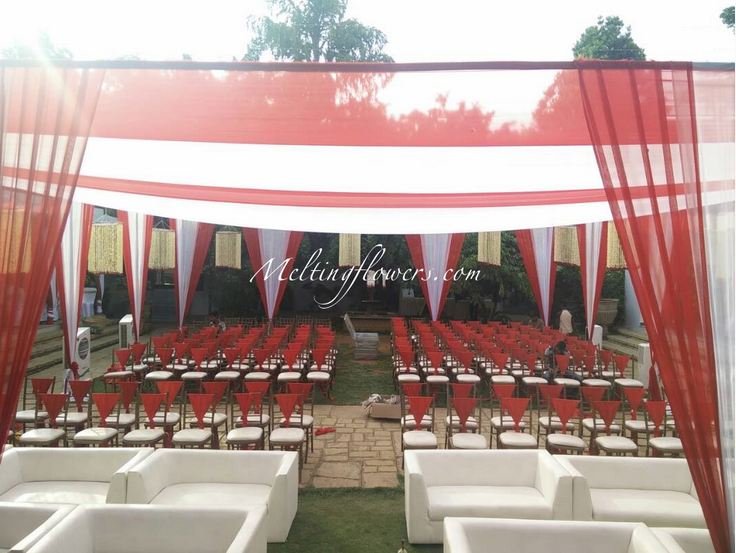 Comfy Tent Swags:
A warm shade can be created by fixing a large tent swag in the garden for people to rest during the wedding. To adorn this swag, floral strings are used and floral pomanders created from flowers like roses, jasmines are used. Chairs are adorned with decorative fabrics and ribbons to make the seating look more appealing to the guests. These tent swags will be best suitable for garden wedding Bangalore.
Elegant Yellow and White Shades:
The perfect color to signify a traditional occasion is yellow. Shades for the seating area right in front of the mandap can be designed with a combination of yellow and white drapes. Both these drapes are used alternatively to create a large shade. Chairs are also decorated with white fabric to bring an elegant look to the whole seating area. Floral strings with pomanders at their tips are used to adorn the rim of those shades.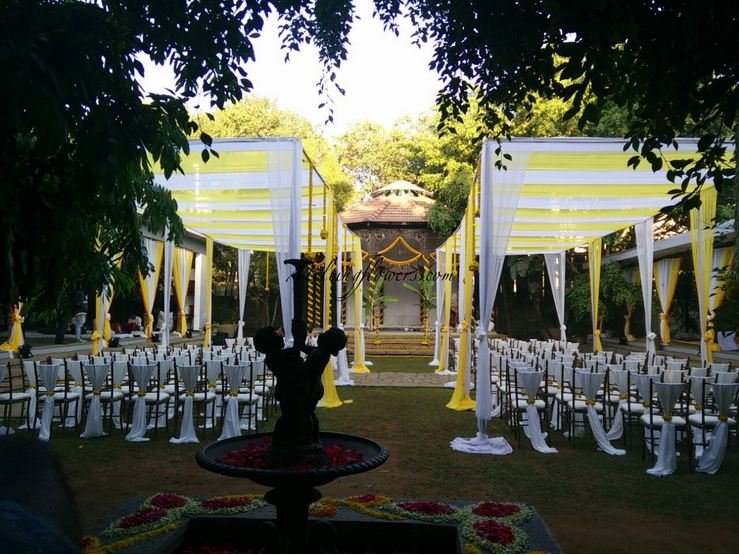 Royal Canopy With Drapes and String Lights:
A wooden canopy can be adorned with brownish colored drapes of net fabric to accentuate its rustic look. String lights of the same brownish tinge enhance the beauty of the drapes. For a royal and comfy seating, a large sinuous sofa set can be placed for special guests to be seated during the wedding. Prefer to pick a royal venue among wedding venues in Bangalore.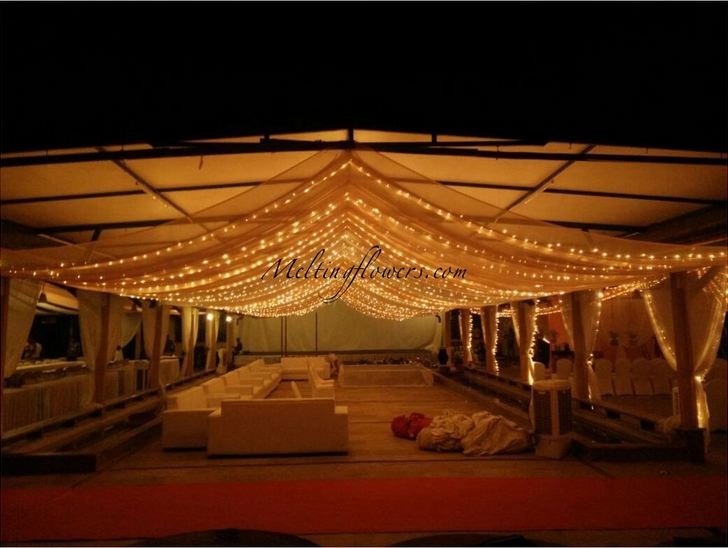 These seating area decoration styles might have impressed you and refer marriage decorations for more fabulous ideas. Think creative and come up with riveting ideas that can spruce up each area in your wedding hall. Transform the bland wedding locations in Bangalore into stunning ones with these unique wedding decoration styles.