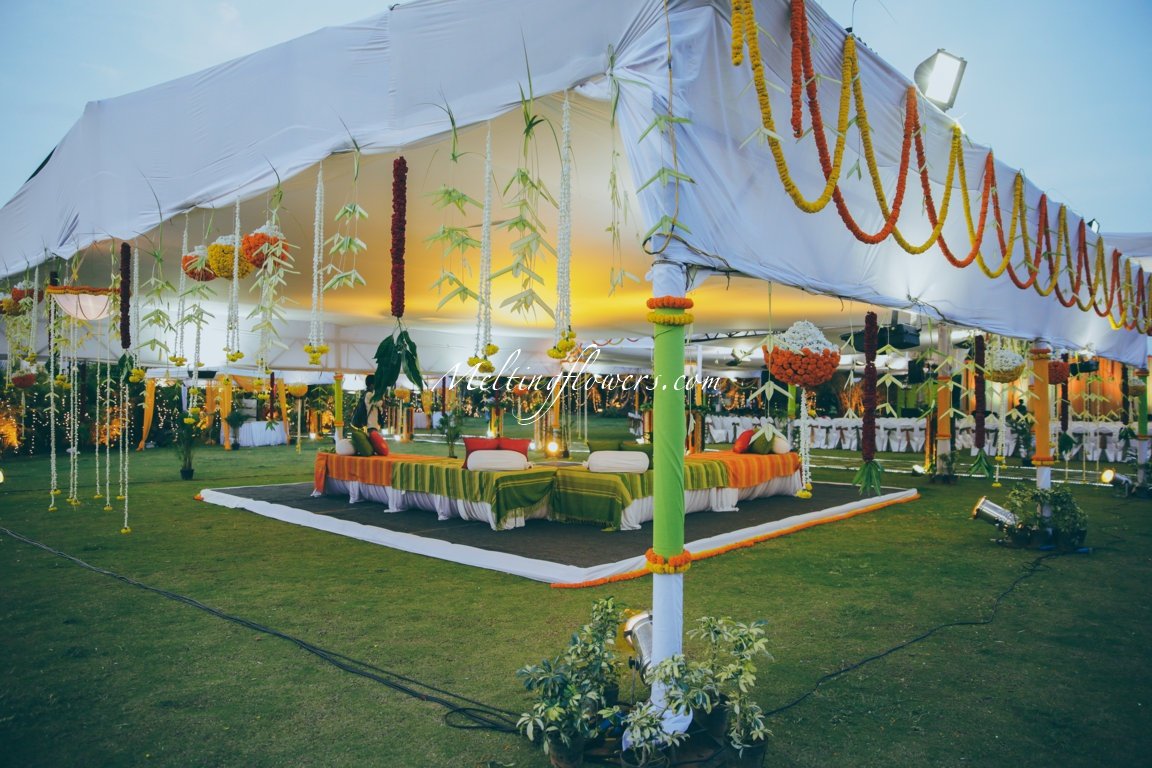 Canopies are the perfect place for the coy and bashful couple. You get to hide, but not hide all at the same time, and it creates the perfect rooftop for your love to skyrocket. From Chinese canopies, to flower canopies, a canopy instead of a traditional mandap is always a refreshing idea. The Chinese canopies also provide you the perfect theme for a theme wedding, and it is also perfect as an outdoor wedding decoration. The best flower decorator in Bangalore can handle this for you, from putting up the canopy, for not just you, but also small canopies for your guests to sit under, prettying up the entire place. There can also be small tables under these canopies with chairs around them instead of the old boring way of arranging chairs and tables in a structured way.
Wedding venues in Bangalore are flexible enough to accommodate canopies and this for sure will win you a lot of votes among the younger generation, and you could even turn out to be the trendsetter. You have so many colours and decor ideas to play with. You can completely rely on drape decoration for your theme wedding ideas, for that will look the prettiest for Chinese canopies, and you can go less with the flower decorations as well.
Locate your wedding decorator, and fix up the perfect canopy wedding already.
Canopies are universal in a way that, not just your wedding, any event that you might be hosting can have canopies for an accentuated look. From your Moroccan themed Mehendi to a private house warming, these lovely tents make sure they steal people's hearts.
Chinese canopies are lovely as the aesthetic appeal it has, is a very pleasant one, it has a peaceful approach to it, given the temples and monasteries are constructed with the canopy like rooftops.
Take a look at these pictures for a perfect idea of what's required and how lovely these weddings are…