"It is only goodness which gives extras, and so I say again that we have much to hope from the flowers."
― 
Flowers are the highlight of any wedding decoration. They can be used in myriad ways and look delightful. Here are some ideas for embellishment and arrangement of fresh flowers that can be incorporated into the decor in more ways than one.
Glass flower vases in sleek designs arranged with a few candles can be placed along pathways or at corners for a glowing effect. The soft combination of flowers looks classy, and so does the play of light created by the reflective surfaces, without being too glaring or overwhelming.
This setup of a bunch of bright-colored orchids with leaves in a fishbowl filled with water works well as a table centerpiece for venues both indoors and outdoors. The fresh flowers that will last through the day are especially suited to be incorporated into the wedding decoration for a daytime event.
This beautiful arrangement of various types of flora in a wooden basket looks gorgeous. It can be placed on tables or at window sills. This also makes for eye-catching decor of nooks and corners that have been lined with multicolored flower petals as shown below.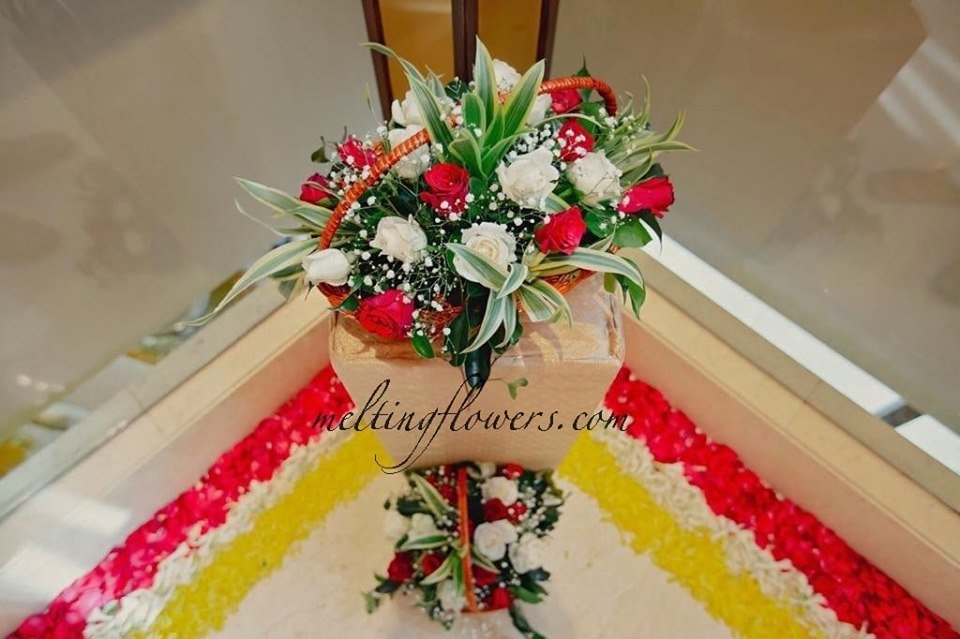 This creative wall decor comprises bare branches and rings made by twisting metallic wires with flowers tucked in. It looks stunning against the background color. The floral rings can be hung up from trees or ceilings in any kind of venue.
Simple and elegant, this flower decoration makes use of jars filled in with stones, faux flowers, etc. in which an enthralling arrangement of breathtakingly beautiful fresh flowers has been set. These jars can be placed apart or close together over tables, buffet tables, along the entrance walls or along the staircase.
Riveting bouquets of florals have been placed upon containers with a shiny surface that draws attention. The string of flowers extending downwards into a little pattern on the floor looks artsy and can be used for entrance decor. The selection of flowers here is important, keeping the color contrast and variety intriguing for every onlooker.
This dazzling entrance decoration makes use of an assortment of things such as metal and crystal candelabras of various sizes, small candles in glass jars, wooden bunches decorated with flower vases, flowers arranged in long tumblers and some petals scattered randomly. The setup looks magical indeed and is appropriate for nighttime events.
This enchanting outdoor wedding decoration depends on the stellar combination of a white birdcage and showy blossoms. Laden with orchids, baby's breath, roses and hydrangeas, it can be used to decorate the entrance or hung anywhere outdoors to make you feel like you've stepped into a wonderland.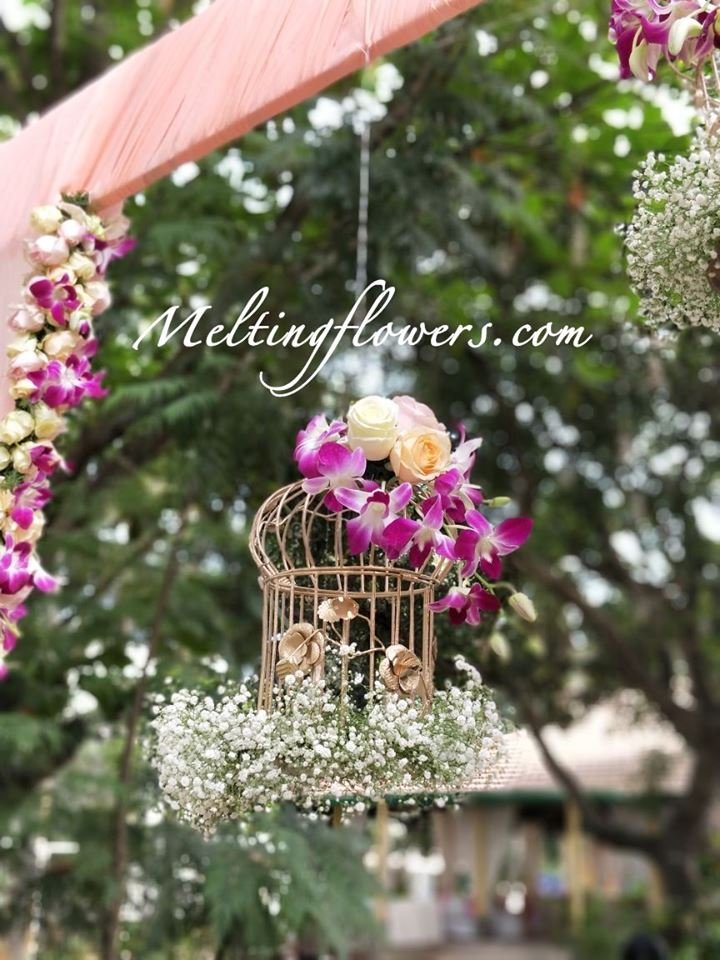 A simple flower pot can be transformed into a lovely decorative piece by covering it in a mesh of jasmine and surrounding it with lively marigolds.
Plain metallic candelabras too can be placed on tables for centerpiece decor and along pathways after being adorned with strings of jasmine.