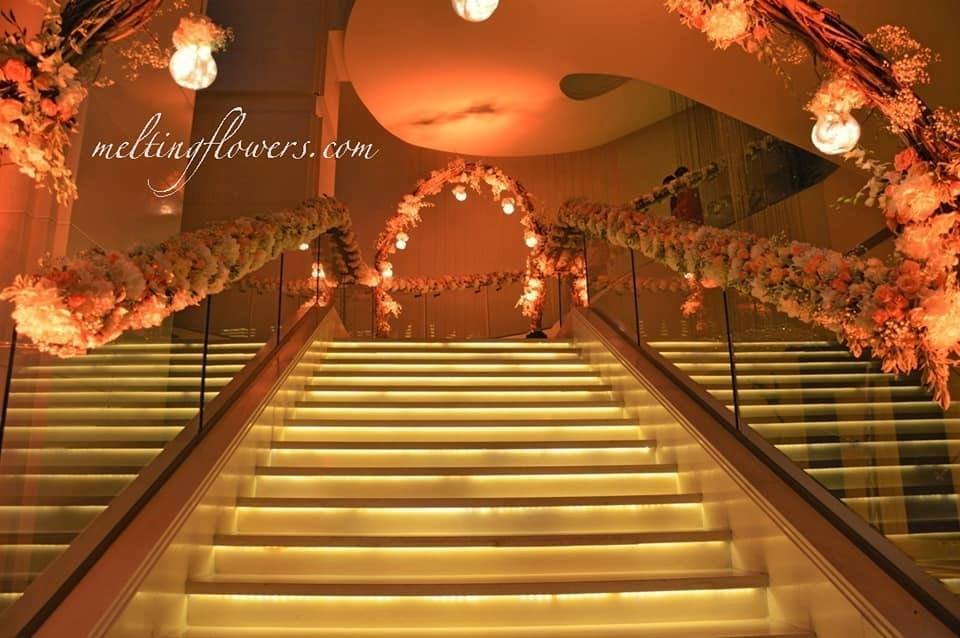 No matter what the occasion, event decoration usually involves taking care of all the components of the venue, ensuring that no area is left unadorned so that it all comes together beautifully in a uniform theme to welcome the guests and host the event. So, here are some stunning staircase decorations of event venues to complete the perfect setting for your gathering.
This simple yet pretty decoration is accomplished with bicolored drapes that are strung along the bannisters of the staircase along with delicate fairy lights and clusters of flowers at various junctions.
This gorgeous outdoor wedding venue looks radiant. The steps leading to the pool have been lightly decorated with florals so as to subtly complement the rest of the wedding decoration.
Welcome your guests into the realm of the fairies with this enchanting flower decoration. Lush flower wreaths run down the handrail on both sides while arches craftily made of twigs and florals adorn the ends of the stairway. The soft colors blending with the interior and little hanging trinkets make the setup magical.
The beautiful patterned glass handrail needs little decoration. White drapes wrapped around them and decorated with bunches of florals are all you need to get the place event-ready.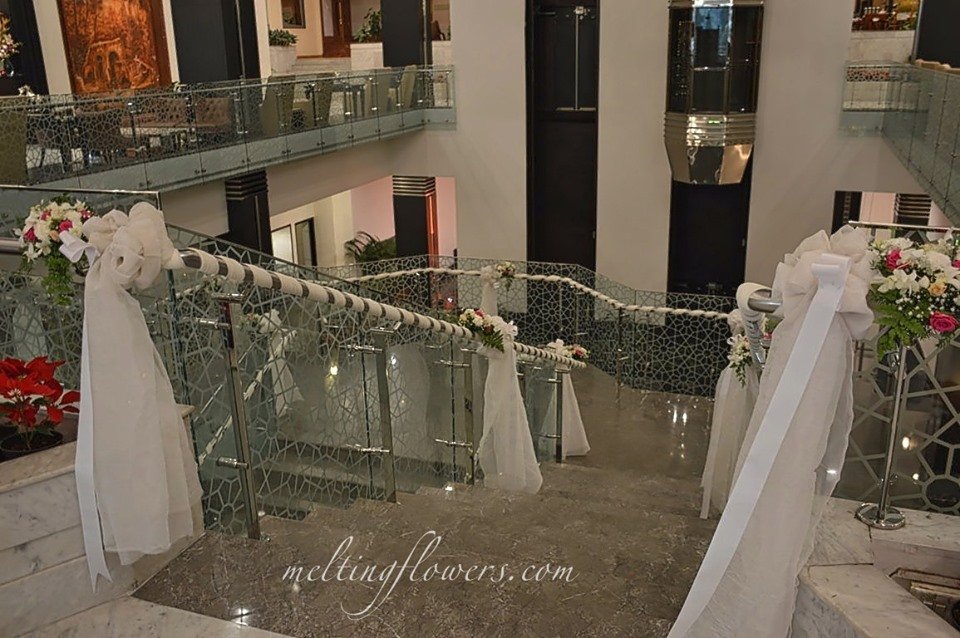 The staircase decor blends in with the rest of the theme with lovely bunches of flowers and clustered drapes adorning the handrails. It looks classy as well as elegant under the pleasant lighting.
This stunning, regal-looking staircase is adorned liberally with floral runners trailing down the steps as well as hanging outwards from the bannisters with complimentary green vines. It is balanced with lighter decor on the other side with tightly wound drapes and flower bunches.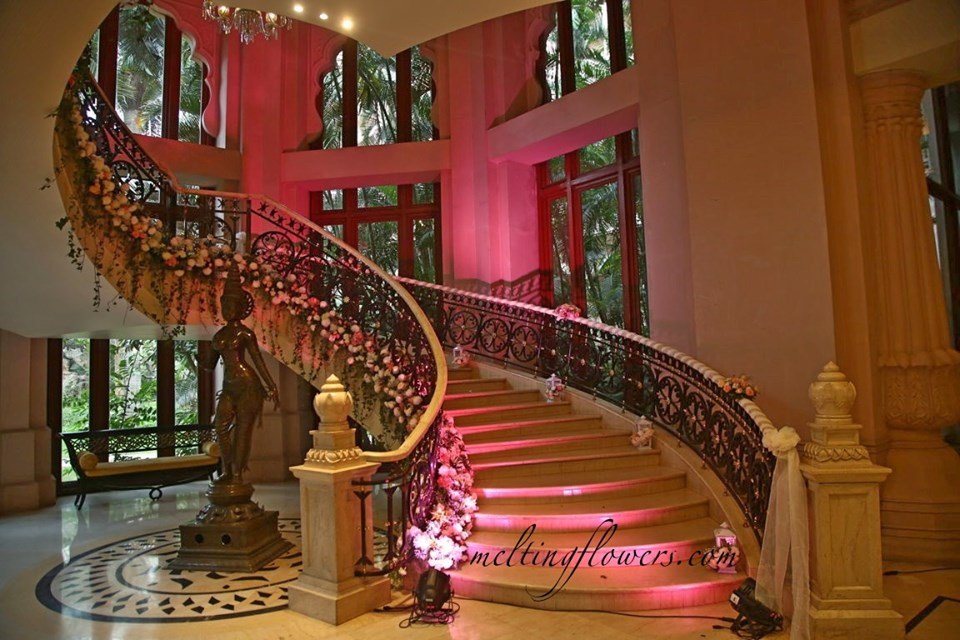 This outdoor venue has a serene, traditional vibe to it. To keep that up, these steps are decorated with paisley patterns made out of fresh flower petals and metal containers are placed along with them.
The highlight of this rustic yet charming floral decoration is the color combination. Bright florals adorn the edges of each step, looking vibrant and chic.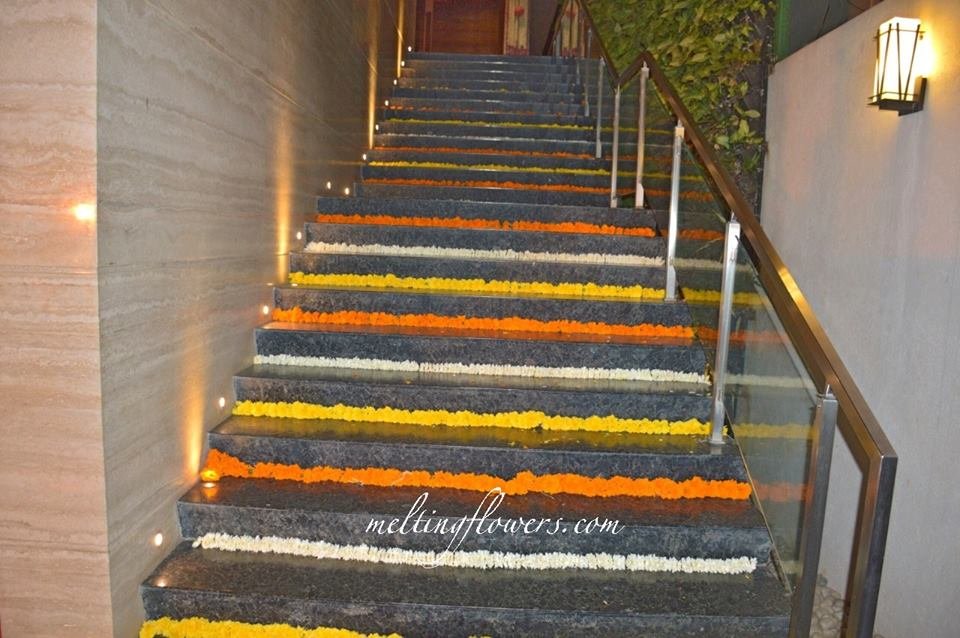 The decoration here is done entirely with thick flower runners in gorgeous pastels that run down the length of the handrail in a very contemporary and suave setting.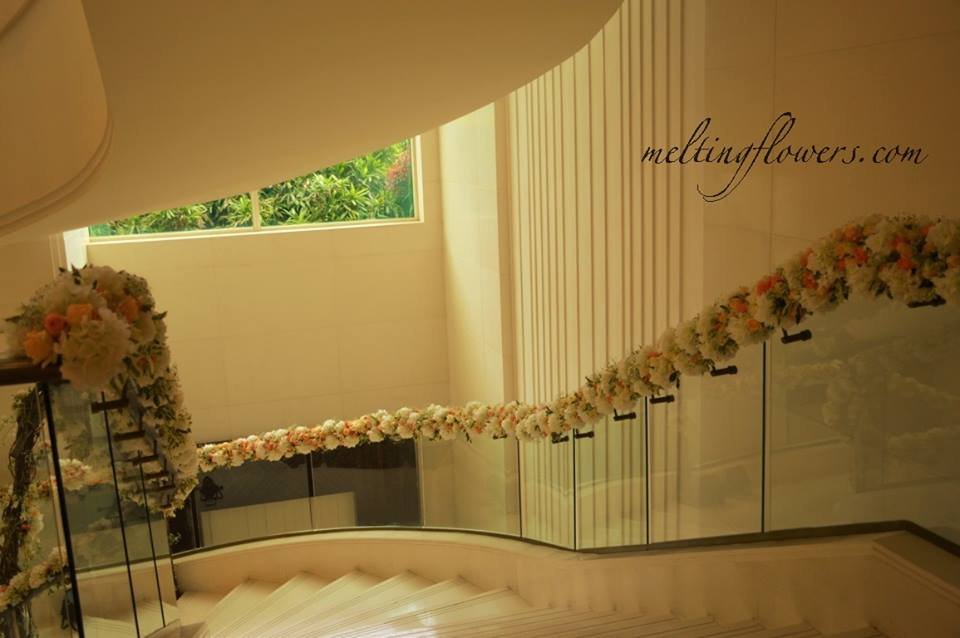 Perfect for any kind of event outdoors, this stairwell is adorned prettily with runners of flowers and greens at both the top as well as the bottom.