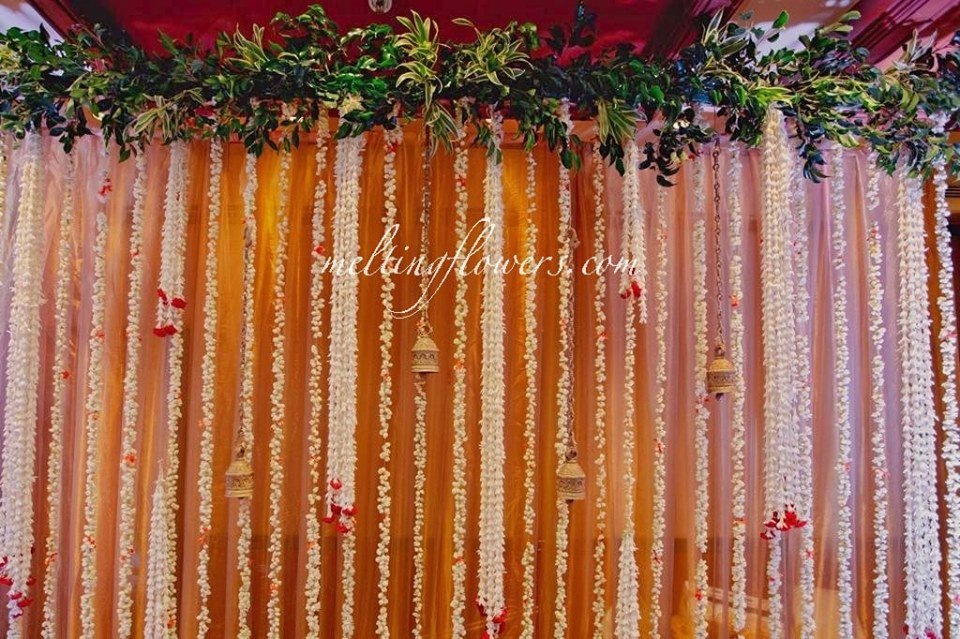 Flowers are a wonderful gift to humankind. They are the purest form of beauty on earth. Although transient, they make each moment of their existence worth by perfuming our lives and making us smile with their enchanting glory. Any wedding would be incomplete without them, an entirely lacklustre affair. So here are some noteworthy flower decoration ideas to inspire you.
Towering bunches of artificial flowers in soft colors adorning the pillars in the center of the hall are a very creative way to fill up the space in between the seats. The fluorescent lights of the venue create a mystical aura.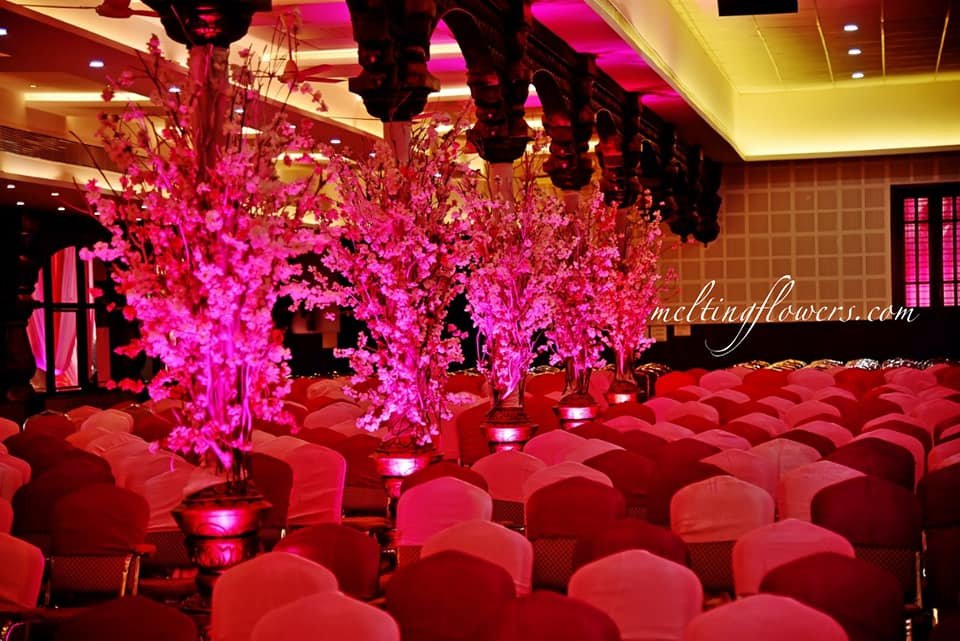 Adorning the entrance walkway is this creatively crafted wooden frame laden with flower garlands and hanging bells made from flowers as well. On one side, gauzy drapes are tied and lined with more marigold garlands.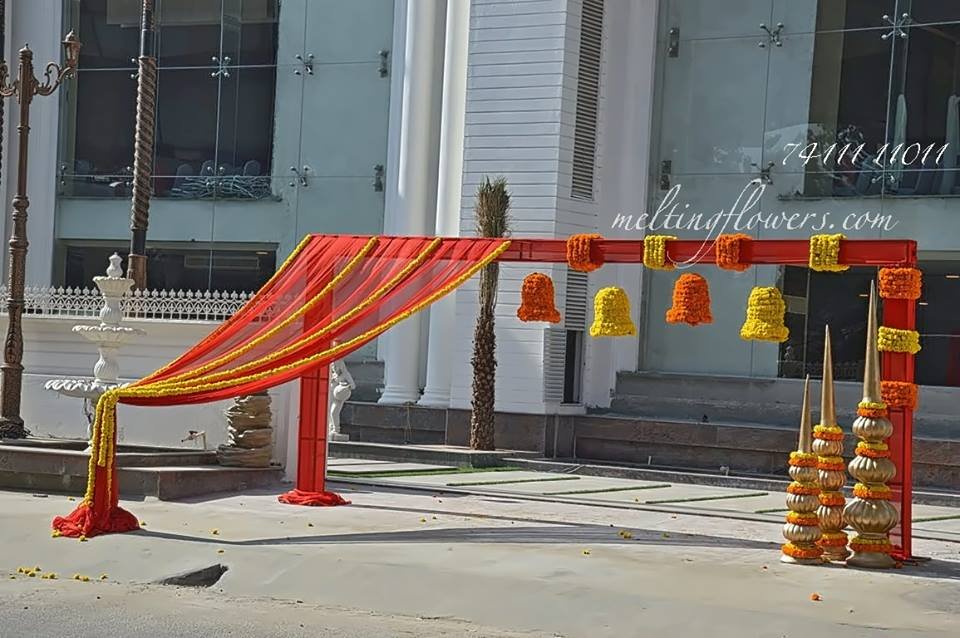 Wedding decorations can be made super unique, quirky and stylish with the help of fresh and lively blooms. For an open venue, make sure to decorate the trees as well with fairy lights, ornate lanterns and floral pomanders. You can give a twist to the regular spherical pomanders by stacking floral wreaths on top of each other. They make the place instantly appear more vibrant.
If there are water structures such as ponds and fountains, you can either fill them up with floating flower petals or clusters or outline them by arranging flowers in beautiful patterns. Add candles or lanterns if needed.
Here is a marvelous mandap decoration to consider for your wedding decor. Made entirely with a plethora of flowers strung on all sides of the hanging structure, it is indeed a piece of art to look at as it floats in the air.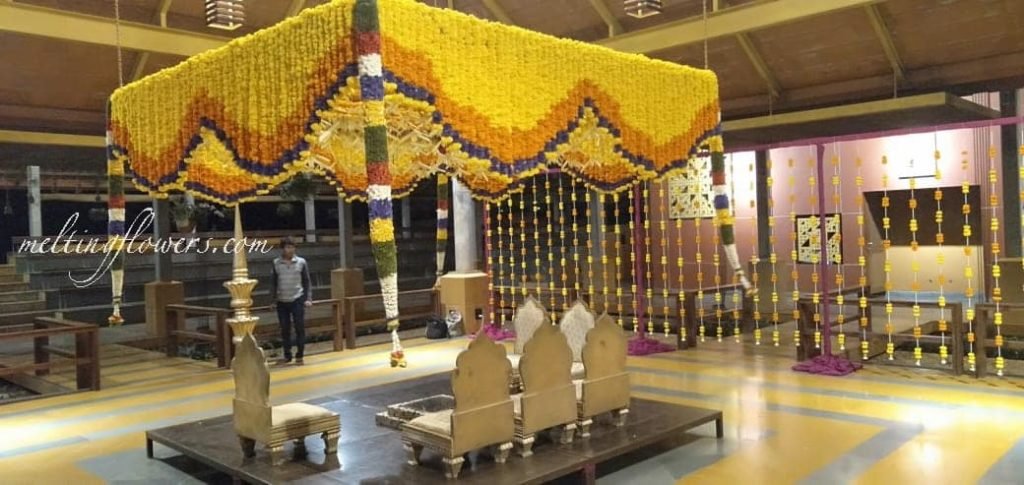 The pool area in this wedding venue has been adorned generously with flowers, mainly marigolds. Sprawling patterns of florals border the entire space around the pool.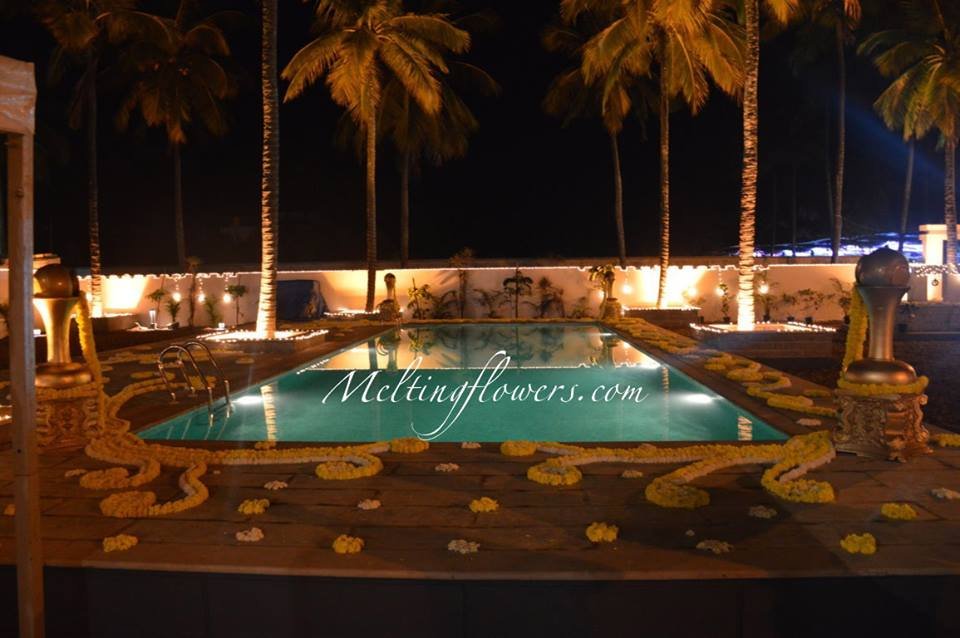 Add to your decor a dash of color. Nothing spells enthusiasm in a traditional manner like showy marigolds. Combined with clusters of green, they can be mounted in various parts of the garden for some spellbinding decoration.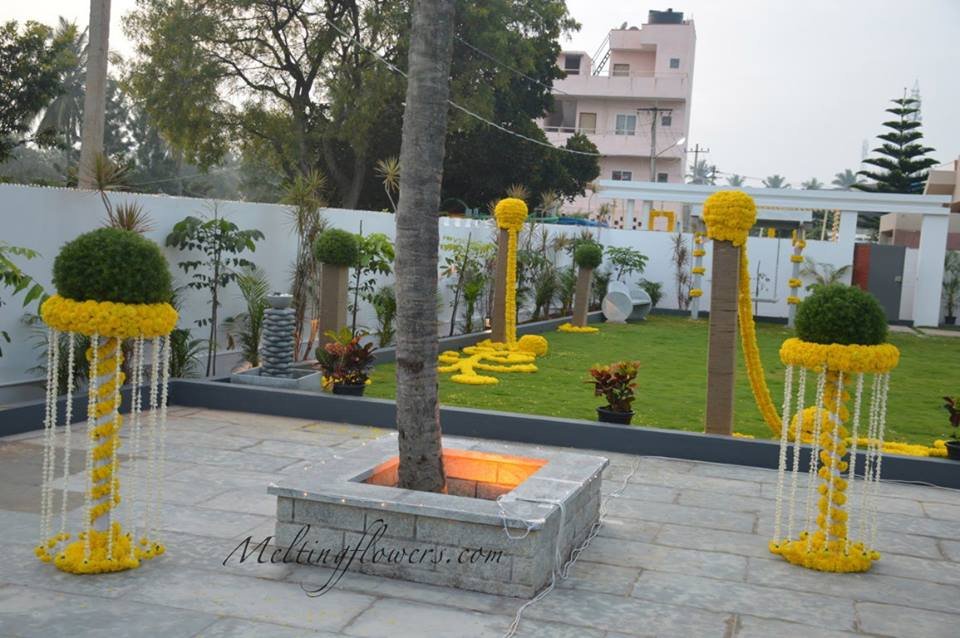 Small, dainty blooms strung together or in clusters make for stunning embellishments. Consider this entrance decor where the frame is covered in an intricate combination of flowers, some of which are also stuck on top of the bells hanging from the top. A stellar amalgamation of roses and jasmines in thick garlands can also be used in multiple ways for wedding decoration.