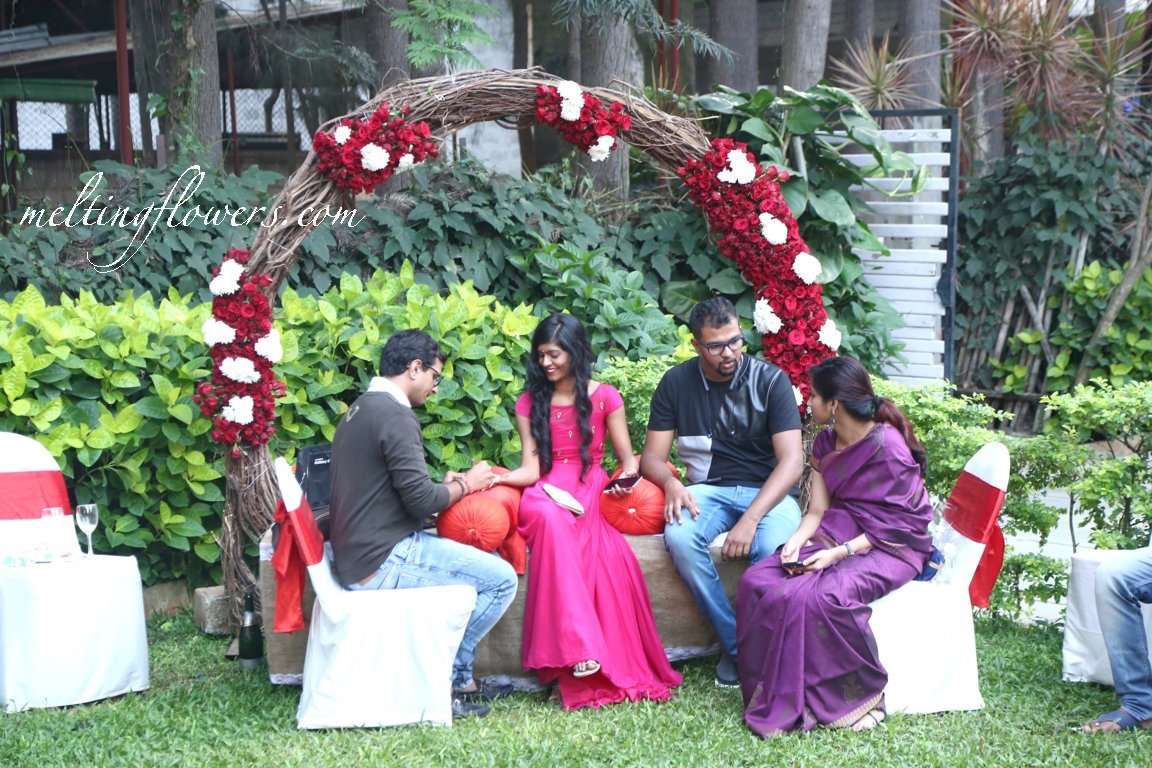 "Taking pictures is savoring life intensely, every hundredth of a second."

-Marc Riboud
The beauty, joy, love and cheer of your wedding day is meant to be captured for eternity. Make your most precious moments outlast that one day of celebration by setting up a lovely photo booth for your wedding decorations.   This is a simple way to create a magical ambiance for you and your guests to take pretty pictures. Mellowed down blue and purple lights complimenting a subtle background decorated lightly in similar hues really make it look like a scene from a Disney movie. The flower-adorned cages add to the artsy look.
Easy and attractive, make use of ample flower decoration on a plain backdrop in colors to match the rest of your decor and let the pretty blooms weave their magic as you click snaps in front of them.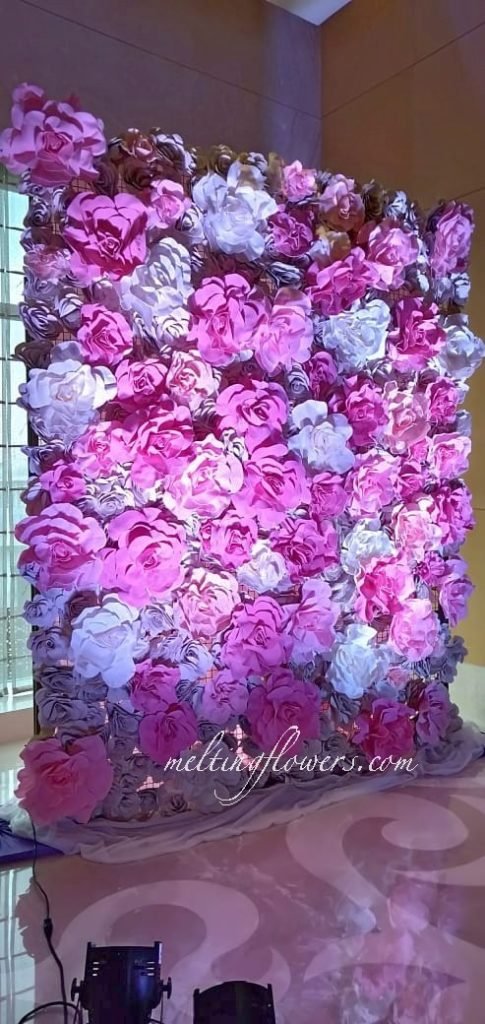 Ideal for a day event, this photo booth decorations is every bit fun and effervescent. The pop of colors juxtaposed with an equally vibrant retro scooter and embellished parasols are a creative take on the traditional Indian wedding decoration themes.
Big, showy florals and a dash of greenery are all you need for this elegant setup, complete with a monogram of the couple's initials. The dainty couch looks equally vintage and modern.
DIY a trellis or frame into a stunning backdrop for a photo booth by suspending from the top a few rings with little clusters of flowers curled around them. This backdrop is subtle, elegant and adorable to beautify your photographs without eclipsing the people.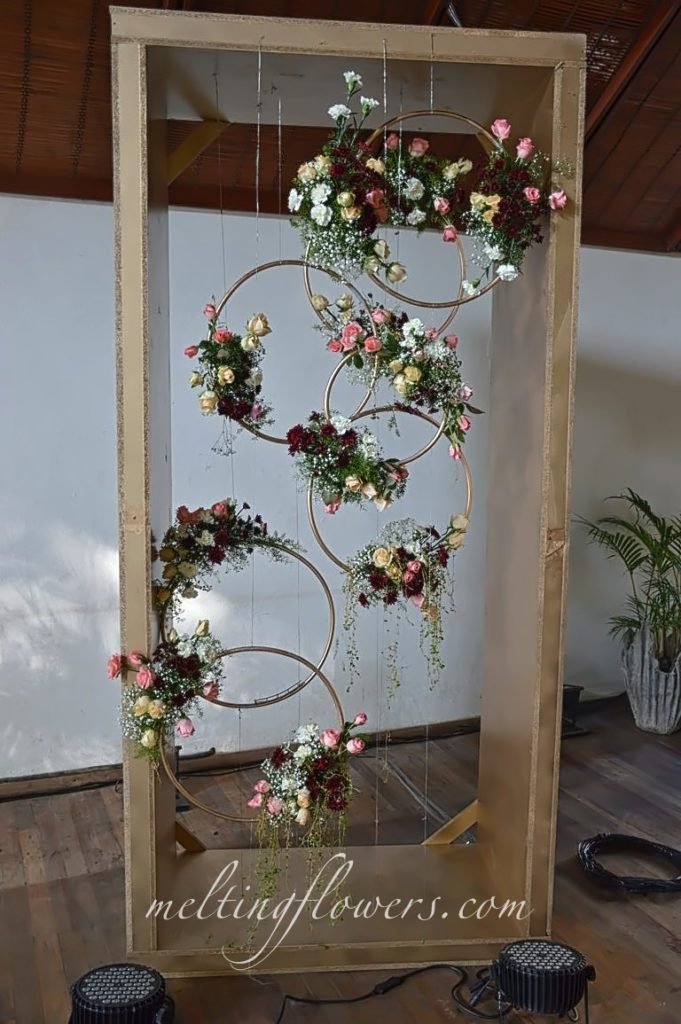 Go technicolor with this lively backdrop made out of brightly colored photo frames and folded paper decorations. This photo booth speaks playfulness and will definitely contribute towards bringing your guests together for lasting memories.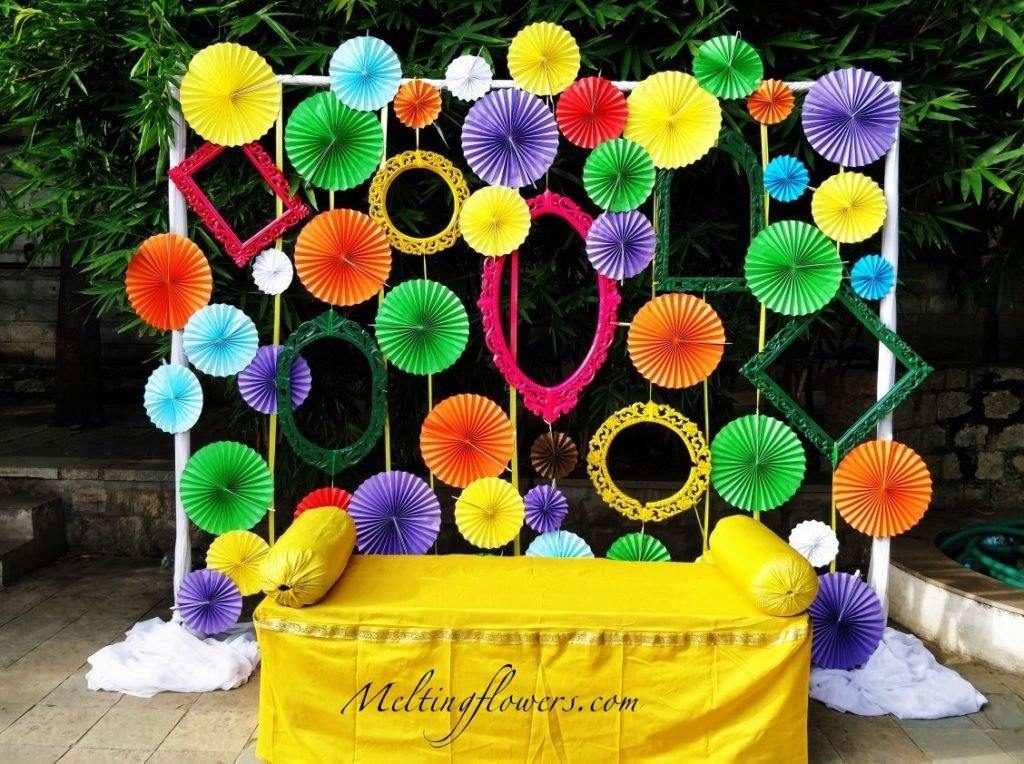 This popular wedding booth is perfect for the romantic couple to hop on the loveseat placed in front of a rustic floral background with their names imprinted on it.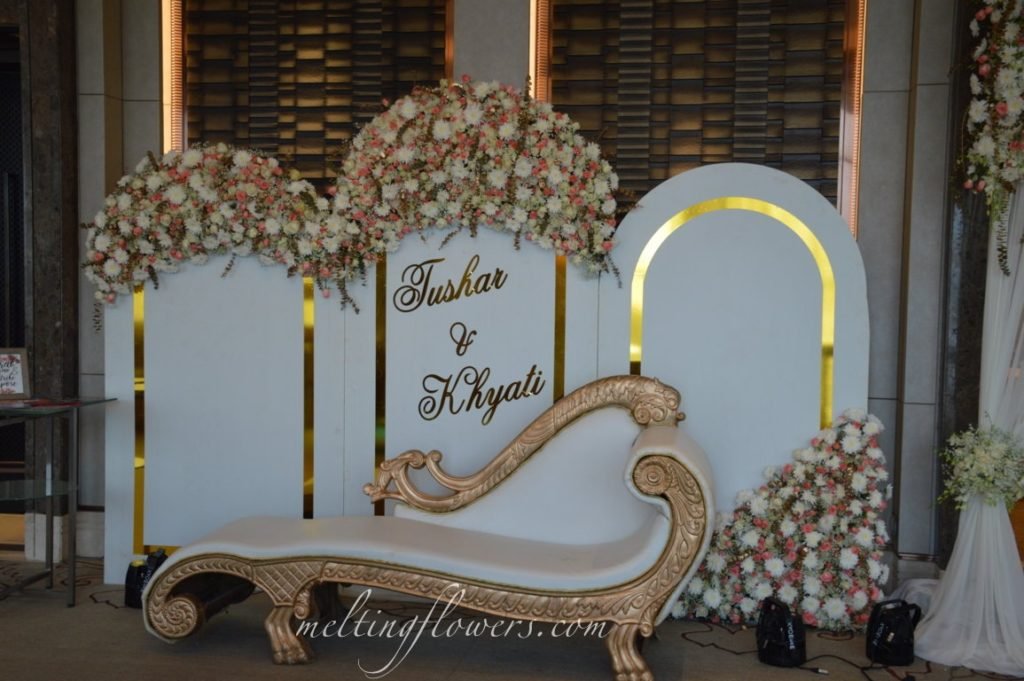 Stately and bold, this photo booth setup will easily draw people in with its giant floral wreath and curled up vines dangling from above. The luminous curtain background is sharply contrasted with the brilliantly colored flowers and looks nothing short of enchanting.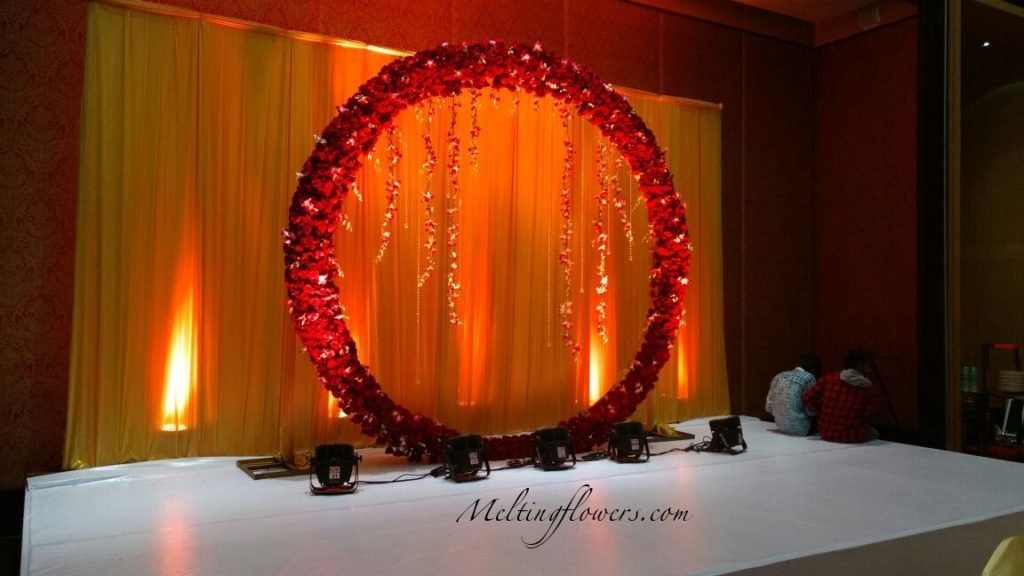 Another one straight out of a fairy tale, this photo booth will indeed make you want to create your own story in the snapshots among drapes and floral embellishments. The matching pendant frames complete this smoky setting.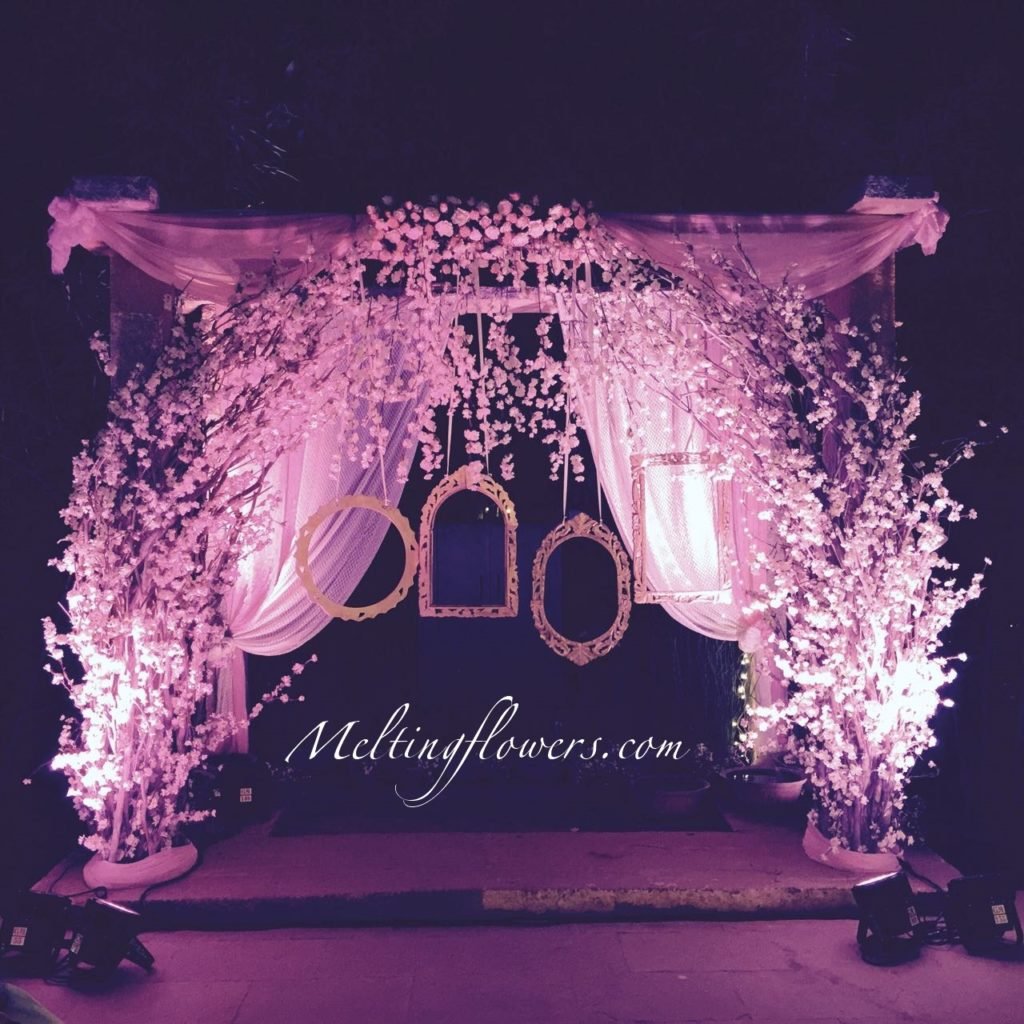 Perfectly suited for an outdoor or poolside wedding, this lush green backdrop bordered by colorful fans makes for an uber-cool photo booth. The bicycle as a prop is a nice artsy touch to the theme.
Mammoth monograms of your initials or the title, simply lit from the back and placed against the natural verdant outdoor setting are an eye-catching and fun way to celebrate your wedding and have your own watermark included in every snap.
This boho-chic eccentric photo booth is loud enough to level up with your enthusiasm and the aura of festivity surrounding the wedding. The giant florals, colorful runners and a bright yellow scooter come together in a super-fun setting for you and your guests to bond in.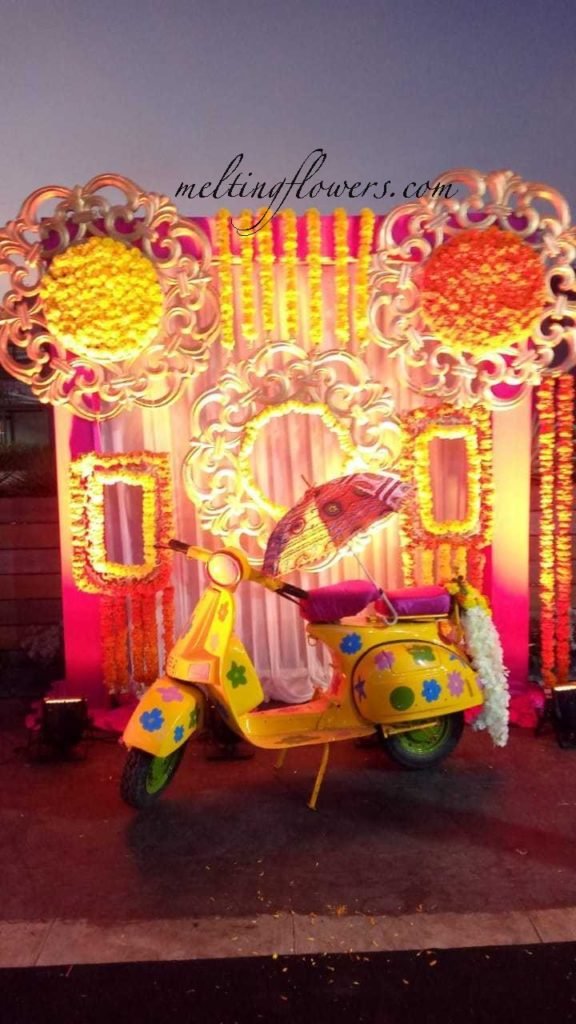 A floral wreath in the shape of a heart blends right in with the rest of the outdoor wedding decoration. Have your best moments captured under a beautifully lit tree. Lanterns, cages and suspended crystals or lights will add to the charm of the decor.
Every Indian wedding is bound to be influenced by Bollywood in some way. But if you're an avid aficionado, make sure to show your filmy side with this cinematic setup of movie posters, lights and a vintage carriage.
Looming candelabras, a bright green central backdrop crowned by flowers and vines, colossal candles and crafty lanterns, this photo booth decorations looks no less than a dreamland. The soft lighting and calm and regal aura will have people thronging to have their pictures taken.