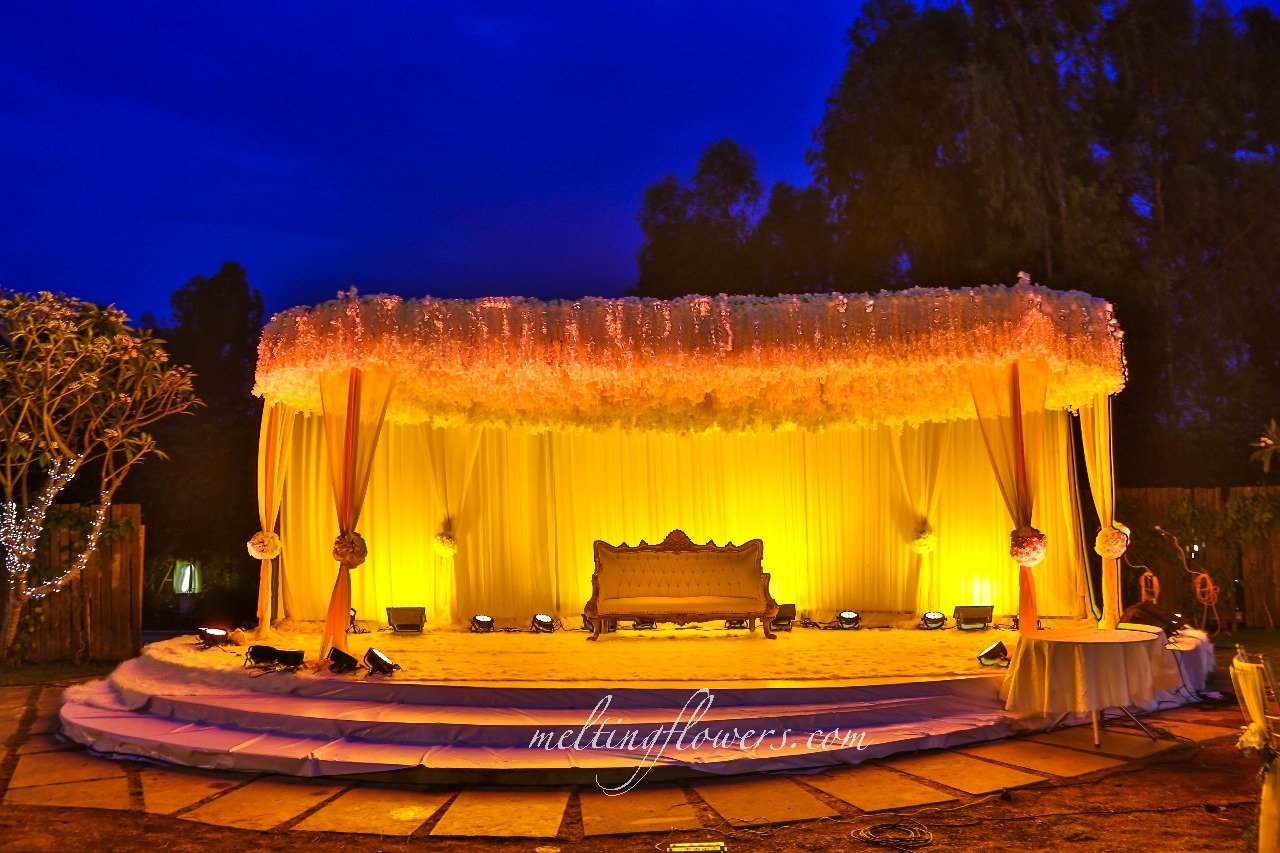 "Two souls with but a single thought; two hearts that beat as one."
—John Keats
Weddings are a beautiful union, a dancing of two souls embarking upon a new journey. White is so much more than a color. It is the confluence of all the colors of natural light that symbolizes the unity of nature, a whole, self-sufficiency, chastity and radiance. The charm of white weddings is thus, easily understood, framed by the halo of white-based wedding decor. Here are some ideas for an elegant wedding backdrop for the main stage, photographs, etc. for a white wedding.
The evergreen combination of whites and brilliant red is breathtaking. This fancy backdrop comprises a red flower wall backed by a white curtain background. The floral arcs curving in from both sides, the classy and dainty chandeliers suspended from them and the big flower vases combine in stately-looking wedding decorations.
This elegant backdrop is an interesting play of light effected with the help of overlapping and crisscrossing drapes and mellow lighting and chandeliers. A florally-embellished center with candelabras on both sides is luminous and simply stunning.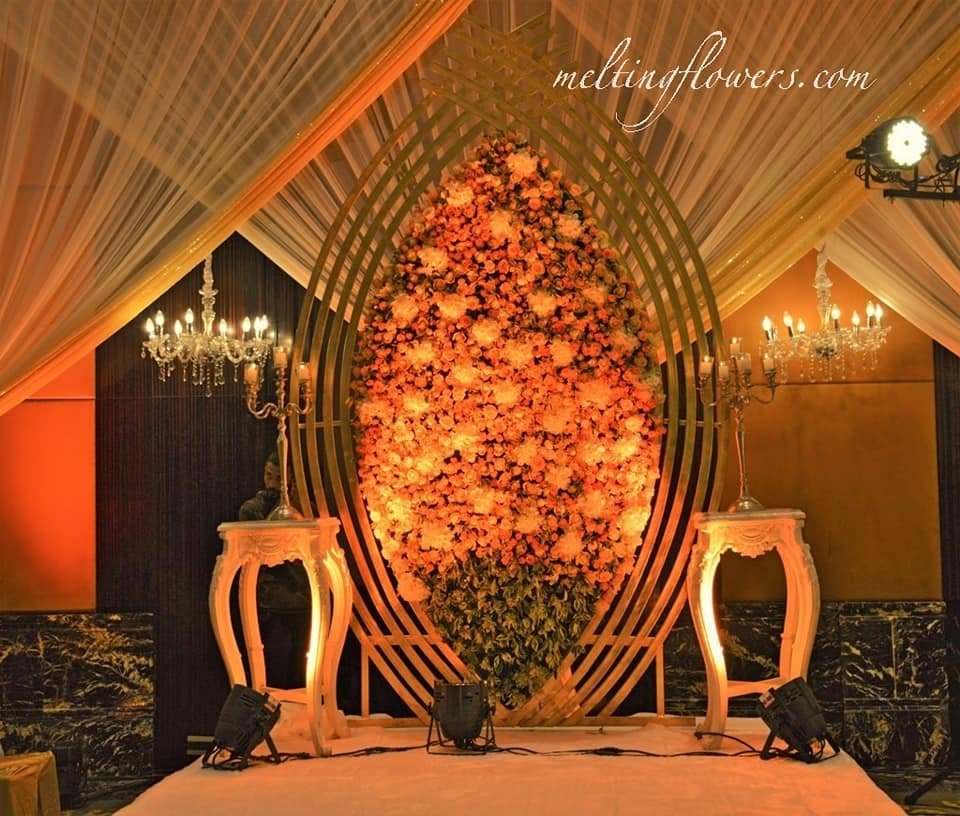 This relatively plain white backdrop with colossal flower vases and a classy couch in the center is crowned by a floral canopy. Flower vines extend downward in a royally luscious arrangement of a giant ring and will most definitely prove to be a cynosure for all your attendees.
Flower decoration has been employed amply to make this lush wedding backdrop. The monochromatic lighting and flowers in the vases, in the central wreath and trailing down behind truly feel like a piece of heaven recreated.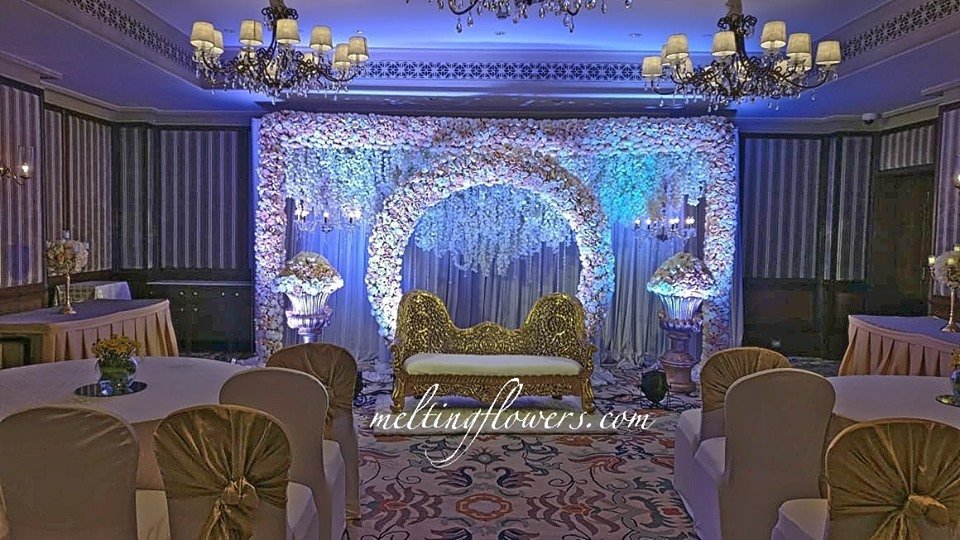 A classic, popular choice of setting, this canopy made of drapes and studded with a vibrant selection of blossoms is truly the stuff of dreams that will charm every one of your guests and best enhance your outdoor wedding venue.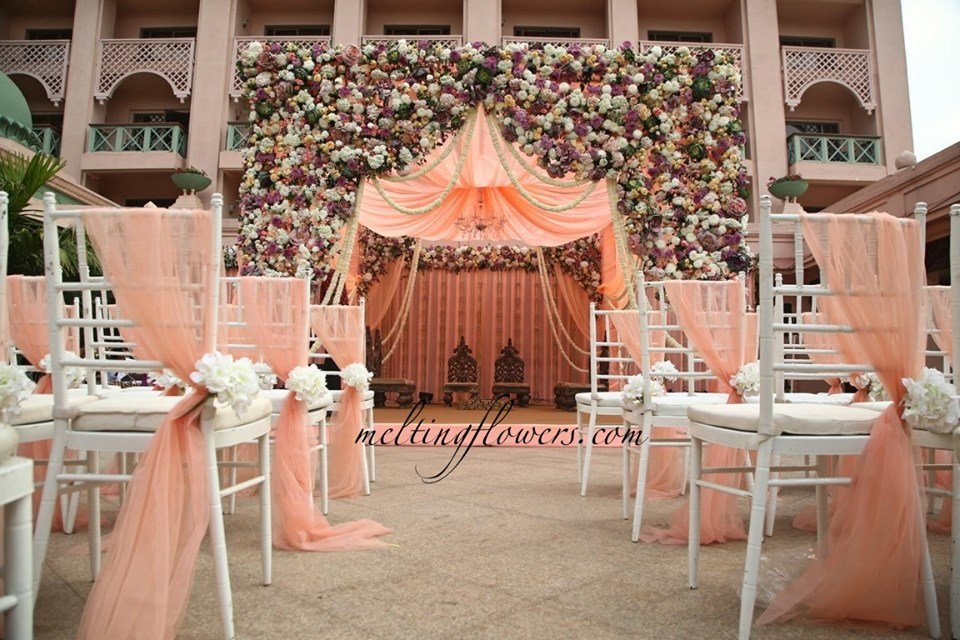 A creatively designed wedding backdrop, this one is sectioned in alternate blocks of florals and brightly lit chandeliers. The radiant setting is ideal for a white wedding, especially a nighttime celebration.
This setting is subtly royal in its simple, gold-lined couch, crystal candelabras in the front and pretty white lamps hanging overhead, backed by a white curtain. The boundary of floral runners adds a mystical, elusive touch to the chic setup.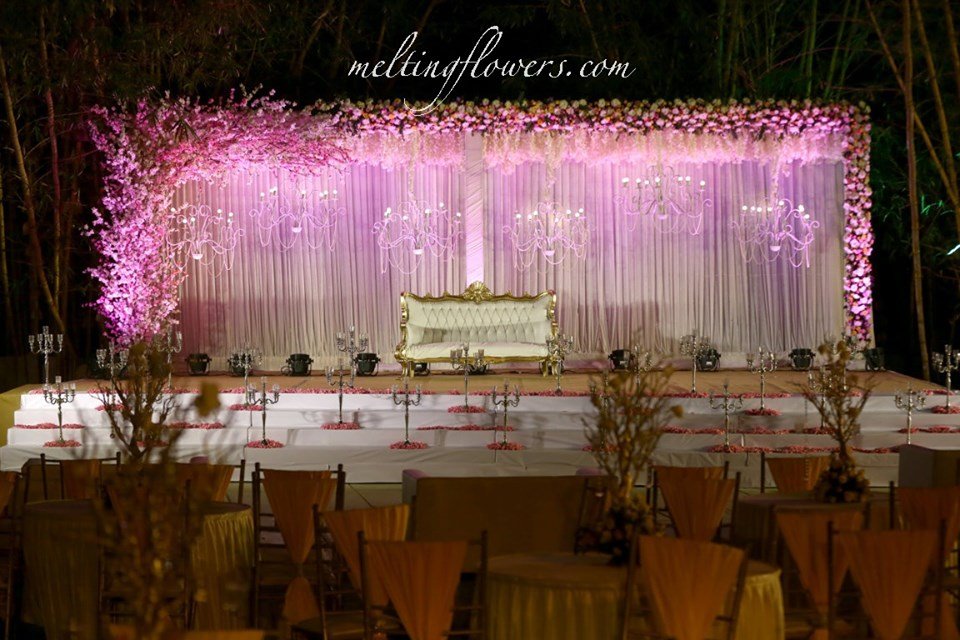 Even the simplest flower decoration for wedding will not let you down, as is evident with this faux wall covered with flowers in a cool color palette and illuminated with similar bluish lighting for an easy, elegant backdrop.