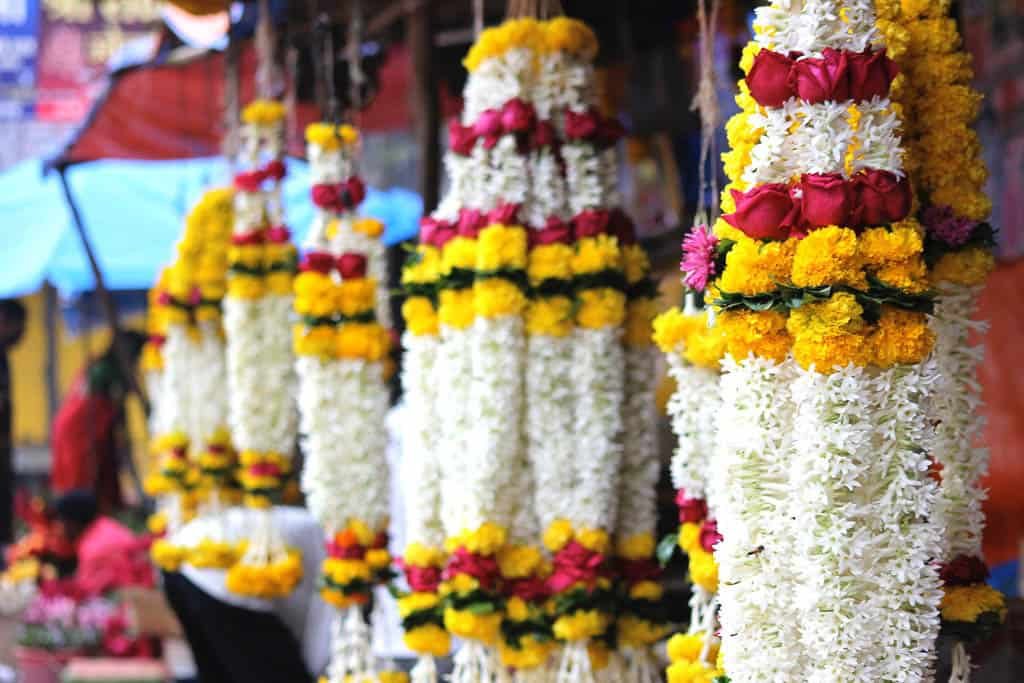 "To have ideas is to gather flowers. To think is to weave them into garlands."

-Anne Sophie Swetchine
The above sentiment is beautifully materialized by wedding garlands with the quintessential place of importance they occupy in Indian weddings. Primarily used as varmala in the jaimal ceremony, these dainty strings of flowers represent the delicate beauty and strength of marital bonds. The ideas, expectations, and dreams of a life together with your partner are woven into existence with the exchange of vows in the sacred ceremony.
Marigold Garlands
Marigolds are, beyond doubt, the telltale of an Indian wedding. They come with slight variations in shades of yellow and orange and their thick clusters add festivity and cheer to any event decoration. Considered sacred, marigolds are a part of most customs and poojas. Auspicious celebrations would be incomplete with them. Entrenched in cultural and religious beliefs, marigold garlands are still the most frequently used in weddings.
Rose Garlands
Combined with pearls, crystals and other monochromatic or transparent trinkets, rose garlands are a common favorite with their pleasant, intoxicating fragrance and several colors to choose from. A rose petals garland is another variant that makes for lighter, different looking garlands by pairing individual petals stacked together and interspersed with other flowers. The traditional symbol of romance, roses can also be combined with buds and other greens and made to match the wedding attire.
Jasmine Garlands
The mildly fragrant jasmine garland is soothing to the senses and loved by those who prefer to keep it subtle and understated and are only looking to slightly accentuate the outfit or avoid donning the heavier varmala for the entire wedding function. Jasmine flowers or buds or both are usually paired with some kind of leaves or another brightly colored flower like the rose to avoid it from looking lackluster.
Orchid Garlands
The exotic and slightly expensive option, an orchid garland will up your glamor quotient instantly. Orchids are lightweight and available in a number of luxuriantly bright, burnished color. They are easier to carry around and can also work to jazz up a somber or plainly-colored outfit.
Carnation Garlands
Colorful yet subtle, carnations can be clubbed together in various arrangements for an elegant-looking, utterly gorgeous wedding garland. Go for an ombre pattern to make things interesting.