Lighting is a quintessential component of wedding decor that, if done right, will help create the exact mood and setting one is aiming for. Lights can be soothing, energizing They aren't merely a contributor to the color palette but play a proactive part in how the color thematics play out and reflect upon the other components of the marriage decoration. Have fun with layers and textures by using crystals, gossamer fabrics and embellished and sequin-studded decorative pieces, reflective surfaces such as glass or water of pools and fountains in the venue.
Backdrop
When doing the backdrop lighting, take into consideration the photography requirements. While blending seamlessly with the overall theme, it should also not compromise with visibility since preserving memories of this special day in pictures is a must. It shouldn't be overwhelming or cause a glare uncomfortable to the eyes. Fairy lights with curtains or drapes in slightly varying shades of the same color do the trick beautifully, creating a sort of a halo that will sure have you feeling all special on your big day. For bolder, statement-making options, you can go for the classic bright yellow bulbs against a rich, dark background to lend a touch of regality. Fringe curtains, LED curtains, light strands can be mounted on lattices and trellis to enjoy the dance of the light rays as choreographed by the mounting structure and texture. Light projectors are another interesting way to create a diaphanous, gauzy effect.
Chandeliers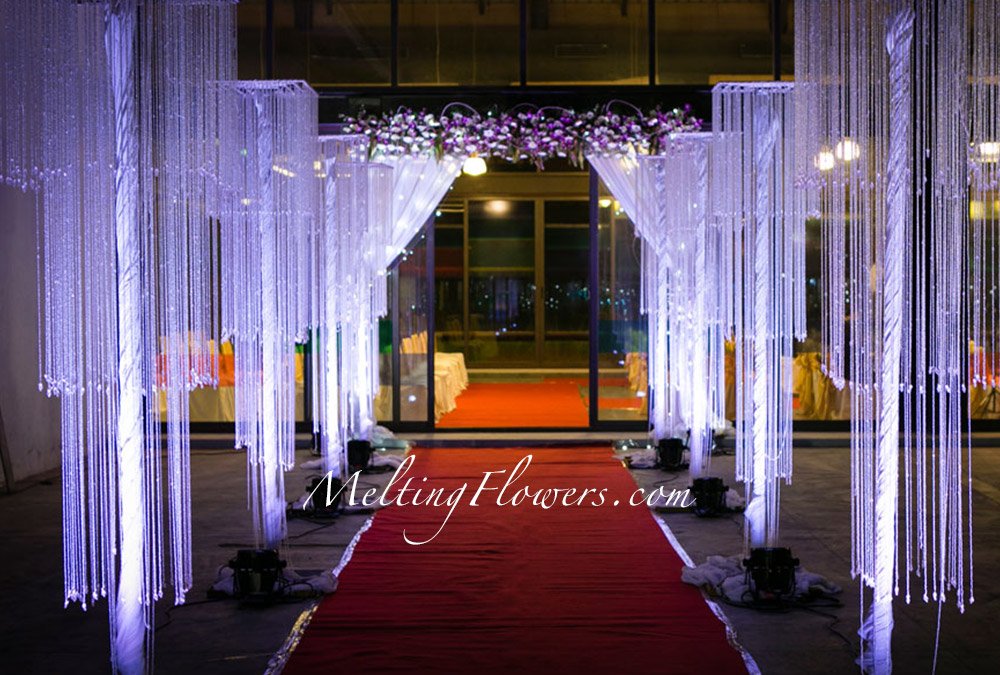 This one is quite hard to miss and with the innovative and highly stylized options available now, could easily be incorporated into the wedding theme. Plain, dainty crystals, tinted glass trinkets You can substitute the classic chandeliers for crafty DIY ones- flowers, fruits, vines, origami pieces, balloons, ribbons, etc. to personalize this key decorative item
Miniature Fixtures and Centerpieces
Lighting fixtures can be customized to fit the theme to a T. From candelabras and stands to lamps and shades in myriad shapes and sizes, these can be suspended from ceilings, tree branches and mandap canopies, put as centerpieces on tables or standees in corners, used to adorn fountains and other structures.
Pathway and Entrance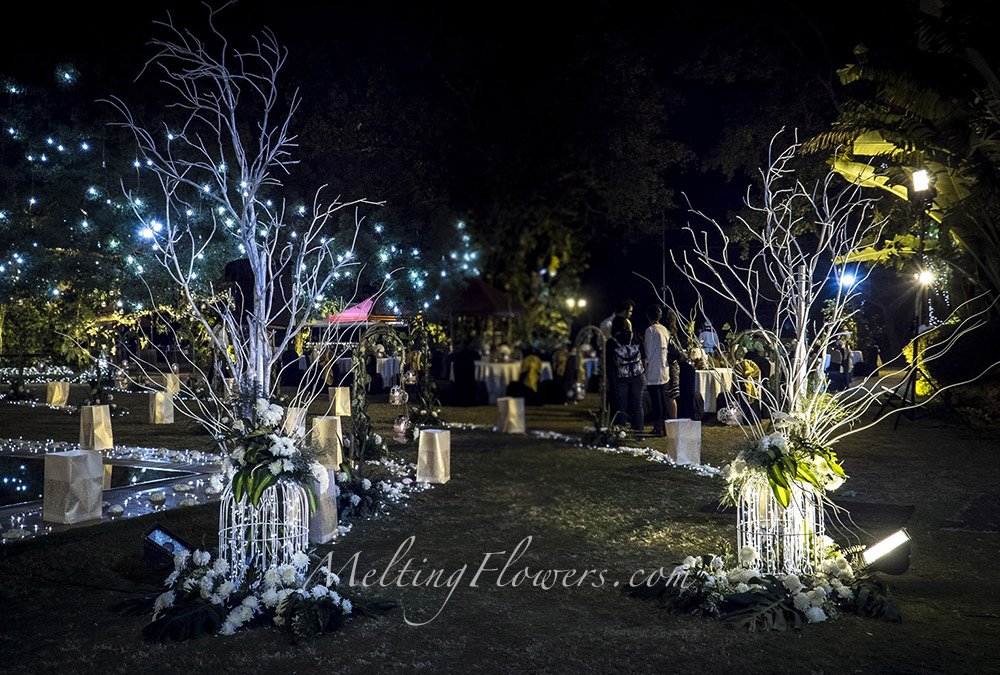 Tunnels made entirely of light strands will give you your dream starry night, ethereal and whimsical. Subtler ways of lighting up arbors and aisles are lamps and solar or LED light equipments that are ideal for an open garden wedding. Artsy sculptures, rock formations, washlights, lasers, and star drop curtains can instantly uplift the look of even the simplest, unkempt open areas.