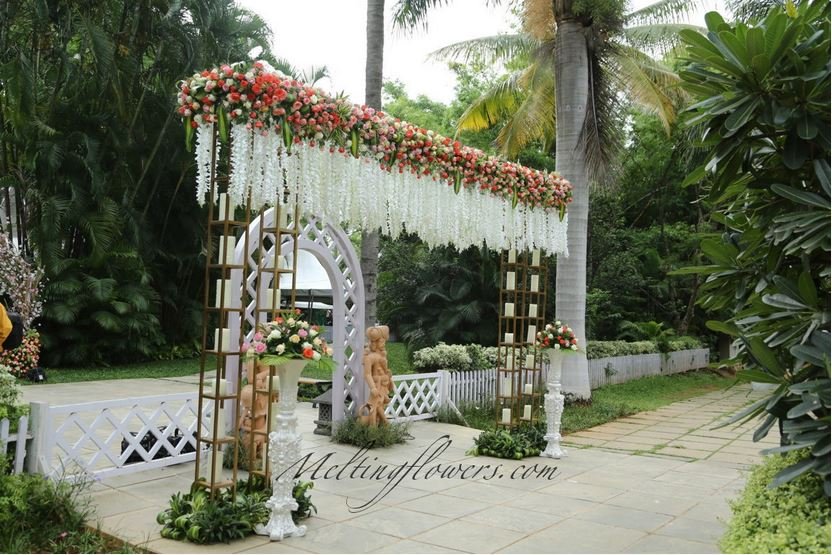 Vintage weddings are very rarely found these days. Only few people try to incorporate the vintage elements into their weddings. What are vintage weddings? These are ceremonies that concentrate more on indulging rustic decors and auspicious elements much into the marriage decorations. One way to bring the rustic look into the wedding is to provide vintage accessories to the bride and groom. This theme for the wedding would be perfect and would be much appreciated by art lovers. Try to add more artistic decors and rustic furniture throughout the arena. Here are a few decoration styles with a tinge of vintage look that can satiate your vintage cravings to a great extent. Refer theme wedding decorations for other exciting themes.
String Lights Wreath:
Floral wreaths are most commonly used in wedding adornments. Have you ever thought of string lights wreath? It sounds incredible right! Create many wreaths with string lights. Wondering how to use them for decorations? Leave them dangling through string lights. This idea can be applied to trees and also a bland wooden shade can be adorned with this decor.
Vintage Wooden Canopy:
Your wedding hall has lots of wooden canopies and are you getting confused how to decorate them? Take a deep breath! The most popular vintage decoration element is lantern. Vintage lanterns can adorn the ceiling of the canopy. Fern strings and jasmine strings can be left dangling from the ceiling. Use more and more fern strings and leaves to bring a lush look to the canopy. These canopies can be the best place for guests to relax during the wedding and spend some quality time with friends under a lovely shade. Pick beautiful floral twists from flower decoration for wedding.
Vintage Wedding Cars:
It is a tradition that dates back to years where the groom arrives in a vintage car to the wedding hall. You can bring back the freshness of tradition into your wedding. It is better if you rent a vintage car for the wedding. Choose a brightly colored car preferably red or maroon. A vintage car can be adorned with floral bunches and fern strings.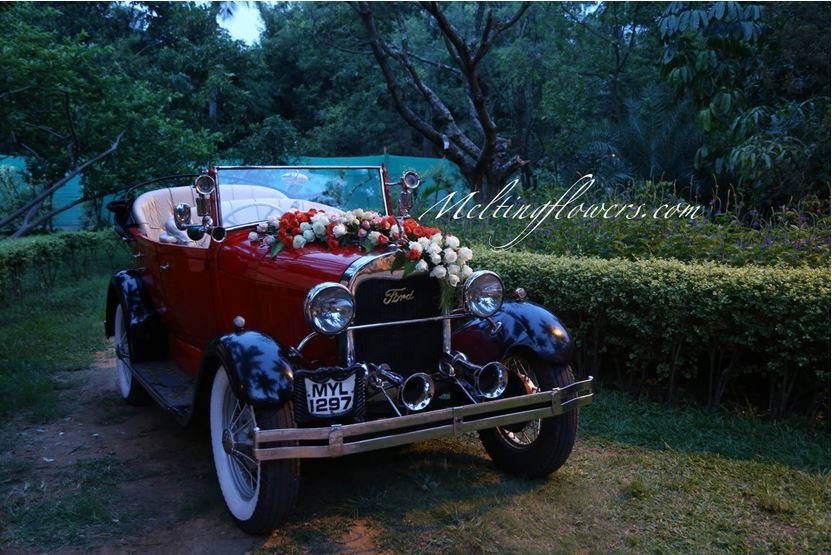 Vintage Arches:
If your wedding hall has a lush garden, then to add interesting brightness to it use string lights. Leave them dangling from one end to other end and enrich the look of garden. If you have a vintage arch in the garden then think of ways to decorate it. Drape the arch with a golden fabric and place a vintage chandelier with candle holders from the top. Add more pearl strings at the tip of the chandelier to bring more rusticity to the decor. Use flood lights wherever possible to induce perfect lighting to the garden.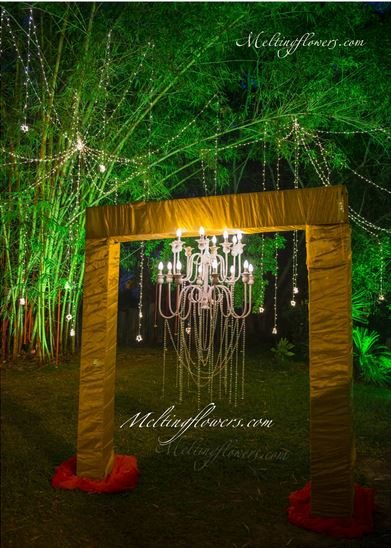 This theme has the utmost rustic look among other Indian wedding decoration themes. Hope these ideas have helped you in adorning the wedding hall with splendor and elegance. Better choose the wedding hall with rustic and vintage looks among wedding resorts in Bangalore. Wishing a lovely wedding to the couple!