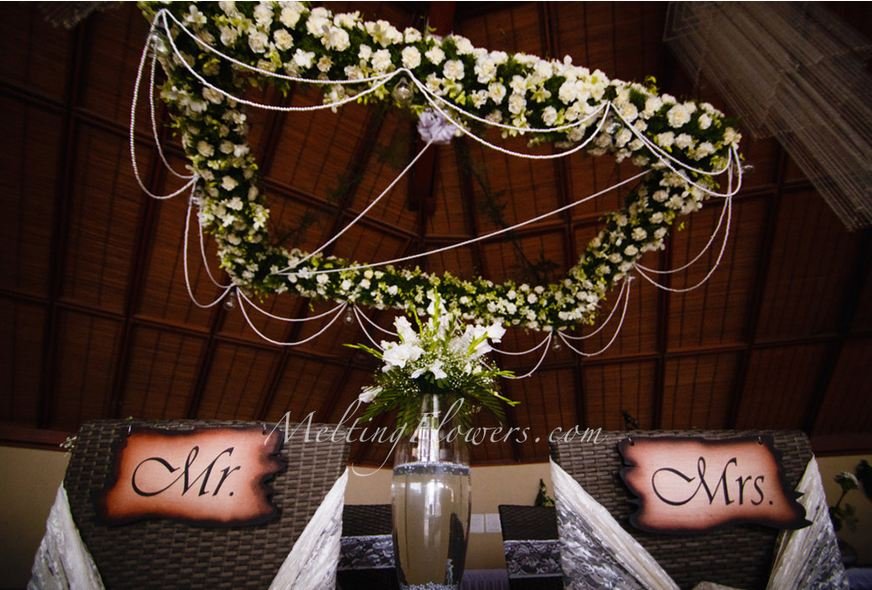 "Marriage is the golden ring in a chain whose beginning is a glance and whose ending is Eternity."
Theme wedding decorations are the best kind of decorations because the focus can be on one particular theme and style. This can bring out marvels in the decoration style. Themes vary based on style, material used, color, tradition and a lot more. In this article you will be encountering a theme that includes much of a monochromatic style embedded within it. It incorporates all the splendor of white color. How to create wedding decors with white color as the theme? It may sound so daunting but once the decors are created with knack and perfection, then it would make the arena spellbinding for the wedding. Few wedding adornments created with a dash of white to make it look phenomenal are described below. Make the best use of this to create marvels of your taste for your outdoor wedding decorations.
White Decor silhouetting against Greenery:
Did you pick a garden for your wedding? That must be the first good decision you have made for your wedding. Garden weddings are most popular these days and have set a trend that seems to have attracted a lot of people to choose it. So, a white theme against a green garden would bring out its beauty in a spectacular way. Shades can be made from white drapes and to adorn them white paper lanterns of different shapes can be left dangling. For the entrance to this area, the poles can be draped with white fabric and the arch can be adorned with white chrysanthemums and hydrangea. Flower bunches can be pinned to these poles to remove its blandness. Wedding decoration pictures can provide you more creative ideas like this.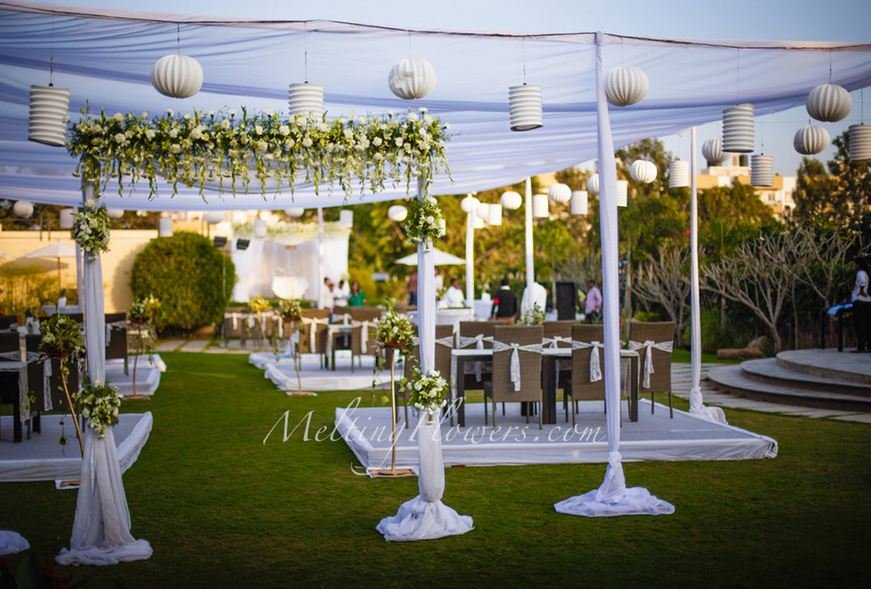 White Floral Chandeliers and Table Decor:
White roses are joined together to create floral pomanders which can be left dangling in the dining area. To accompany this, a large rectangular chandelier made of white roses and hydrangea pinned intricately can be used to adorn the wooden ceiling. Chairs and tables are draped with white fabrics. To adorn the tables, white flower vases with white rose bunches in them are used. Apart from these mason jars are used as table centerpieces with candles and flower bunches in them.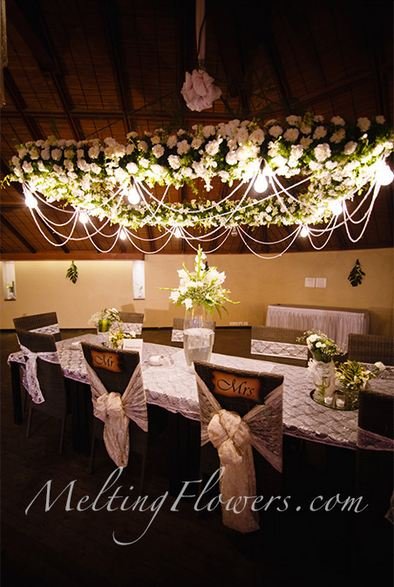 Seating Area With a Splash of White:
Elevated areas are made above the grass to separate it from the pathway. These elevated areas are draped with white fabric over the edges. Shades are made out of white fabric above and all the poles are draped with the same white fabric. Seating is made comfortable with chairs and diwans too. These diwans are also draped with white cloth and bolsters are also chosen of white color. To enhance the beauty of this area, white paper lanterns are left dangling over the rim of the shades from top. Wedding resorts in Bangalore mostly are designed for outdoor weddings because of the city's benevolent climate.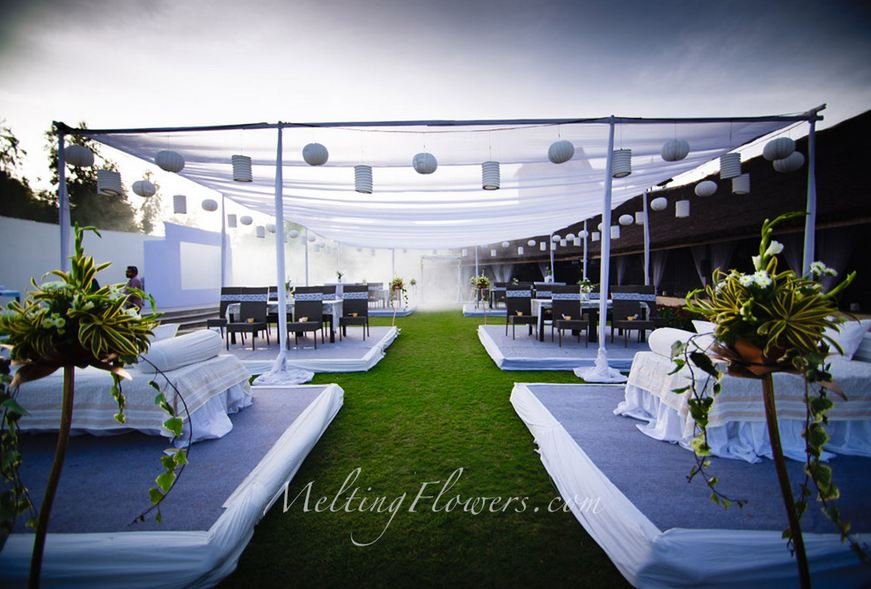 White Wedding Cake:
Wedding cakes are available in various flavors, designs and colors. A white wedding cake of three decks which is decorated with intricate designs would make this theme complete. An edible design of a groom holding the bride is kept over the top of the cake to signify the love of the couple. Choose the best out of all wedding venues in Bangalore and also order your wedding cake from the best cake cafe.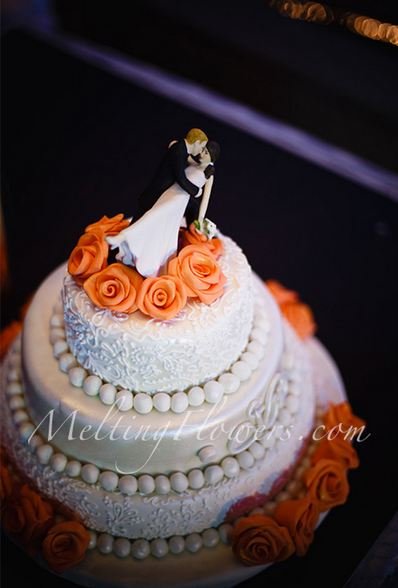 Thus, the ideas given above would have created a clear picture in your mind about the white theme for your wedding. Wishing you all the very best in decorating!