"A happy marriage is a long conversation which always seems too short." Andre Maurois
Wedding theme with a golden tinge sounds great right. To make this theme look spectacular, every area in the wedding venue must be deployed with golden decors. But why the wedding needs a golden theme? Gold is an auspicious color and is known for its exuberance. The most prominent color in temples is gold where the deities are created out of gold and the whole temple is also painted in gold. Such a significant color will bring a traditional look to any style of wedding. To make the wedding stage decoration Bangalore turn out to be enigmatic, here are a few ideas.
Entrance Golden Tepee:
The entrance to the wedding venues are generally arches of different shapes. Tepees can be created for the entrances too. A golden theme is incorporated into this tepee. The pillars of this tepee are draped with golden decorative cloth and golden drape is billowed out from the ceiling of it. Floral designs with leaves are pinned to the pillars and rim of the tepee. The trees adjacent to the entrance tepee are decorated with string lights and flood lights are placed at appropriate places to brighten the area. This theme can also be applied for wedding stage decoration.
Golden Lighting For The Pathway:
Crystal chandeliers, crystal centerpieces and string lights are used for this decor to adorn the pathway that leads to the wedding hall. Dangling chandeliers of various shapes are used with string lights filling up the empty spaces. Crystal centerpieces are also placed on the ground beneath these dangles with flower bunches on them creating a flower vase like design. To brighten this decor, appropriate lighting is used, preferably golden lights to exemplify the golden theme and also flower decoration for enhancing its freshness and fragrance.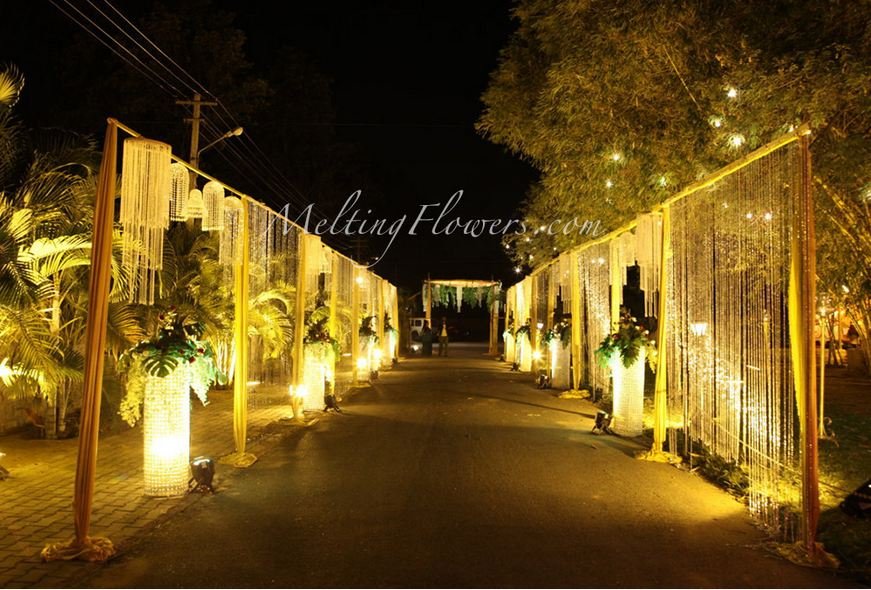 Golden Tent Swag:
The reception stage is made under a golden tent swag as shown in the image below. Fulgent golden drape is billowed out as a shade and floral designs are pinned over at various places to this. In the middle of this swag, a grand floral cum crystal chandelier is adorned. Over the edges of this swag, flower bunches are left dangling to bring out a chic look to the wedding arena. Refer mandap decoration Bangalore for more spectacular ideas.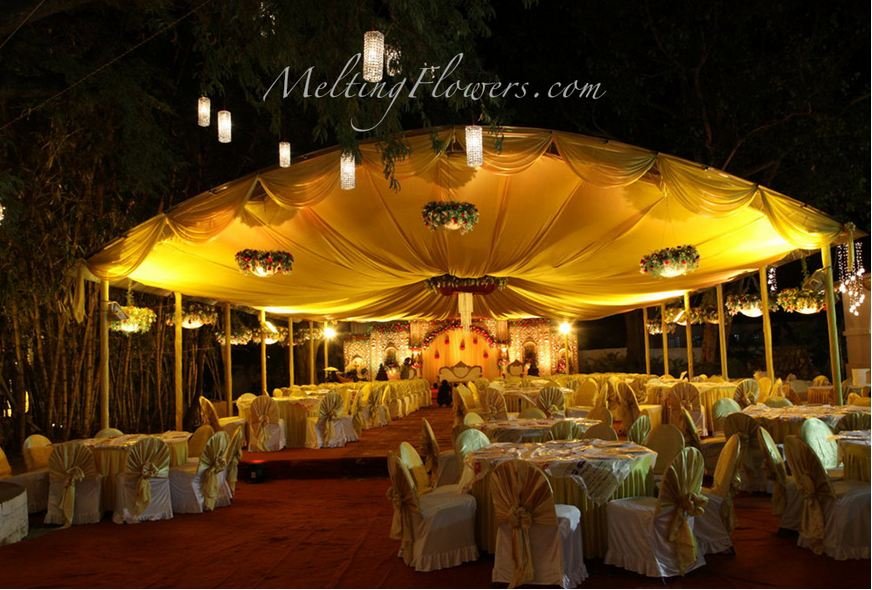 Golden Tinge for The Dining Area:
Chairs and tables are draped with golden fabrics which form the dining area. Diwans with bolsters are also placed for guests to be seated comfortably while having the royal wedding feast. Pillars are adorned with string lights and drapes. Buffet style is arranged for guests to have a hassle-free and lip-smacking feast. Every nook and corner is adorned with a tinge of gold to bring elegance to the dining area. Flower decoration for wedding will increase the beauty of dining area and take it to the next level.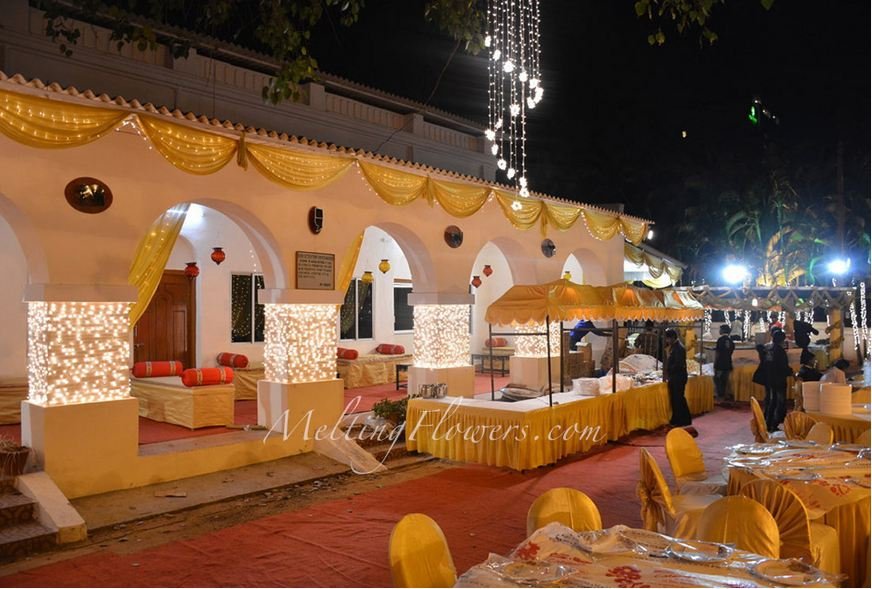 Hope these ideas have amazed you in deploying this theme for wedding decorations. Add more creativity to this theme and enhance its charm.
"True love stories never have endings." Richard Bach