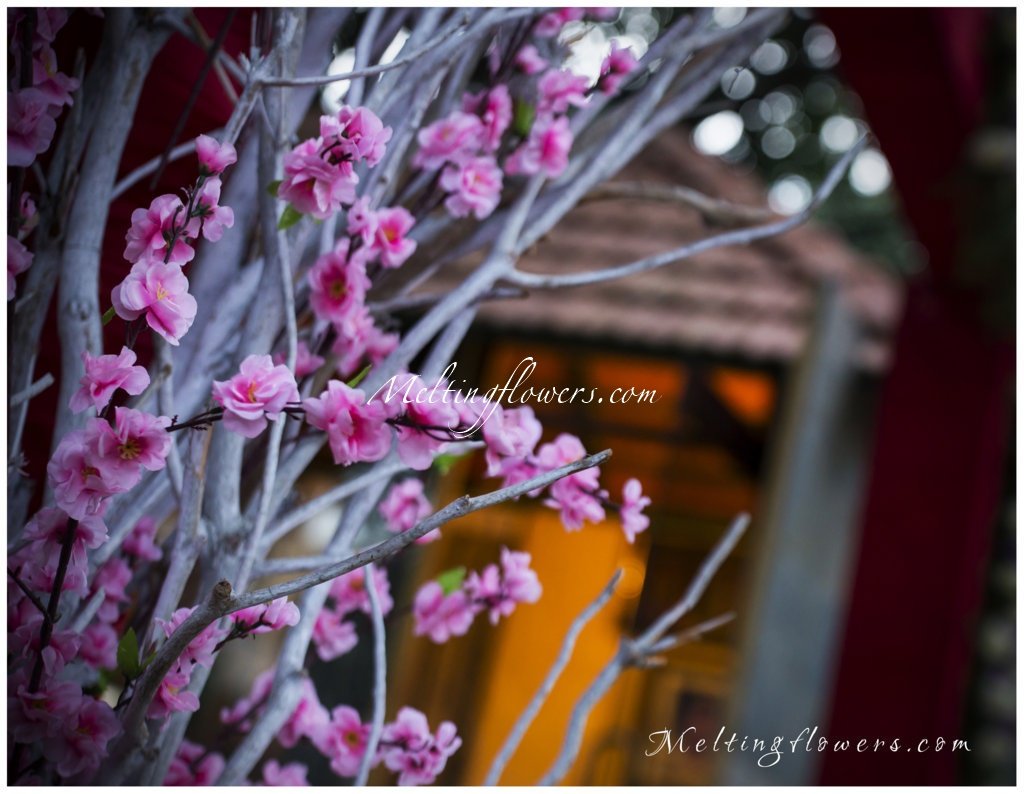 Flowers have a unique fragrance that is natural through every petal, a fragrance that engrosses you into an austere state of mind. They are possessed with a divine aura that brings a sense of freshness to your soul and activates your grey matter. Such flowers would embezzle your wedding decorations and lift its beauty to the zenith. Wedding is a divine ceremony which needs to be divinely celebrated.
The celebration of love has begun! It is time to get united with your soulmate and cherish every single moment forever. To enhance the grace of your nuptial's decorations, choose the best quality flowers which can transform the venue into a beautiful palace and render you the best flower decoration.
"Love is the answer, and you know that for sure; Love is a flower, you've got to let it grow."
Floral Design and Brass Uruli for the Pathway:
Every step your guests take before reaching the mandap must be a beautiful reverie and a visual treat. This can surely be achieved if deep thoughts were put in to create an elegant theme. Decorate the pathway towards the wedding hall with vibrant flowers like marigold and roses. Brass uruli filled with rose petals would captivate every soul beholding it. Wedding decoration Bangalore is mostly planned outdoor and this theme would be the best for it.
Ikebana Themed Flower Decor:

Flowers can also be designed in the most creative Ikebana style primarily belonging to the Japanese tradition. A blend of different themes will make your wedding a magnificent one. Spread out the stunning Ikebana themed flower decors throughout the wedding venue.This theme will be one of its kind during flower decoration for weddings.
Fragrant Flower Spheres:
"The earth laughs in flowers."

Want to add some creativity in your floral decor? Try to make flower spheres. Few spheres with just one kind of flower and few others with a mixed variety of flowers. Let it dangle from the ceiling in front and around the wedding hall. Innovative themes like these would spruce up the whole atmosphere. Flower decoration Bangalore can be beautified with this theme.
"Flowers… are a proud assertion that a ray of beauty out-values all the utilities of the world."
Floral Pillars and Flower Bouquets:

Have you ever got an idea of draping the pillars with beautiful flowers? That would be the coolest of all ideas. Merge flowers of different odors and colors into a splendid twist around the pillars in the wedding hall. Magnificent it would end up if you chose to have big-sized flower bouquets made up of metallic strings, drapes and radiant flowers. Drench the place with these creative themes and let your decorations never lose its uniqueness. Wedding decorations have to be done for the whole venue and requires a plethora of creative themes chosen appropriately for each nook and corner.
Words won't suffice to describe the significance of flowers in any wedding. Let all your creativity be jeweled into lovely floral decors and transform the wedding arena into a stunning one. Hearty wishes to the lovely couple for their splendid wedding ahead!
Save
Save
Save