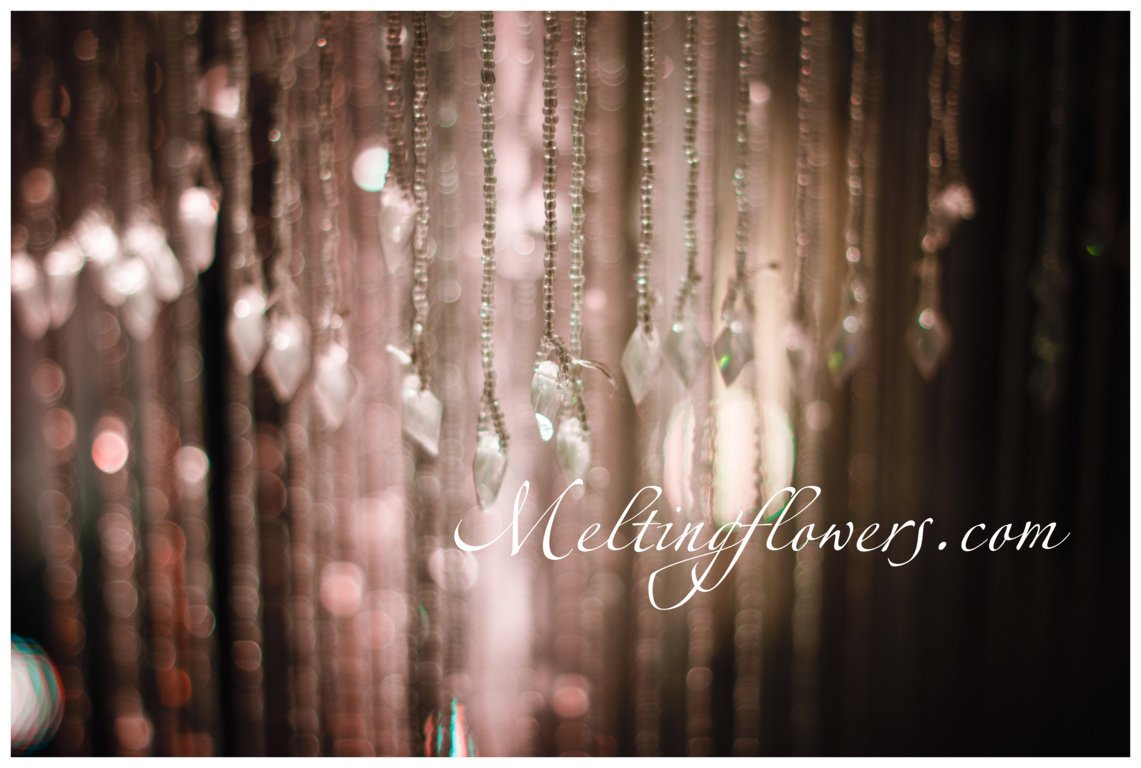 "Once in awhile, right in the middle of an ordinary life, love gives us a fairy tale"
and It's our job to make that fairy tale a beautiful one.Weddings are the most important event occurring in the bride and the groom's life.The wedding rituals unite them into a single soul and it's the wedding stage where all the rituals take place. It is of prime importance to give that place a perfect look.
Everybody wants to get clicked with the beautiful bride and the gorgeous groom.So, essentially Your wedding albums will have a maximum number of photos related to the reception stage decoration.They say, First impressions are believed to be the last impressions, but to make an everlasting impression you need to have an unique aura.Here are seven best ideas for perfect wedding stage decorations.
1. Blue Heavens

The colour blue can give a heavenly look to the whole centre stage.You can have your paradise decorated with blue drapes and one beautiful crystal colour chandelier to go in contrast with the whole set.Flowers like orchids and calla lilies would give the whole aura a mesmerising look. When there are combinations like these, people can't take off their eyes away from the whole wedding backdrop decoration.
2. Royal Throne
                 
The whole process of smiling throughout the event, getting your pictures clicked, meeting new people, getting gifts, It's all good and generous, But most of the time it's also about the incessant wait. To make your wait worthwhile, get yourself a royal throne by having a royal themed stage decoration.You can have royal chairs for the seat and red drapes decorated all around the stage or pavilion.A traditional golden chandelier with antique lights would add a royal look to the whole set.
3. Illuminating Magic.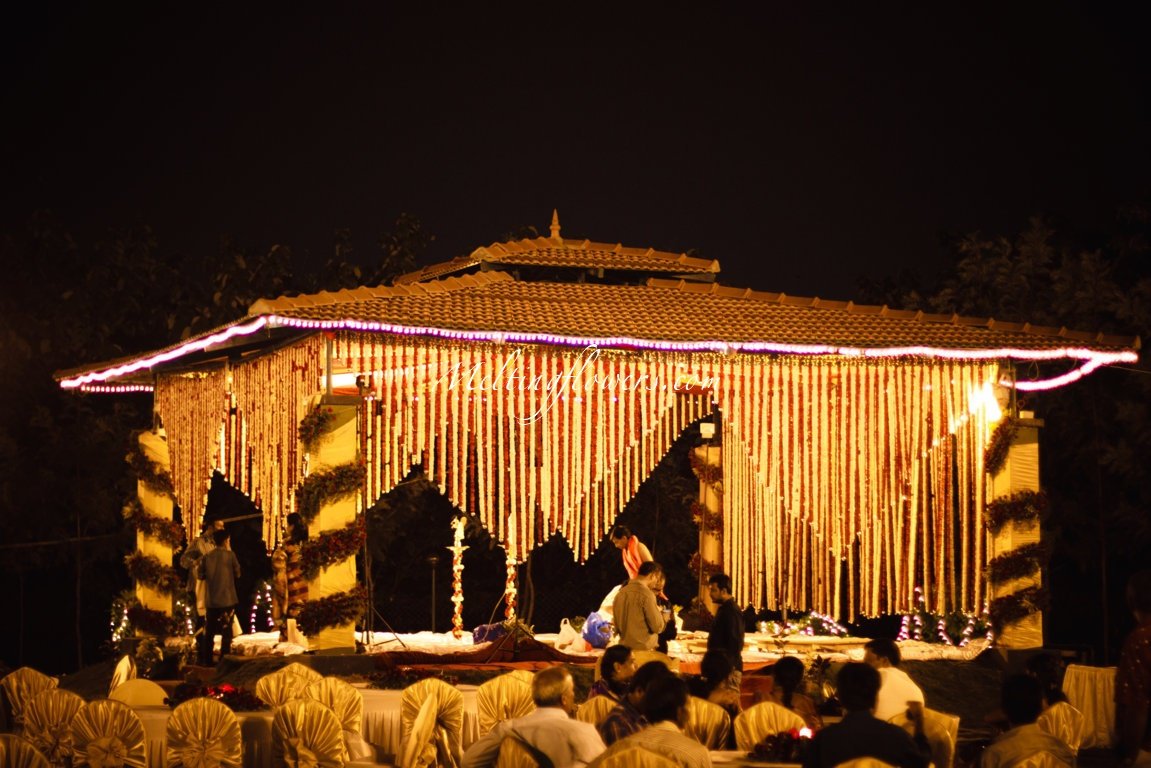 Every wedding decoration is incomplete without the lights.Lights bring about the beauty of every other thing that is there already.The Lights illuminate the whole place with a magical essence.The stage can be decorated with lights coloured drapes with a string of lights attached in front of it.The best thing about the lights is that it goes with everything.You can have a combination of flowers and lights or drapes and lights or simply an irresistible combination of different kinds of lights.Little multicoloured light bulbs can give any wedding stage decoration a lively look.
4. Fragrant Rose.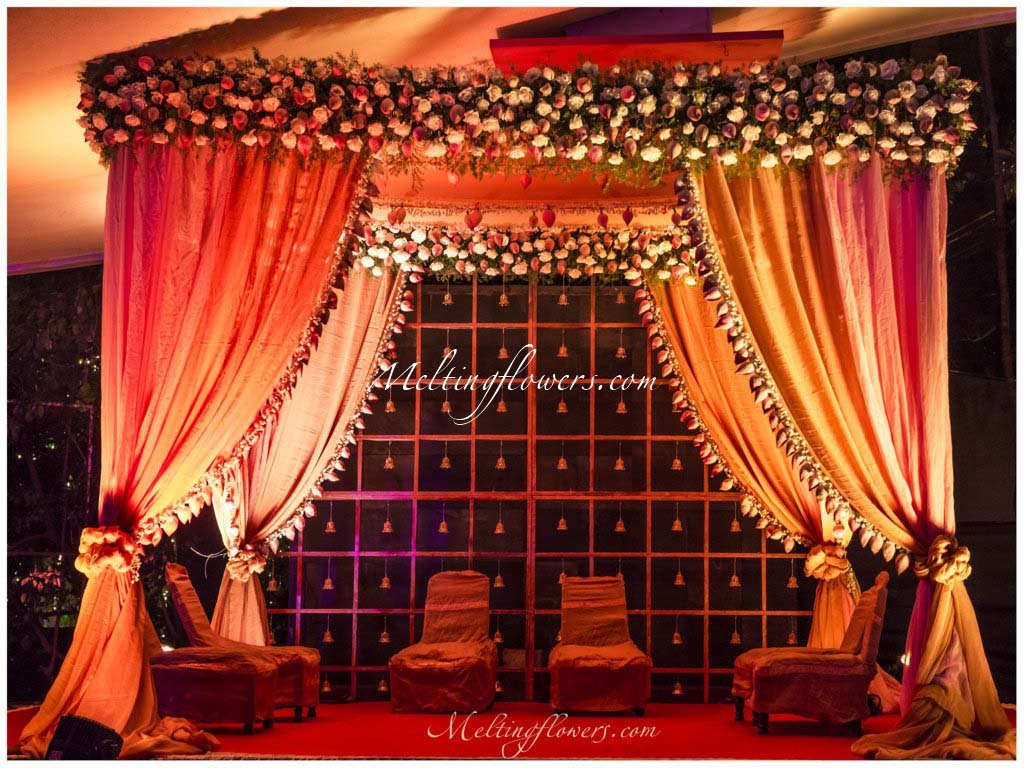 Flower decoration for weddings never go out of style.Flowers give a reminiscent look to every wedding and without any doubt, every flower brings its own charm but the charm of the rose is like no other.Not only do they give an enchanting look but also help us capture the memories with their fragrance.Elegant chairs or sofa can be put sprinkled with rose water and lined with tiny roses on its boundaries.The petals can be sewn together into garlands or tied into a little bunch to hang them all around.You can use a single colour or a combination of two or more, each one will arrest its viewer in its impeccable charm.
5. Vivaciously Vintage
If you feel that sofas and chairs are a cliché these days then give your stage a vintage swing to make your wedding and its rituals a memorable one.A vintage swing is in itself a wonderfully decorated piece that it doesn't need anything else.A vintage swing acts as a crowd puller which would make your wedding fun and famous.Vintage decorations can be made in the choice of flowers which are old school yet gorgeous.Vintage contradicts itself by making your wedding number one on the trend list.