Weddings are said to be made in heaven to unite the souls in love with longevity and prosperity. Every single occasion in a typical Indian wedding will be beautified if decorated with innovative themes which could enhance the whole arena's beauty. Indian wedding decoration ideas are plethora in number but each so unique. Here are few Indian wedding decoration themes that can ornate your wedding to the best way possible.
Rangolis are made with color powders and fresh flowers at many places in an Indian wedding. It is a custom followed in many parts of India to design a rangoli during any special occasion. The image displays a colorful rangoli made with fresh and vibrant flowers.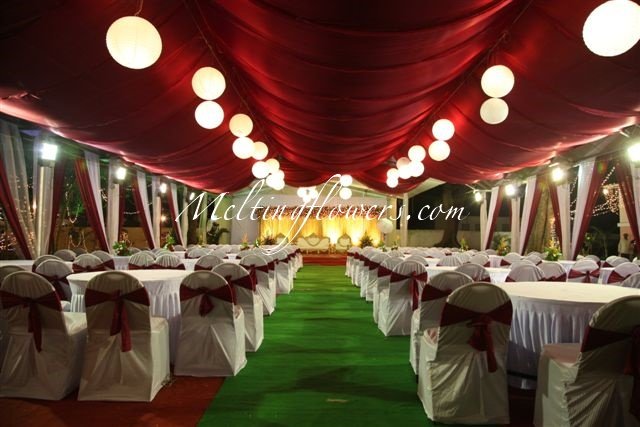 Any wedding hall is a place to accommodate a lot of people gathered to celebrate the wedlock of the bride and the groom. And hence the decoration theme chosen for the hall must be attractive and pleasant too. The image displays a theme wedding decoration of drapes with lights embedded for the ceiling and chairs neatly arranged with a cloth and ribbon draped over them for the ground. An artificial turf is sometimes used in the pathway to create a garden look.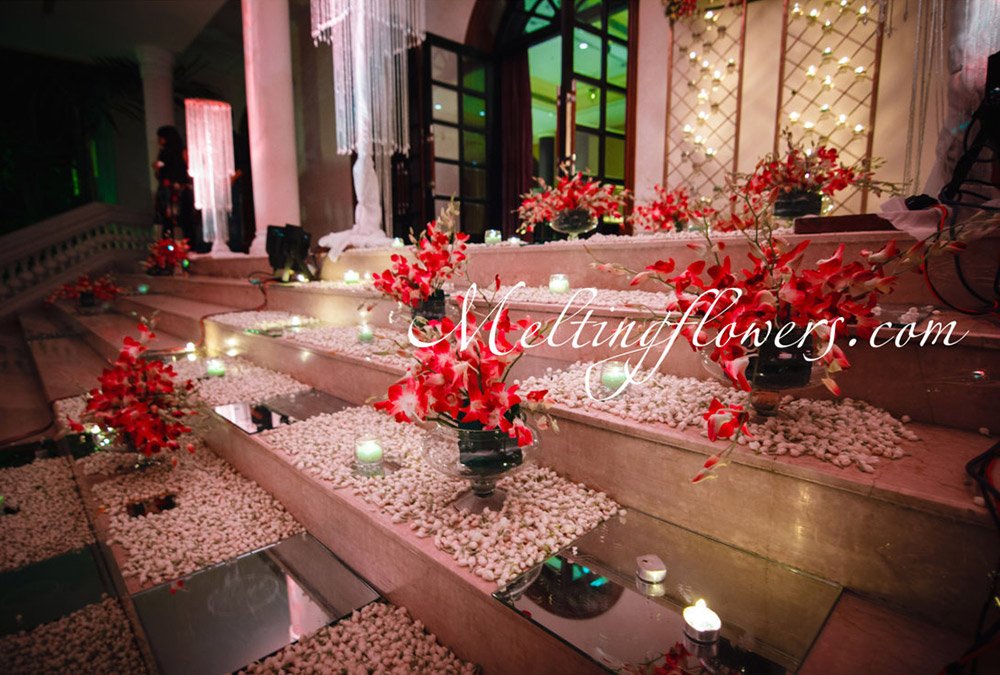 The steps leading us to the wedding hall are decorated with different kinds of crystals and flower vases to bring an exotic look to the entrance. Lamps are also placed on the steps to enlighten the entrance pathway. The picture above shows it all. Various other themes can be applied to the entrance of wedding hall based on one's personal interests.
Reception Table Decorations: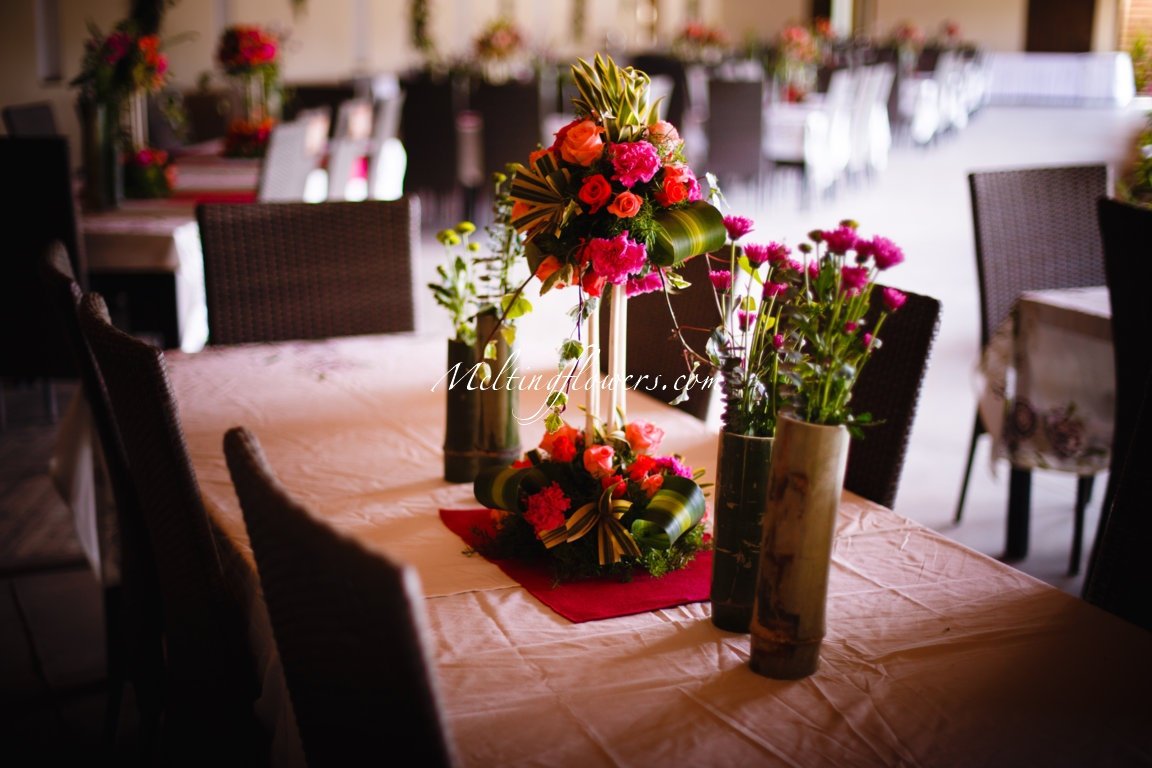 Reception is a significant event in any wedding. Food and Drink rave is a part of reception mostly served in a buffet style to all the people gathered. Table decoration plays an important role and the image shows hand-made flower vases and floral designs with leaves twisted forming a unique design.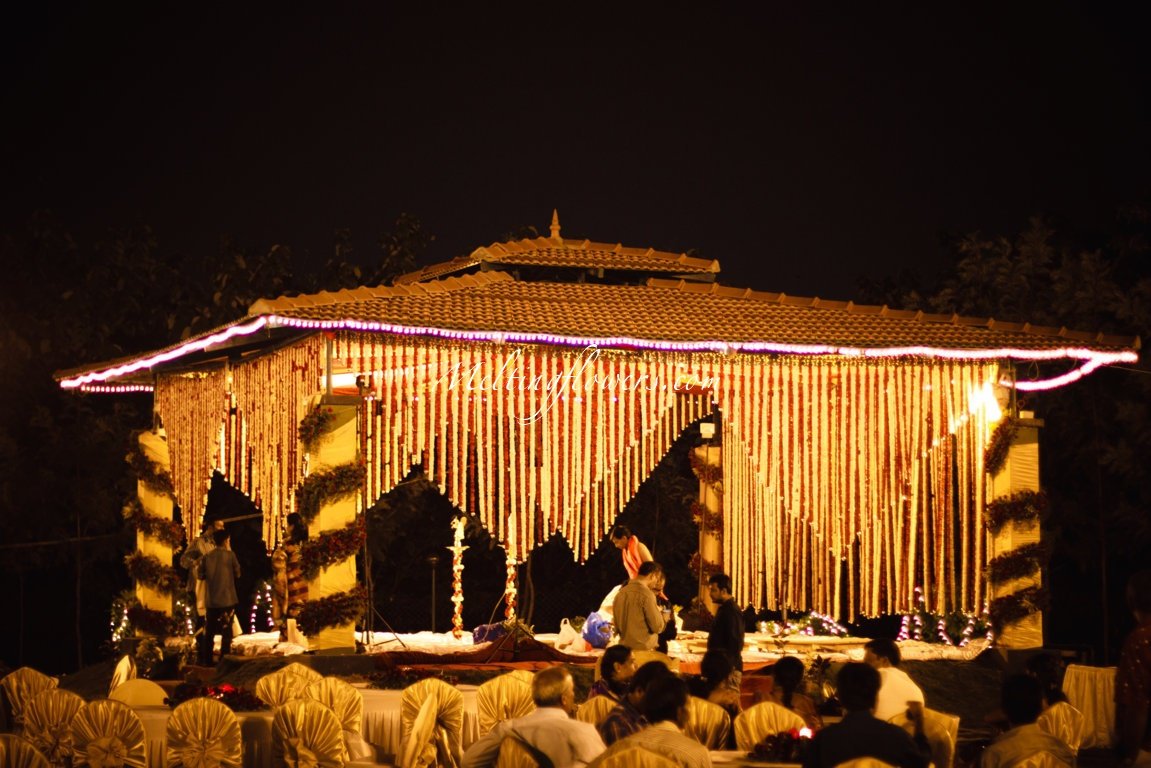 Mandap in any Indian wedding gives the ultimate positive aura which brings bright smiles on the faces of all people in the wedding. It is a centre of positivity and prosperity decorated with such elegance making it the most significant spot of the whole wedding. It is a place where the couple to be wed spend most of their time and where they are united to make the bond of love even more stronger. Such a special place needs special decorations and one such is shown in the image. It displays a well designed floral decoration with delicate leaves making the spot more divine. Wedding decorations in Bangalore prefer the weddings to be mostly outdoor due to its benevolent climate.
Wedding Decorations can only turn the place exotic and flamboyant but the real beauty and elegance of the whole wedding is completely savored when the couple to enjoy the wedlock are present in the premises to enhance the divinity of the atmosphere.
Save
Save