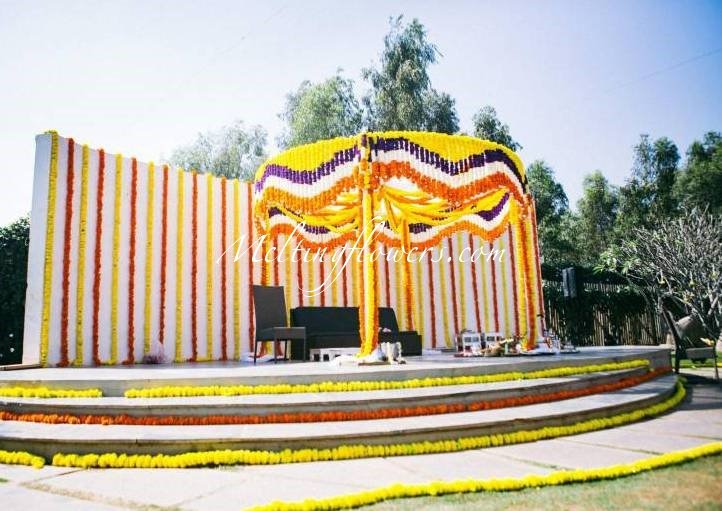 "Where flowers bloom, so does hope." – Lady Bird Johnson
What's more hopeful and sanguine than your auspicious wedding day? Make it a flamboyant fiesta with stunning flower decoration with the best flower decorators in bangalore. There are tons of ways you can use flowers for your wedding stage decoration , wedding backdrop decoration , outdoor wedding decoration, theme wedding decorations with the help of the best wedding decorators in bangalore!
We present to you an extensive list of some of the most spectacular and inspiring floral décor suggestions  from the pioneers of flower decoration bangalore:
1. Majestic Stage Decoration Accessory:
The wedding stage is perhaps one of the most important aspects of your wedding venue decoration as it will be the centre of attention throughout the rituals and the ceremonies. Hence there's no denying that it needs to be an absolute stunner! Vibrant and exquisite flowers can help you achieve just that with their ethereal beauty and divine charm.
2. Flower Bouquets As Stage Pieces: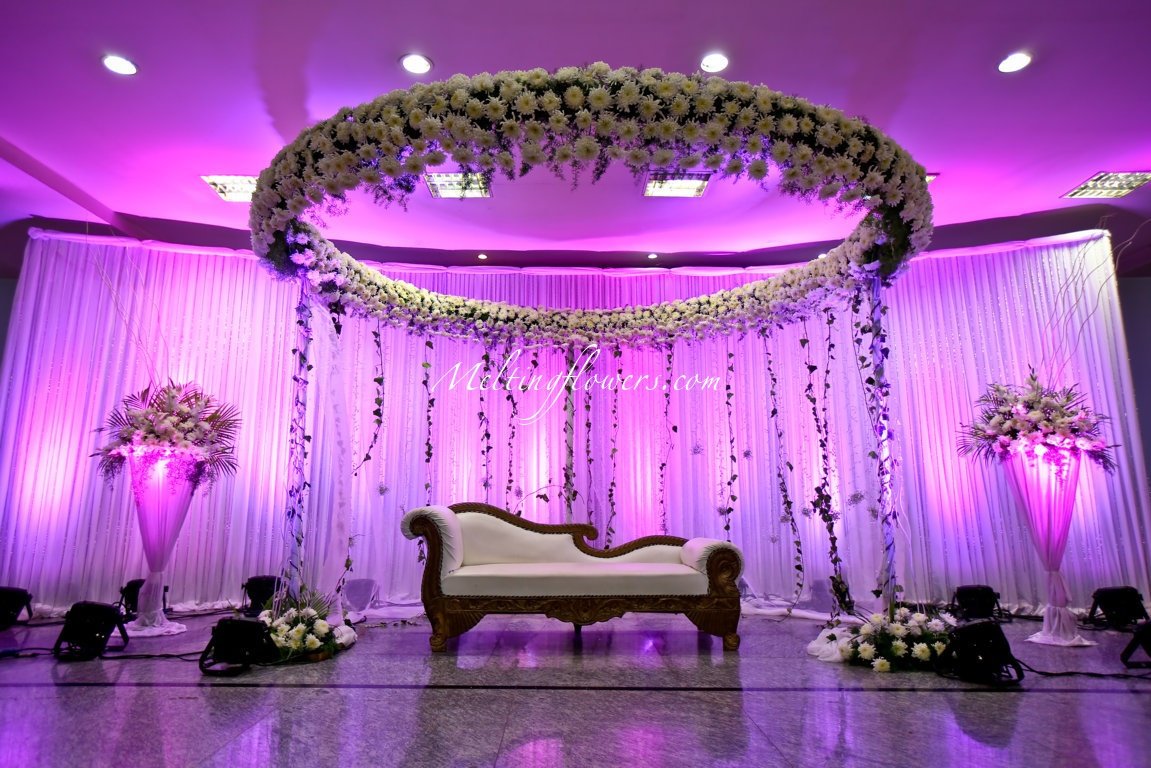 In addition to overhead decorations on your wedding stage, a bouquet or a bunch of fragrant handpicked flowers by the best flower decorators can add a touch of unparalleled elegance and sublimity.
3. Floral Rangoli: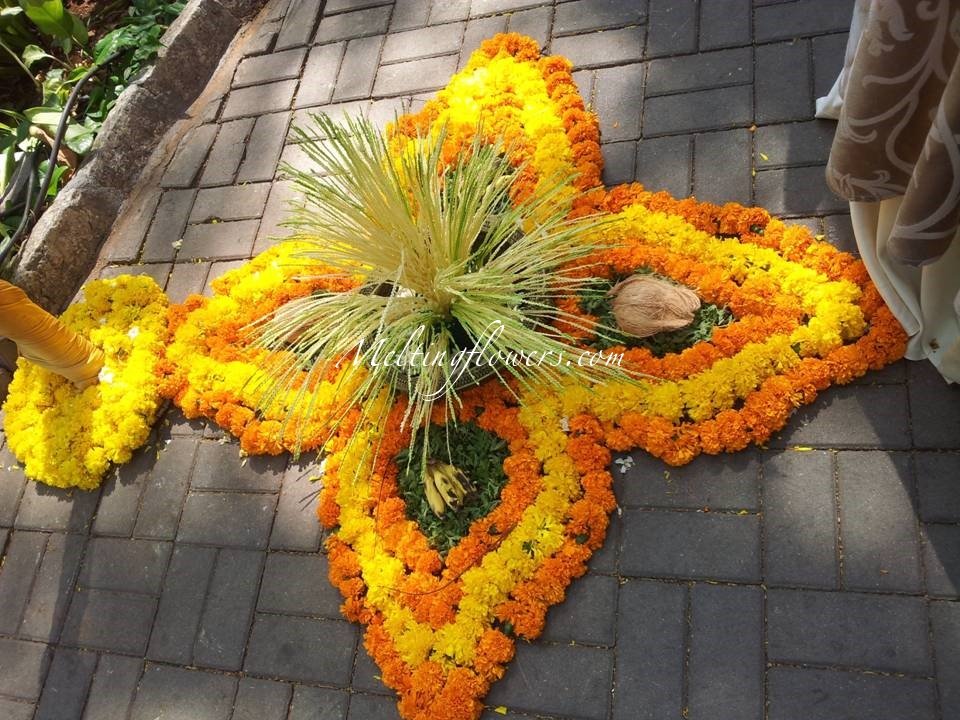 The ancient art of Rangoli is one that has been a part of our culture even before the advent of sculpting and painting as art forms. The word Rangoli has been derived from 'rangavalli' (Sanksrit) and it primarily aims to emphasize on auspiciousness and beauty. This holy art is created using gorgeous , fresh and fragrant flowers.
4. Funky Floral Touch:
If you're planning a quirky wedding to match the uniqueness of your love story or a Bollywood theme wedding is on your mind, trying on some eccentric décor options should be high up on your list! For instance have floral adornments on an autorickshaw or have a vintage style photoshoot with flowing flowers and petals.
5. Table Décor:
Whether it is a sophisticated corporate event or an extravagant big fat indian wedding, one can never go wrong using lovely flowers as embellishments for tables.
6. Corridors And Pathways: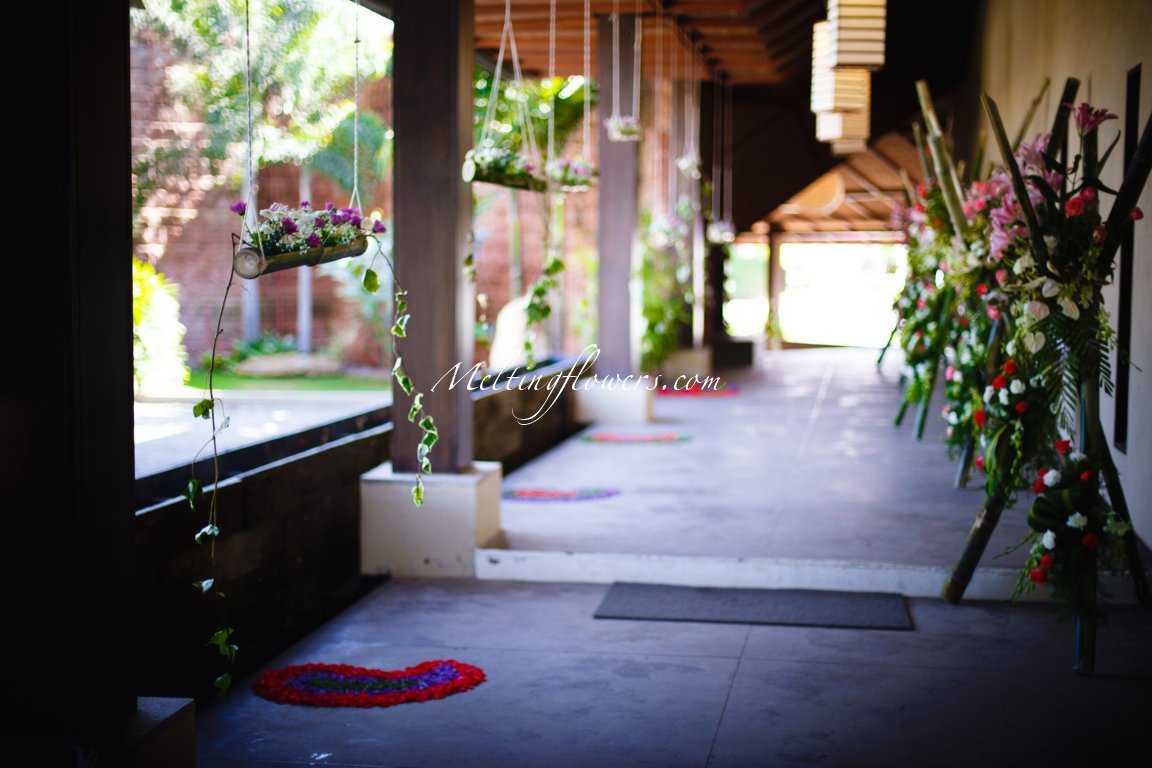 In the midst of endeavoring to create the perfect entrance and ensuring that the stage décor is on point, sometimes the decoration of the pathways and corridors isn't given due attention. But don't worry even if you've left them for the last minute, simply add beautiful potted plants or candelabra overflowing with pretty flowers ..and voilà  you'll have your guests admiring your creativity!
7. Outdoor Wedding:
No outdoor wedding can be complete without the mesmerizing whiff of sweet-scented fresh blooming flowers. Use them as garlands or for a fanciable archway and tremendously enhance the aesthetic appeal of your wedding venue.
8. Try Something Hatke:
Why limit yourself to only traditional floral rangolis and archway decorations when there is so much more that flowers can do as an adornment for your wedding.Try something chic and à la mode such as this sassy crystal décor with flowers!
Find these and many more eye-poppingly vibrant and impelling ideas at our flower decoration pictures gallery! Spread the love with floral magic !