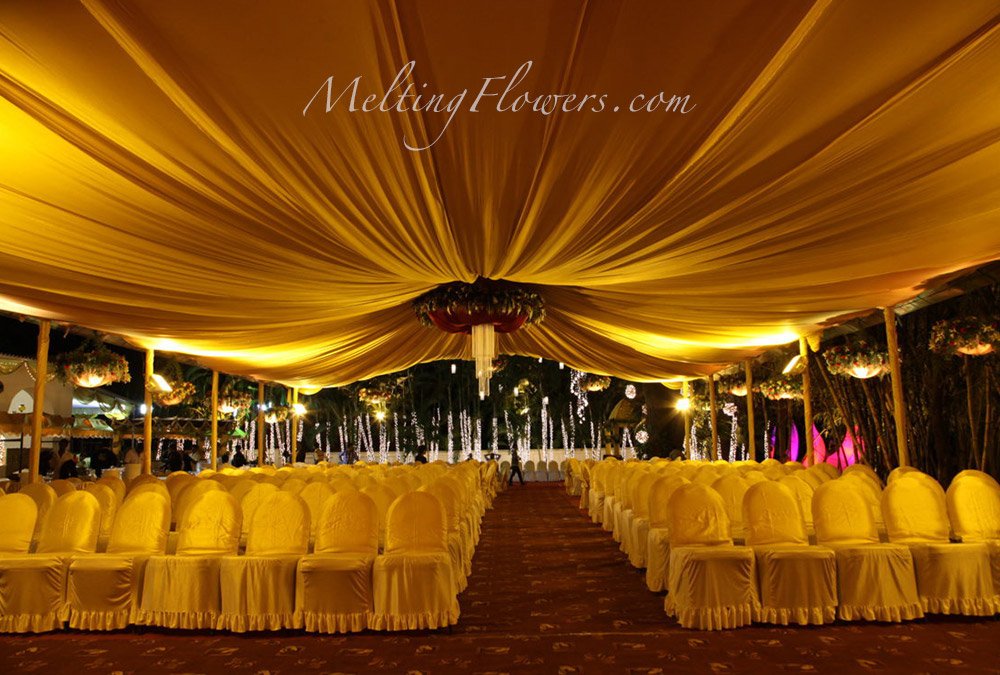 If you're a typical Andhra person, you've been thinking about how the several complex customs in your wedding are going to be implemented in a cosmopolitan city such as Bangalore where no one has any idea about your customs.
Every single ceremony can be taken care of with the help of the best florist you can find in the city as they know every culture and ritual that holds importance. From the mangala snaanam to the reception, you can rely on amazing ideas for thematic styles to decorate the house and the mandap and make it the most grand event possible. All it takes is a little bit of flowers scattered around the place to create the ambience required.
You could go for an outdoor wedding because night weddings are very beautiful outdoor. You could have a beautiful moonlit wedding, with cutesy serial lights and lamps. You could go traditional and use diyas for decoration.
Early morning weddings have a special charm by themselves. Opt for an outdoor setting to make most of the wedding. You could decorate the trees and the entire outdoor space in lights and streamers or even drapes. Incase you're going for an indoor wedding, make sure the mandap is decorated well as thats the main area of focus that everyones going to look at and appreciate. Mandap decorations, flower decorations and lots of lighting ideas can create a lovely ambience. So focus as much as you can on all that.
This is why you have to trust the wedding genies for they are the best Wedding decorators in Bangalore. From mandap decoration to flower decorations in the venue and for the house, everything is taken care of by these decorators. Refer the pics for ideas to keep your Telugu wedding sizzling and fun! Happy wedding you guys!